Lady Sabelia prevails in Primonetta Stakes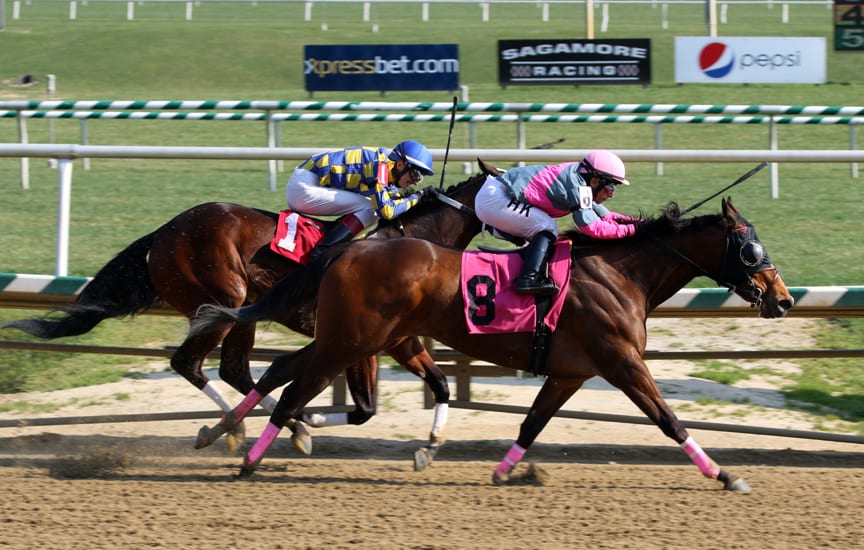 Photo by Laurie Asseo.
by Frank Vespe
Trainer Robin Graham heaved a sigh of relief.  And then another one.
Her barn's star, Lady Sabelia delivered the goods yet again this afternoon at Laurel Park, wearing down the game Disco Chick to post a half-length victory in the $75,000 Primonetta Stakes.  The win was Lady Sabelia's 11th in 20 career starts, and the winner's share pushed her career earnings to $740,465.
Under jockey Horacio Karamanos and breaking from the outermost post, Lady Sabelia broke nicely and settled in third and to the outside, eyeing the early pace duel of Disco Chick and longshot Dallas Cowgirl.  Midway on the turn, Lady Sabelia bid towards the lead, but Disco Chick had more in reserve, spurting to a 1 1/2 length lead with just an eighth of a mile to go.
Lady Sabelia regrouped for a last, determined rally, and was able to assert control in the late stages of the race.  Sweet On Smokey rallied from well back into third.  Lady Sabelia paid $3.20 to win as the 3-5 post time favorite.  Running time for six furlongs was 1:10.84.
Yet while the race was close, the most nerve-wracking moment may have occurred a week ago, in Lady Sabelia's last work prior to the Primonetta.
"What happened was, a horse broke off a sixteenth of a mile in front of her," explained Graham.  "It was on the turn, and I said, 'Well, maybe we're OK.'  But she saw it, and went after it, but she just galloped to it.  I mean, he [the rider] never asked her.
"I had a fit, but she showed no ill effects at all."
Lady Sabelia zipped the half-mile in 46 3/5 seconds, the fastest of 81 works at the distance, and not far off the 45.88 seconds the distaff runners traveled the half today.
The win made up, to some extent, for a disappointing third-place finish, as the 3-2 favorite, in the Grade 2 Barbara Fritchie last month.  In that race, Lady Sabelia bid up to leader Dancing House and looked like a winner at the eighth pole.  But she never could get by that rival, emptied out late, and barely held third.
"I had missed some training" before the Fritchie, Graham said.  Lady Sabelia, who runs with a goggle over her right eye, had what Graham described "some kind of autoimmune thing" earlier in her life, which periodically causes her eye to become swollen.
"When her eye blows up on her a little bit, I stop and just walk her," Graham said.  "I don't train her."
The win was yet another in the distinguished career of owner-breeder Mrs. Frank Wright and her husband.  They bred not only Lady Sabelia but also her dam, Terra Maria, and Terra Maria's dam Miss Rolla Punch.  The last named, said Frank Wright, was a big solid horse — "like a buffalo," he said.
Graham did not specify her next move with Lady Sabelia, other than to say she expected to run her in the Skipat at Pimlico May 20.