(Photo, of Candida H., Maryland-bred winner of the 2016 Conniver Stakes, by Jim McCue, Maryland Jockey Club.)
by Linda Dougherty
After several years of decline, Maryland's thoroughbred industry has begun a steady resurgence, thanks to the advent of casino gambling and a perception that the state is a much more stable environment in which to race and breed than its Mid-Atlantic neighbors.
Maryland's upswing began about 2010, after voters approved video lottery terminals in 2008. It placed Maryland on an even playing field with Pennsylvania, Delaware and West Virginia, where gaming had been in full swing for many years. West Virginia, for example, legalized slots in 1994, and Delaware followed in 1995.
Pennsylvania, which legalized casino gaming in 2004, poached many stallions and mares from Maryland, as its breeding program grew tremendously between 2007 and 2010. But once gaming revenue started trickling into the Maryland breeding and racing industries, the arrow began pointing upward.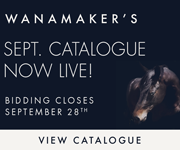 The number of mares bred to Maryland stallions has increased during each of the past four years, while the number of Maryland stallions increased beginning in 2013. The number of races, race days, average purse per race, and total purses all expanded beginning in 2013, and capital improvements have been made to Laurel Park and venerable Pimlico Race Course, giving breeders added confidence about the long-term future of the industry.
"The industry is definitely on the rebound just as we had hoped, once the new revenue from VLTs (and now increased handle) allowed Maryland to be a competitive option," said Cricket Goodall, executive director of the Maryland Horse Breeders Association. "We have always known that Maryland-breds are good quality horses, but the economics now have put the business in a more favorable position."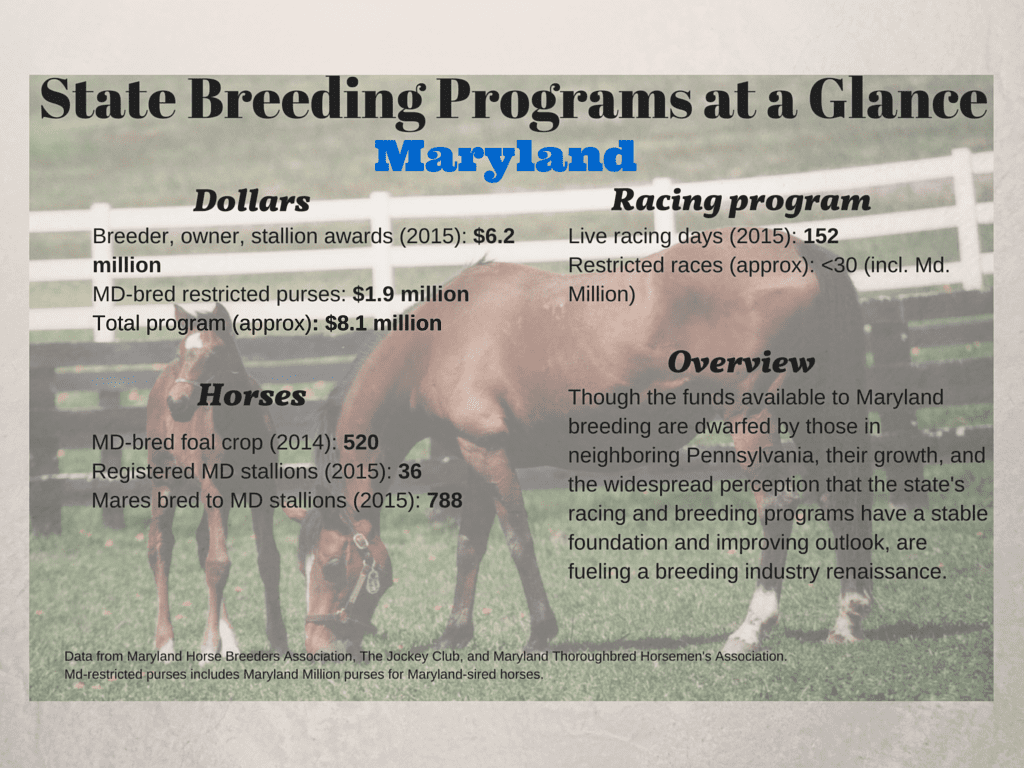 Maryland's breeding industry has a strong infrastructure that allowed it to weather the economic downturn and quickly respond to positive economic forces. While its program does not yet compare with that of its prime competitor, Pennsylvania, last year more than $3.1 million was distributed in breeder bonuses, as well as more than $625,000 in restricted stakes and other races, with total Maryland incentive payments and bonuses, including the Maryland Million for Maryland-sired horses, amounting to about $8.1 million, a number that also includes more than $2 million in owner bonuses paid out of the purse account.  By contrast, last year Pennsylvania's program was worth more than $33 million, with a restricted race/stakes program totaling more than $14 million.
One advantage of Maryland's program is that it offers breeders stability. A 10-year deal struck between the Maryland Jockey Club and the state's horsemen's association in 2012 guarantees a minimum of race days per year, with provisions for the horsemen to race additional days through a revenue-sharing program. This year, Maryland is expected to race at least 157 days. The deal also calls for Pimlico and Laurel Park to remain open for year-round racing, training and stabling during the duration of the contract.
In addition, Maryland purses have steadily increased over the past five years because of revenue from state casinos, of which racing gets a 7 percent share from video lottery terminals. Purses averaged better than $300,000 daily at Maryland tracks in 2015, according to The Jockey Club Information Systems.
In contrast, Parx Racing in Pennsylvania has cut its annual dates to 156 from over 200 due to a combination of political pressure and sharply declining pari-mutuel handle, while West Virginia has also seen the number of race dates shrink, and is now facing the possibility that recently-introduced legislation would remove the requirement that racetracks with gaming also offer live racing (decoupling).
[su_box title="
About this series
" style="glass"]
This series focuses on breeding incentive programs around the region.  Other articles in the series:
[/su_box]
Kent Murray, a member of the Board of Directors of the Maryland Horse Breeders Association and owner of Murmur Farm in Darlington, Md., said that "this is a great time to be in Maryland."
"The breeding industry is on the upswing," said Murray, who stands the stallions Cherokee's Boy, Louis Quatorze, Scipion, Petionville and Hangover Kid. "Handle at the racetracks is up, and the Maryland bonus program is a huge selling point for prospective clients. The challenge is getting more mares into Maryland, and new owners of those mares."
According to The Jockey Club, the number of stallions standing in Maryland in 2015 was 36, up from 33 in 2014. The number of mares bred to Maryland stallion in 2015 was 788, up from 751 in 2014, and far greater than the 548 mares bred in 2011. Of the top 10 states and provinces by number of mares reported bred in 2015, only Kentucky, California, Ontario and Maryland stallions covered more mares in 2015 than in 2014.
Similarly, the number of registered Maryland-bred foals has grown rapidly. After hitting its bottom in 2012, when there were 369 foals bred there, that number leaped to 439 the following year and 520 in 2014.
Average book size for Maryland stallions also continues to trend higher than the North American average. In 2014 (statistics current through February 1, 2016), the average Maryland book size was 22.2, higher than the North American average of 19.3, and the highest since 2008.  In contrast, West Virginia's average book size in 2014 was 17.1; Pennsylvania's average was 13.3, and New Jersey's was 3.9.