With breeding season upon us, The Racing Biz kicks off a state-by-state review of the incentive programs and status of the industry in each mid-Atlantic jurisdiction.  First up, New Jersey.
by Linda Dougerhty
Back before the turn of the last century, New Jersey was home to one of the premier thoroughbred breeding and training operations in the country, Rancocas Stud.
The Jobstown nursery, founded by Pierre Lorillard IV, the "Tobacco King," produced many fine horses that ran at racetracks around the world, including the first two Monmouth Parks. Lorillard later sold Rancocas to oil industrialist Harry F. Sinclair, who continued the farm's tradition, becoming one of the nation's dominant racing stables in the 1920s, although by that time horse racing had been outlawed in New Jersey.

When the sport was again legalized and Garden State Park opened in 1942, with Monmouth Park and Atlantic City following in 1946, the Garden State's breeding program experienced a resurgence. New farms sprang up; the stallion roster expanded; the foal crop increased, and within a few short years New Jersey-bred runners were dominating the cards presented at state racetracks.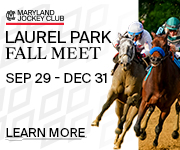 Fast forward to 2016, and the landscape in New Jersey has changed dramatically. Its nearly year-round racing season has been pared down to 71 days thanks to the permanent loss of Garden State and Atlantic City. Casino gaming has enriched the restricted programs of neighboring Pennsylvania, New York and Maryland, while New Jersey's program is still largely reliant on pari-mutuel handle and receives a fraction of the money that's given away in some other states.
Development has claimed many of the old thoroughbred farms, and the state's stallion roster has shrunk to fewer than 20. According to information provided by the Thoroughbred Breeders Association of New Jersey (TBANJ), the foal crop has also been in a steady decline, from 224 foals in 2010 to 106 in 2015, its all-time low.
Consider this: Last year, about $1.4 million was available to registered New Jersey-breds through breeder, stallion and owners awards, while more than $19 million was available to Pennsylvania breeders and more than $20 million to New York breeders. Another big advantage of the New York program is its robust restricted race program: about $45 million is set aside for restricted state-bred races for New York-bred horses (vs. $11 million in Pa. and $3 million in NJ).
In short, there doesn't seem to be much incentive for people to breed horses in New Jersey anymore, except for those who already own farms or are dedicated to having their Jersey-bred horse run at history-rich Monmouth Park or the Meadowlands.
Or is there?
There was a bit of good news on Jan. 11, when lawmakers reached a deal to put a statewide referendum on the November ballot asking voters whether to approve two new casinos in the northern part of the state. The state's horse racing industry will get some revenue, but it won't be a lot – two percent split between both breeds, with the thoroughbred breeding fund getting about half of one percent.
Still, it's a positive development after decades of the powerful south Jersey Atlantic City casino forces fighting to keep gambling within city limits and also resisting the funneling any money to the horse racing industry after a casino subsidy ended several years ago. There's also the possibility of sports betting getting legalized, too.
"We're hopeful things will turn around," said Michael Campbell, the executive director of the TBANJ. "But it's still a difficult situation for people making breeding decisions. Even if the north Jersey casinos are approved by voters in November, it will take time for them to be built and start generating revenue."
Funding for the TBANJ has also been problematic the last several years. Prior to the current Monmouth Park management (Darby Development LLC, which manages the track for the NJ Thoroughbred Horsemen's Association) leasing the track in 2012 from the NJ Sports & Exposition Authority, the TBANJ received $775,000 yearly from the Sports Authority. That money has since stopped flowing, and its funding is now a percentage of handle generated in the state.
Currently, the TBANJ still owes about 23 percent of breeder awards from 2013, and about 20 percent of those from 2014. Its board of trustees decided the best way to distribute those remaining awards was to pay 100 percent of the awards going forward before moving on to previous years. Money remaining after paying all of 2015 awards will pay 2013 awards, and then the plan is to pay the remaining 2014 awards. However, that might not be until next year.
That's hurt people who are still waiting for money owed to them, who have already spent heavily to get that foal to the races with the anticipation of earning breeder awards.
One small NJ farm owner and breeder who asked not to be identified said that it's become "impossible to survive" with the current state of the NJ program, and is still waiting for several thousand dollars owed from 2013. Her calls to a state representative have failed to yield results.
By contrast, Gerri Kromann, a breeder who owns a farm in Millstone and whose husband is a trainer, said that they are "all in" on Monmouth Park.
"Breeder awards have allowed us to make money to sustain ourselves," said Kromann, a former board member of the TBANJ. "We're not interested in breeding in another state."
(Featured image by Ryan Denver/EQUI-PHOTO.)