(The original version of this story incorrectly stated that John Servis had trained Afleet Alex for Cash Is King.  In fact, Tim Ritchey trained him. We regret the error.)
It wasn't a bird or a plane — but observers at Laurel Park swore they saw something super Saturday afternoon in the $100,000 Gin Talking Stakes for two-year-old fillies.
Cathryn Sophia, a Maryland-bred daughter of Street Boss, zipped to the early lead and drew off to a stunning 16 1/4 length victory over an overmatched field of six.  Running time for the seven furlongs was a sharp 1:23.17.
Prognosis was second, more than five lengths ahead of Thundering Sky in third.

"She's a special horse," said trainer John Servis in what surely qualifies as one of the great understatements of the year.  Servis trains her for owner Chuck Zacney's Cash Is King LLC.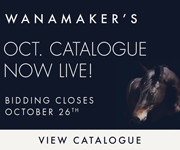 Cathryn Sophia — named, Servis said, for owner Chuck Zacney's niece — led the field through a quarter mile in 23 seconds flat and a half mile in 46 3/5 seconds.  And it was just easy as could be.
"She relaxes so well," said Servis.  "An eighth of a mile into the race she had her ears pricked and was just as comfortable as could be."
Cathryn Sophia turned a 2 1/2 length lead after a half mile into a yawning, eight-length chasm after three-quarters in 1:11.07 and then widened from there while jockey Roberto Rosado sat chilly.
Cathryn Sophia was bred in Maryland by Robert Manfuso.  She's the first foal out of Sheave, an unraced daughter of Mineshaft.  Zacney purchased her out of the 2014 Fasig-Tipton Eastern Fall Yearling Sale for $30,000.
"She was a little bit of a challenge getting there," Servis, who trained Kentucky Derby-Preakness winner Smarty Jones, said.  "Once we got her over the hump, she showed some talent and acted like a race horse."
Cathryn Sophia is now two-for-two with earnings of $90,000. She ran the seven furlong distance faster than 1:24.63 the boys took in the Marylander Stakes two races later.
Servis said the filly is likely Florida-bound but made no predictions as to how effectively she would stretch out.  It isn't Servis' first dance with a good horse, nor is it Cash Is King's.  The latter owned Preakness-Belmont winner Afleet Alex, who was trained by Tim Ritchey.
"We'll stretch her out a little bit more each time and see how she handles it," Servis said.