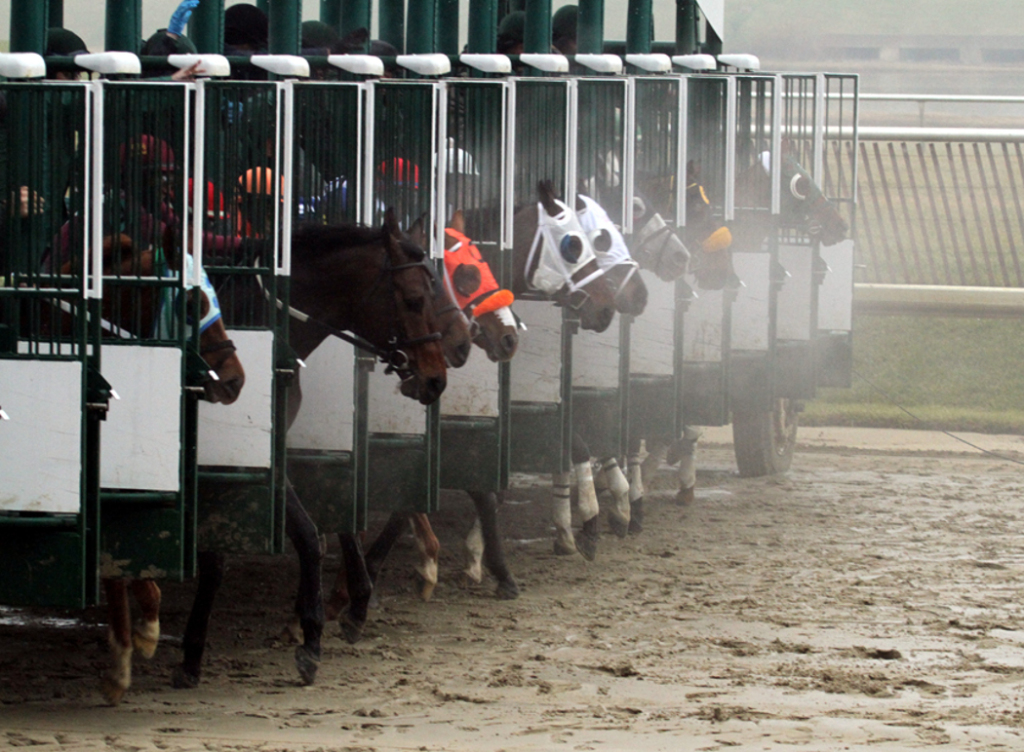 by Frank Vespe
(This article was updated at 2:06 p.m.)
The Maryland Jockey Club will race 157 days in 2016 under a proposal approved unanimously today by the state Racing Commission.
The schedule includes essentially year-round racing, with a brief, three-week hiatus in late February and early March.
"I'm looking forward to it," said Maryland Jockey Club vice-president and general manager Sal Sinatra.  "We're basically running year-round.  The ultimate goal is getting us to a four-day week year-round."
The schedule was created through a collaborative effort between the horsemen and the racetrack, said Maryland Thoroughbred Horsemen's Association executive director David Richardson, who added that it had received the unanimous support of his board of directors.
The request represents a small increase in live racing days, up from 142 projected in 2015 after cancellations.  It also perhaps marks something of a turning point, the first requested increase in a number of years.  As recently as 2005, Laurel Park and Pimlico hosted 195 days of live racing.
The schedule features a mix of three- and four-day weeks of live racing.  Laurel Park will host four days of live racing each week from January 1 through Presidents Day, February 15.  Those days will be Friday through Monday, which Sinatra said was designed to take advantage of Parx Racing's scheduled downtime in January and the first half of February.
"We should be the premier signal [for simulcast players] on Mondays," Sinatra pointed out.
The MJC will also run four days per week on a Thursday-Sunday schedule during the Pimlico meet, which will begin May 12 this year and extend through the end of June.  That's a shift from recent years, when Pimlico typically opened in early April and closed in early June, following the running of the Belmont Stakes. It will also mean a reduction in the number of days at Pimlico, to 28, down from approximately 40 in recent years.
In part, that shift is a result of the MJC's determination to run throughout June and July, which it has not done in recent years, and in part it is designed to maximize turf racing opportunities.
"I've got to use the turf," Sinatra explained.  "You get big fields, and the bettors like it.  Let's get a little bit of turf in at Laurel, and then go to Pimlico fresh."
He added, "This, I think, is the best thing, and it allows us to use as much turf as we can from April through November."
Live racing will return to Laurel Park on July 1 for the July 4 weekend and will remain there, on a three day per week schedule, until the end of the year, minus the 10-day live meeting, including seven racing days, in Timonium during the state fair.
As in recent years, Maryland's horsemen will subsidize the track's operations.  But unlike those previous years, when the horsemen and the track entered into a convoluted lease-type arrangement, in 2016 the horsemen will pay a flat fee of $5.2 million, sources said — somewhat less than they had paid in two previous years.
Sinatra also said that the schedule as presented leaves him the option add races, or even days, if business is strong and the purse account is healthy.
That last item, the health of the purse account, has been a matter of concern to some in the racing community, but Sinatra said he believed the tracks and horsemen have the issue under control.
"We're doing fine," he said.  "I'm confident [there will be no issues with the account]."
"We know we have a responsibility to watch the purse account," added Tim Ritvo, chief operating officer of the Stronach Group, which owns Laurel Park and Pimlico.
Bruce Quade, a member and former chairman of the state Racing Commission, echoed, "The Commission will be taking close looks and working as your partners on managing the purse account."
As to the additional days, Quade added, "I believe it's a home run."