Nick's Picks — the popular key to unlocking winning wagers at Colonial Downs for lo' those many years, written by Nick Hahn — is back and back with a vengeance for Breeders' Cup weekend!
Check it out below or download it here.
Nick has plenty of upsets in his score for the big races… but the question is: does he try to beat American Pharoah in the Classic?  Read on and find out!
(In the document below, you can use the "pop-out" button to call up a printable version of the document.)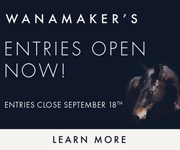 [gview file="https://www.theracingbiz.com/wp-content/uploads/2015/10/BCnicpic.pdf" height="800px" width="600px" save="1″]