From a Maryland Jockey Club release
Seven years ago, Not Abroad was sent to trainer Lynn Ashby's Delaware farm to be prepared for a racing career.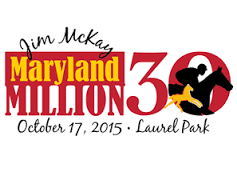 Now, after 35 races, multiple stakes wins, two graded-stakes placings and a nearly three-year layoff – that's right, a nearly three year layoff – the 8-year-old Maryland-bred son of Not For Love is being given a chance to do what he likes best: be a racehorse.
"This horse is just so amazing, he wants to be a racehorse. He has just bloomed since he came back. So we're going to grant him his wish," Ashby said.
Not Abroad, out of the Broad Brush broodmare Timely Broad, is on track to run in Saturday's $150,000 Maryland Million Classic, a race in which he has a strong history. He was second in both the Maryland Million Juvenile in 2009 and the Classic in 2010. Following a third-place effort in the 2011 Classic, Not Abroad won the 2012 Classic, defeating eventual three-time Classic winner Eighttofasttocatch by more than 11 lengths.
The Classic is one of 11 races scheduled as part of the 30th running of the $1 million Jim McKay Maryland Million Day at Laurel Park.
Not Abroad's comeback race and only Maryland Million prep was a tough upper-level allowance race Oct. 2 at Laurel. After being far back early in a field of nine, the veteran campaigner with $628,955 earnings rallied to finish an encouraging fourth.
"He came out of the race good, and has done very well since," Ashby said.
Following his 2012 Classic victory, his former owner Tim Cunningham and trainer Mike Petro, shipped Not Abroad to Santa Anita to run him in the Breeders' Cup Marathon (Gr. II), in which he sustained a bowed tendon while finishing fifth. Before the Marathon, Rebecca Davis had contacted Petro about the horse, which had been bred in a partnership by her father, Dr. Tom Bowman.
"We bred him, I foaled him, and he was kind of a cool yearling with a neat personality. So we followed his racing career and it was fun. After he won the Classic and was going to the Breeders' Cup Marathon, I contacted the Petros and told them to keep us in mind and we would stand him as a stallion when he is done racing."
Davis, her father, and brother, Dr. Brooke Bowman, who is currently Not Abroad's vet, got the horse back and tried several new careers with him. They bred him to a few mares, tried him as a teaser and tried just turning him out, but Not Abroad wasn't happy.
"He was turned out at my place, then my dad's place, then my place again, and he just didn't seem happy," Davis said.
Eventually, the four-time stakes winner was sent back to Ashby, who trains at her Delaware farm, the old Bayard Sharp Farm now called Middletown Training Center. Once back doing what makes him happy, the now 8-year-old started to blossom.
"As soon as he went back into training, the horse started picking up weight and doing great," Davis said. "All that horse wants to do is run; he just loves it."
Davis also pointed out how happy the horse is to be reunited with Ashby at the farm.
"We wanted him to be able to train on the farm. He loves it there. When he's not training, he's standing in the paddock watching the other horses train. He loves it," Davis said.
For Ashby, it's a sweet reunion seven years in the making.
"I broke him originally, and I've always admired him. Everybody's gaga over him, everybody loves him. He couldn't belong to a better family," she said. "He's back with the breeders, he's back with me. It is neat I get him after all this time. He doesn't know he's 8. He's really happy."