by Frank Vespe
More than 220 stallions have sired a Maryland Million runner, from Aaron's Concorde (six starters) to Yarrow Brae (25, including five winners).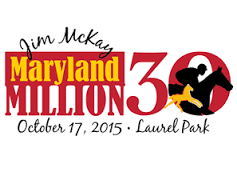 Some, like T.V. Count, Tentam, and Rambo have had but a single starter.  Others have been, shall we say, more well represented.  All-time wins leader Not for Love, for example, has had 207 starters, 32 of which have won.
Either way, the purpose of the day — to showcase the best of Maryland's stallions — remains as important to the state's horsemen and breeders today as it was 30 years ago, perhaps even moreso as the breeding industry tries to regain ground lost during Maryland's dark years.
Yet it's a tricky calculus to make: What does a day like Maryland Million mean to a stallion owner?  After all, it's only one day.
"A wedding is just a day, too," retorts Country Life Farm's Josh Pons, and the point's not inapt: a day that's, well, more than a day.
Country Life has been among the most avid participants in Maryland Million over the years.  Their former stallion Allen's Prospect stands second among all studs with 22 winners, from 157 starters.  Citidancer, another Country Life horse, ranks seventh all time with nine winners.
Pons draws a pretty straight line from this day to Allen's Prospect's career as among Maryland's most productive stallions.
"Allen's Prospect didn't really pop until he got a couple of Maryland Million winners," Pons says.  "And then he never looked back."
Those winners — Xray and Ameri Allen — came in 1990.  Allen's Prospect, owned in part Allen Paulson, went on to sire 57 stakes winners before his euthanization in 2003.
"People were skeptical at first," says Maryland Million executive director Cricket Goodall, who's been with Maryland Million since the start.  "But it did work and over the years, people came to see the benefits.  It can be great for a young stallion."
Pons says that in the early days, back when horses were separately nominated to Maryland Million, he and his brother Mike would spend the week before New Year's scrambling to register other people's horses to ensure as many of their stallions' offspring as possible could run.
These days, all horses by Maryland-based stallions are eligible — no separate registration necessary — which takes some of the scramble out of the process.  But that notion — that Maryland Million day can be a sire-maker — endures.
Dr. Brooke Bowman, of Heritage Stallions, the state's first new stallion operation in a decade, points to two factors that have helped that operation get off the ground: that Adena Springs sent Kentucky Derby winner Giacomo to Maryland, and that Larry Johnson's Heritage-based stallion Street Magician sired a '14 Maryland Million winner in his first crop.
"It was Larry's stallion," Bowman said.  "Larry bought the filly at the yearling sale and it was so cool to be with him in the winner's circle. That was a great story, it couldn't have gone any better."
That filly, My Magician, out of the Partner's Hero mare My Rib, just held off the closers to score a 28-1 shocker in the Lassie, for two-year-old fillies.  Another daughter of Street Magician, Rockin' Jojo, finished third in that heat.
"It's a qualitative thing," says Johnson of the impact of Maryland Million on a stallion's career.  "I don't think you can put a number on it, but it's something that people see, and it's something you can advertise."
Street Magician — one of three stallions, along with Bullsbay and Elusive Charlie, to have their first Million runners last year — likely will have a couple of starters in this year's Maryland Million, My Magician among them.  Johnson describes his stallion — whose oldest crop is just three — as being in the "hopefully emerging category," and he believes strong showings by them would be another boost to a stallion who's putting up solid numbers — he leads the region's second crop sires in progeny earnings, with his starters having a robust earnings per start figure of nearly $4,400.
Another in that "hopefully emerging" category is Country Life's promising Friesan Fire.  The 2009 Kentucky Derby favorite — he finished 18th — already has seven winners from his first crop and could have several in the starting gate on Saturday.  A half-dozen were pre-entered to the two juvenile races.
Pons is excited about Friesan Fire, and is hoping that Maryland Million can help to solidify his new sire as one of the region's most appealing.
"There's a vacuum of sires in Maryland, and we're hoping that Friesan Fire steps into that," he says.  "The perception of a stallion in the eyes of the market is based on performance, and if you get beat by them, it gets your attention."
After years of decline, six new stallions began plying their trade in Maryland for the 2015 breeding season.  Three more are scheduled to begin breeding next year.  That speaks to an industry beginning to right itself.
"I think the Maryland Million concept is the right one," says Johnson, the owner of Street Magician.  "It's kind of a signature day.  It's a big day for Maryland racing, it's a big day for Maryland stallions, and you hope you can do some good on it."
[su_box title="
MARYLAND MILLION WINS BY SIRE
" style="glass"]
Not for Love — 32
Allen's Prospect — 22
Two Punch — 13
Deputed Testamony — 11
Caveat — 10
Horatius — 10
Citidancer — 9
Lion Hearted — 8
Smarten — 7
Great Notion, Salutely — 6 each
[/su_box]