Each week during the Saratoga meet, Teresa Genaro will share with us some of the mid-Atlantic stories and characters who are a part of the upstate New York scene in her Spa Diary.
by Teresa Genaro
When Jack O Liam left New York in March, the 3-year-old son of Lookin At Lucky was a maiden. A veteran of six races in which he'd never been better than third, he started his career in the barn of Gary Contessa, who shipped him south to run at Laurel after a string of New York futility.
Contessa got the win in Maryland, but he lost the horse.


Claimed that day for $40,000 by Kieron Magee, Jack O Liam won next out at Pimlico and picked up another win at Delaware Park earlier this month.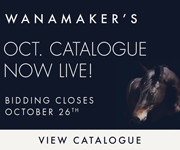 On Sunday, Aug. 23, Jack O Liam came back to New York for the first time since being claimed, and he made his Spa debut a winning one, holding on for a nose victory in the fourth race.
It was also trainer Magee's first trip to Saratoga, and like Contessa a few months before, he got the win but lost the horse, who was claimed by Steve Klesaris.
"I expected it," said Magee of both the win and the claim. "He was going into the race great. If he'd gotten beaten by a nose, [getting claimed] would have been worse."
The 8-5 favorite, Jack O Liam dueled with Bessie's Boy from the break into the far turn, first one head in front, then another through testing fractions. Jack O Liam put Bessie's Boy away coming into the stretch, only to face a new challenge by the closing Power Nap before hanging on by a narrow margin.
"It's a thrill," said Magee of winning a tough race on his first visit here. "I rode him from the top of the lane home, I'll tell you. I thought we were beaten. He dug back and got it."
"It's a shame we lost him, but it's how we got him," the trainer continued philosophically. "But my wife called and said, 'Tell me you didn't lose my baby.'"
Straight off tying for the trainer title by wins at Laurel's summer meet on Saturday, Magee jumped in his car to make the drive to Saratoga, arriving here around midnight. Despite having put in a long day, he headed out to sample downtown Saratoga's celebrated nightlife before saddling his horse the next day.
Though he comes from a horse racing family in County Wicklow, Ireland—his father both trained and rode, and his grandfather was a trainer, as well—Magee came to the U.S. 30 years ago intending to leave the sport behind and begin a career as a bartender. He'd ridden as a child and made a half-hearted attempt to ride as a professional, but both his size and a lack of serious interest aborted the career before it really started.
But when the bartending gig fell through and he needed to earn money, he headed to Timonium to gallop horses, figuring he'd do it for a month or so.
But he stayed in Maryland galloping for 25 years, giving up riding to begin a training career eight years ago. He hit the $1 million mark in earnings for the first time last year, and he's on course to beat that personal best this year.
In 2013 Magee claimed another horse that shipped to Maryland after having a hard time finding the winner's circle in New York. That horse, though, was nine years old and graded stakes placed, having begun his career racing in England and Dubai for Darley.
A group of concerned fans, seeking a trainer to claim Ea to retire him, called Magee, who was happy to oblige. Later that year, Magee called on them to help find a home for one of his own horses, Kingofthebluegrass, who was ready for retirement.
After winning a tough race at the most competitive meet in the country, Jack O Liam is unlikely to be looking at retirement any time soon, and while Magee won't be the man training him to future successes, the horse gave the trainer something more than the $33,600 winner's share of the purse and the $32,000 claim price: a thrilling win in his first race at the old Spa.
And Magee understandably planned to celebrate with a return trip downtown Sunday night.
"Let the games begin!" he said, with more than a touch of exultation. "I love it here."