Each week during the Saratoga meet, Teresa Genaro will share with us some of the mid-Atlantic stories and characters who are a part of the upstate New York scene in her Spa Diary.
by Teresa Genaro
On the first really hot day of the summer, Arch Kingsley had wrapped up morning training and chores a little before noon at his barn near the old Sanford complex, across Nelson Avenue from Clare Court.
After a few months stabled at the main track before the meet opened, Kingsley and his 19 horses moved here, to barn 1, near one of the oldest parts of the Thoroughbred track and on the grounds of the harness track, after spending the winter at his farm in Camden, South Carolina.

Though his name might be more familiar to you as a jump jockey—he won 129 races, 17 of them stakes, for earnings of almost $3.5 million–he now spends most of his time with flat horses, and he left the saddle for good in 2013, after a bad spill right here at Saratoga.

He started training more than a decade ago, until recently working with young horses before they went off to their trainers to get ready for the races. Now, a lot of those young horses stay with him.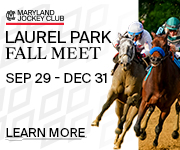 "I've got quite a few two-year-olds in the barn," he said, sitting in a tack room, out of the heat of the midday sun. "They had come along in South Carolina to a point where normally as a prep guy, I'd be sending them off to somebody else, and they'd come up to New York or Maryland to continue moving forward.
"In this case, they stayed under my roof."
Growing up in Loudoun County, Virginia, not far from Middleburg, Kingsley started riding when he was young, following his parents, jump riders both of them, into the saddle. Though he knew that's how he wanted to make a living, he headed off to Hobart College in Geneva, New York—the fourth generation in his family to do so—but gave it up after two years to ride full-time.
"Nobody in my family put any pressure on me to be a race rider," he said, "but I felt plenty of support when I did it. Mom and Dad were there cheering me on, proud as can be."
Kingsley took a hiatus from the saddle earlier in his career, in 2003, becoming a full-time blacksmith when the rigors of training and riding had taken their toll.
"I'd been shoeing horses since I was a teenager, and when I retired that time from riding, I didn't want the stresses of training and all that came with it," he explained. "I figured I'd just blacksmith and make good money doing it, and still have weekends."
"And then people that I like very much started wanting to send me horses," he continued, "and we did well and had success, and truthfully, I'm still a sucker for the competitive aspect of it all, and I couldn't walk away from that."
Well aware that success as a trainer is measured in wins and purse earnings, Kingsley has his own set of metrics for gauging accomplishment.
"Watching young horses come into themselves and overcome the roadblocks that stand in their way: their fears, unsoundness, their weaknesses," he enumerated. "Watching them rise above and conquer them, become strong and capable—all those little rewards that horses give you when you're tuned into the process."
Those personal metrics come in handy on a day like Monday, July 27, when he ran his first starter of the Saratoga meet, four-year-old Vischer Ferry, in a maiden claiming race on the flat. Seeking his first win in nine starts, the bay gelding bolted on the final turn and ended up finishing sixth.
Two days later, Street Fight finished fourth over jumps in the first steeplechase race of the year.
Kingsley took out his training license in 1996, won his first race in 1997, and has recorded two graded stakes victories over the jumps.  But Kingsley has few jumpers in his barn this summer; unlike horses, who not uncommonly go from flat racing to jumping, Kingsley is doing the reverse. Conceding that he is best known for working with steeplechasers, he is building up his flat race business, basing his training operation in New York before and after Saratoga, hoping to run horses at the Belmont spring and fall meets.
"I've always wanted to spend summers in Saratoga and winters in Camden," he reflected. "I think horses do really well when they have down time; they're professional athletes and we try to fine-tune them to put them at their peak for a certain stretch, but they can't hold that forever. The downtime in South Carolina makes perfect sense for the horses, as well as for me."
"I have my family and my farm down there," he continued, "and the horses do really well having a winter of getting turned out, getting to gallop on nice turf gallops, and come back in the spring stronger for it.
"If you give them a break, you get more mileage out of them, and their racing careers will stretch further."
He hopes that his extended presence in New York will bring him more flat racing clients, and he expects to be active at the Fasig-Tipton New York-bred Preferred Yearling sale on August 15 and 16.
Among his young horses at the Spa this summer, he likes a Bellamy Road filly named Lady Constance, who he says has been training "very well," and mentions Mizz Tutu, by Mizzen Mast, who "acts like she's got some talent."
He is optimistic about the way his young horses have come along, and while he looks forward to running them at the Spa, he is also pragmatic about their prospects.
"I feel good about the way they've come along," he said. "The way they act on the racetrack, and their conditioning—I'm very confident in it."
Then he added, with the wisdom of a man who's spent decades at Saratoga, "Whether they'll be fast enough to compete up here remains to be seen."