by Linda Dougherty
While distributions to Pennsylvania's horse racing industry from slot machine gaming increased 9.5 percent in 2014 from the previous year, pari-mutuel handle on live racing and foal production declined during that same period, according to the annual Pennsylvania Gaming Control Board "Benchmark Report" released April 28.
Declining handle is not unique to Pennsylvania.  In fact, national handle has dipped 30 percent since 2003, from more than $15 billion that year to about $10.5 billion in 2014, according to The Jockey Club.  Likewise, several other states that benefit from expanded gaming have followed a similar trend, such as Maryland, where handle on 142 days of live racing in 2014 was down 3.2 percent from the prior year, and Delaware, where handle on its thoroughbred meet was down 10.7 percent in 2014 from 2013 levels.
"I think (the Benchmark Report) reflects the general state of the overall pari-mutuel business," said Chris McErlean, vice president of Penn National Gaming, Inc. "Live handle is a challenge; I think we at Penn National Race Course have found some success with our major event days (the Gr. 3 Penn Mile, set for May 30) as have other Pennsylvania tracks; day-in, day-out live racing, given the volume of live racing dates that Pennsylvania pumps out (two year-round thoroughbred tracks with 500 total thoroughbred days and an almost equal amount on harness side), is difficult to market as 'unique' or even seasonal for that matter."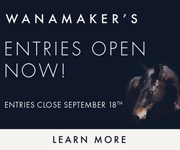 In 2014, approximately $765 million was wagered on races held in Pennsylvania, a decrease of 5.3% as compared to 2013. Taxable handle generated within the state decreased by 11% over the same time period.
One bright spot was that total live racing handle in 2014 was 32% higher when compared to the same time period before casino gaming commenced in 2006, the report said.
Pennsylvania's recent pari-mutuel handle decline can also be attributed to the expansion of casino gaming in the state.
"There are only so many dollars to go around," said Brian Sanfratello, executive secretary of the Pennsylvania Horse Breeders Association. "That, plus the fact that average wagering is down at racetracks in general, has contributed to the decline. This decrease would not be as great if there were a concerted effort on the part of the racetracks to market racing on a consistent basis. You have, and will continue to see, expanded marketing efforts from the PHBA, and also the horsemen's groups."
At the same time, despite more money available to owners, breeders and stallion owners, Pennsylvania's foal crop declined for the fourth consecutive year, from 1,540 in 2009 to 878 foals in 2013, according to The Jockey Club.  That drop followed a general trend, which has seen the national foal crop drop nearly in half in the period from 1990 to 2014, from more than 40,300 foals to 20,300.
Sanfratello believes that the state's breeders are turning a corner, in part because of growing confidence that the state's incentives will remain in place.
"We feel we have leveled off and are working to get out the good news that, because of the hard work of our Pennsylvania Equine Coalition (which represents both thoroughbred and standardbred interests), the Fund has been stable the last four years and has grown in 2014," he said.  "The main reason for the (foal crop) decline was the continued raids on the Fund, starting with the $212 million that was allocated to the General Fund by Governor Rendell (in 2010), and the threat of money being taken by Governor Corbett. Even though most of Corbett's threats never came about, the perception was there."
But Dr. William Solomon, owner of Pin Oak Lane Farm in New Freedom, Pa., where he has stood stallions for more than 40 years, said that he expects the 2015 foal crop to be smaller than 2014's.
"The Pennsylvania-bred program is a good one, but it's not properly incentivized, and it needs to be re-worked," opined Solomon, a former president and board member of the PHBA. "There should be more restricted races per card at all tracks, and there are no Pennsylvania-sired races to speak of, except for a few stakes. Breeders are discouraged, and the costs are high."
Approximately 11% of revenue generated from slots is earmarked for the horse racing industry, and goes into the Race Horse Development Fund. In 2014, approximately $230 million was deposited into the Fund to enhance purses, assist breeding operations, and provide health and pension benefits for horsemen, among other things; in 2013, approximately $210 was distributed.
The bulk of the increase came from the elimination of $17.7 million that was shifted from the Fund to a "restricted receipts account" in fiscal years 2013-2014 and 2014-2015.