From a Maryland Jockey Club release
Come Saturday, Edward Buxbaum will continue a tradition that began in 1973 and hasn't skipped a year since. The Baltimore-bred and based attorney will join with a group of his old middle school pals at Pimlico Race Course to watch Maryland's biggest race, the Preakness Stakes.
This year, Buxbaum and his partners in Big Bertha Stable also have some important business at Old Hilltop on Preakness Eve. Their former claimer turned stakes winner, Brenda's Way, will make her graded stakes debut in the $150,000 Allaire DuPont Distaff (G3) on the Black-Eyed Susan Day undercard.
Bred in Maryland, based at Laurel Park and campaigned by an ownership group comprised primarily of Baltimore natives, Brenda's Way has proven to be a true local success story.
Since being claimed for $15,000 in November 2013, the 5-year-old mare has run 14 times with four wins, two seconds, three thirds and $191,744 in purse earnings for her new connections. She ran for a tag in four straights starts from October to March 13 but went unclaimed, setting the stage for her – and her owners' – biggest victory.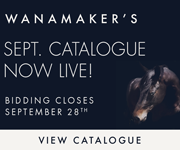 On April 18, Brenda's Way romped to a 10 ¼-length victory under jockey Jevian Toledo in the $75,000 Geisha at Pimlico. Like the DuPont, the Geisha is run at 1 1/16 miles on the main track.
"That was a big day. It was our first stakes win," Buxbaum said. "The stretch run was kind of fun for us. I have to say, it was about as exciting as I can imagine. She's just been unbelievably good."
Brenda's Way is one of only two horses in the stable for Big Bertha, named to reflect the partners' affinity for golf. The other is 3-year-old filly Regina Christina, who the group claimed for $25,000 on Feb. 7, in large part thanks to the success of Brenda's Way.
"We sort of leveraged her earnings to get another horse," Buxbaum said. "We're just absolutely, positively thrilled."
Buxbaum grew up 10 minutes from Pimlico and now handles business litigation and insurance coverage cases for Whiteford Taylor & Preston in downtown Baltimore. He joined Big Bertha in 2010, and got a rude and realistic introduction to the risks of owning horses.
"The first horse we claimed when I got into the group got hurt," he said "It started out poorly, but it has been a pleasure since then. We've had 13 or 14 wins out of the group. We've done remarkably well.
"It's something I've always wanted to do, so when I had a chance I jumped at the opportunity. We were really sort of playing in the $5,000 to $15,000 claiming ranks for a while, and we did well. Whether it's a graded stakes or a $5,000 claiming race, when it's your horse with the lead down the stretch you're just as excited."
Never was that more true than on April 18, when Brenda's Way sprang to the lead from the gate and never gave it up, expanding her advantage at every call. She ran 1 1/16 miles in 1:46.78 in her first try against fellow state-breds since finishing second in the 2014 Geisha.
"The thing that really makes me smile about it is, not that I mind running wherever, but it's especially meaningful for the group who are mostly local guys to be able to do that and, for me, to be able to do that at Pimlico, where I first set foot on the racetrack," Buxbaum said. "It kind of feels like home to me, and to have a horse running at this level and have a horse that would kind of canter home in a stakes race, albeit a non-graded stakes race, it was remarkably fun."
The stakes get significantly higher for Brenda's Way in the DuPont, named for the owner and breeder of five-time Horse of the Year Kelso. Among the horses being considered for the race are Grade 3 winners House Rules and Wedding Toast, stakes winners Blue Violet and Shayjolie, and any of Easy Living, Samantha Nicole and undefeated Via Strata, all coming off allowance victories for Kiaran McLaughlin, who also trains Wedding Toast.
"We recognize it's a much tougher spot than the Geisha, but it's been a thrill to even be thinking about races like this given where we started," Buxbaum said. "Since the beginning of the year she's just been training dynamite, and her last few efforts have just been dynamite."
Regardless of the outcome for Brenda's Way, Buxbaum and friends are set to enjoy their 43rd consecutive Preakness.
"My first Preakness I got to see Secretariat, and I haven't missed once since," he said. "In 1973 when I was 15 years old, I did go in the infield. Now that I'm 57, those days are long over for me. Our group, everybody knows kind of where and when to show up. It's a little bit more civilized that it was back then."