[su_youtube url="https://www.youtube.com/watch?v=RthEYvh6aMM"]
After listening to Nicely-Nicely and his friends in the above video, from Guys and Dolls, who've "got the horse right here," we decided to go one step higher. We asked their boss, Nathan Detroit, and his boss — the lovely, long-suffering, and perpetually single Miss Adelaide — who they liked in tomorrow's Grade 1 Kentucky Derby. And so…
"This guy says the horse can do…"
"I do say the horse can do," says Nathan. "And the horse, or horses, I say can do is, or are…"
"Hold on, wait a minute," says poor Miss Adelaide. "Ladies first and the like. And you probably weren't even going to mention #3 Materiality (12-1)…"
"Was so."
"Well. Regardless, Materiality is undefeated in three starts and has been ultra-impressive. Yes, he's light on seasoning — he didn't race at two — but on the other hand he has two wins an 1 1/8 miles, and most of this field can't say that. So, Materiality can do."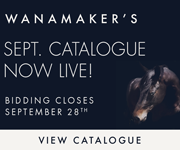 "What about…"
"I am still speaking," says Miss Adelaide imperiously, holding her hand in a "stop" sign at Nathan. "You cannot — much as I hate to say it — overlook #18 American Pharoah, who is the 5-2 favorite. He's won four straight, all easily and impressively, and has been working like a monster over the Churchill surface. I hate short odds, especially in the Derby, but this guy might just be the monster he looks like."
"You know, for a doll, you talk a pretty good game."
Miss Adelaide shoots him a look. "Hmmph," she says.
"What about #2 Carpe Diem (8-1)? He hasn't done anything wrong that I'm aware of and looked really good winning the Blue Grass."
"I don't buy him. His figs look light to me. His ceiling looks to be in the exotics. Now a horse I do like is #19 Upstart (15-1). He ran great in three races down in Florida, including a good second to Materiality, and I believe has been training really well in preparation for this. If he can take another step forward, he could be a handful here."
Nathan snorts. "Yeah, yeah, that all sounds good, but you've forgotten the one thing that means he can't possibly win."
"What's that?"
"Andy Beyer picked him in The Washington Post. He hasn't picked the Derby winner in forever. He thought Secretariat was a fraud. Kiss of death stuff, right there. Anyway, another one you left out is #8 Dortmund (3-1). Undefeated, won the Santa Anita Derby by four, trained by Bob Baffert, a guy who knows how to win this race…"
Adalaide interrupts. "Like him all you want. I'm tossing him. There's better in here, and I didn't like that last work from him."
"This guy says the horse has chance…"
Nathan glances up from his past performances. Miss Adelaide is glaring at hiim.
"If you like Dortmund, I suppose that means you also like #10 Firing Line (12-1)," she says.
"Now you're talking. I mean, Dortmund and him was life and death twice. And then Firing Line wins out at Sunland by a pole, and he has Gary Stevens. And he's 12-1. What's not to like? I don't know if he's good enough to win here, but he's good enough to hit the board."
"Sorta like #15 Frosted (15-1), who won the Wood Memorial?"
"Sorta like that." Nathan nods.
"I got two longshot bombers I like on works," says Miss Adelaide. Nathan lifts his eyebrows in the universal "keep talking" sign, which, in truth, is not a sign he gives her very often. Not that she notices one way or the other.
"I think #4 Tencendur (30-1) took a huge step forward last race when second in the Wood Memorial after leading at the eighth pole, and he's posted two bullet works, one at Churchill, since. He's a sleeper."
"Who's the other?"
"I was getting to that. The other's #5 Danzig Moon (30-1), who was second in the Blue Grass. He's the sort of horse I usually hate — he doesn't really fit here — but I feel like he's doing really well since the Blue Grass and might be sitting on another step forward."
Nathan raises his eyebrows again, this time in the universal sign of "what the hell are you talking about?!?" Not that Miss Adelaide notices.
"One horse you didn't mention is #20 Far Right (30-1)," says Nathan. "Yes, he was a distant second to American Pharoah in the Arkansas Derby, but he wasn't really asked in that race. Plus, he's a closer — just the right style for the Derby, where the pace almost always melts down. I know his figs are light, but he'll be coming at the end. Don't be surprised if he picks up a check."
Miss Adelaide returns the "what the hell are you talking about?!?" look.
Suddenly, there's a commotion outside. Nicely-Nicely bursts in.
"The horses are on the track," he shouts. "Who're we going to bet on?"
[su_box title="
MISS ADELAIDE'S GUARANTEED* 20-HORSE PREDICTIONS (with a little Nathan thrown in to keep peace in the home)
" style="glass"]* "Guaranteed" means not at all, even remotely guaranteed. Obviously.
#3 Materialty springs the upset
#18 American Pharoah's really good, but not a generational talent.
#19 Upstart runs another big one.
#20 Far Right clunks up late for a piece.
#10 Firing Line hangs on for fifth.
#5 Danzig Moon outruns his odds, which doesn't do the bettors any good.
#15 Frosted isn't quite as good as the top runners.
#4 Tencendur continues his general trend of not winning, and also of finishing behind Frosted.
#2 Carpe Diem's figs are right: he's not fast enough.
#6 Mubtaahij demonstrates, yet again, that it's tough to prep in Dubai, then win in Louisville on the first Saturday in May.
#7 El Kabeir is a battler, but that's not good enough here.
#12 International Star beat up on the Louisiana contingent. Don't think we're in Louisiana anymore…
#8 Dortmund is forwardly placed, gets cooked in the speed.
#9 Bolo has a tough assignment and has run third behind Dortmund twice.
#13 Itsaknockout ran well in the Fountain of Youth (put up to first via DQ), not so much in the Florida Derby. The water gets deeper here.
#14 Keen Ice hasn't finished better than third, or closer than two lengths, since breaking his maiden. There's every reason to think that streak continues here.
#16 War Story will run without blinkers for the first time in his career, and you have to wonder if the Kentucky Derby is really the place to tinker with equipment.
#1 Ocho Ocho Ocho could be renamed. How about, Ouch Ouch Ouch?
#21 Frammento has lost to a bunch of these in a bunch of races.
#17 Mr. Z has a single win from 12 starts, though he actually ran a credible third in the Arkansas Derby.
[/su_box]