Excerpt: Trevor McCarthy, the jockey who broke his wrist in December, is scheduled to ride his first races since then later this week.
From a Maryland Jockey Club release
Jockey Trevor McCarthy, who admits his last three months have been "a bit boring" since breaking his wrist in a spill at Laurel Dec. 20, is scheduled to return to riding this week at Gulfstream Park.
McCarthy, who earned all three riding titles in Maryland last year and was sixth among leading riders in North America with 263 wins when he went down, is anxious to return to the saddle.

"I'm looking forward to it," said McCarthy from South Florida, where he was named to ride Little Mary Ellen in Thursday's fifth race. "I got back on horses (Feb. 27), galloping at Palm Meadows for Graham Motion. I'm hoping to get on a few here Thursday and Friday and then head back (to Maryland) Saturday (March 14)."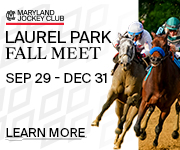 McCarthy, who was ranked 19th in earnings in North America when he was unseated trying to avoid a fallen horse, said he spent the time off visiting his parents in Florida and then his grandparents in upstate New York.
"It was good to see family, but I'm anxious to come back," said McCarthy, whose father Michael won 2,907 races as a jockey from 1982-2002. "I've spent a lot of time running and biking…a lot of leg exercises on the machine. I've tried to stay in the best shape I could."
McCarthy, who was out five months in 2013 when he broke his left tibia, says the accident in December was "very disappointing, but maybe someone was telling me I needed a little time off."