From an America's Best Racing release
America's Best Racing, a multi-media fan development platform initiated by The Jockey Club that focuses on horse racing's lifestyle and competition, today announced a strategic partnership with Autism Speaks, the world's leading autism advocacy and science organization. The partnership is designed to expand awareness of fund-raising activities for Autism Speaks and interest in America's Best Racing and The Jockey Club Tour on Fox Sports 1.
The Jockey Club Tour on FOX Sports 1, a televised series of prominent Thoroughbred races from prestigious venues throughout the country, will kick off its 2015 season with the $500,000 Donn Handicap from Gulfstream Park in Hallandale, Fla., and the $500,000 San Antonio Stakes from Santa Anita Park in Arcadia, Calif., on Saturday, February 7, from 5:30 – 7:30 p.m. ET / 2:30 – 4:30 p.m. PT. The complete 2015 schedule of races, dates and air times for The Jockey Club Tour on FOX Sports 1 will be announced in the near future.
It is anticipated that the San Antonio field will include the Horse of the Year and 2014 Kentucky Derby and Preakness Stakes winner California Chrome and the 2013 Eclipse Award winning 2-year-old colt and Pacific Classic winner Shared Belief, co-owned by national sports radio and television personality, Jim Rome. Rivals California Chrome and Shared Belief last met in the Breeders' Cup Classic November 1, wherein California Chrome finished third followed by Shared Belief in fourth place.

The on-air talent for The Jockey Club Tour on Fox Sports 1 series, Greg Wolf, Richard Migliore, Andy Serling, Simon Bray and Alyssa Ali, will all wear Autism Speaks pins throughout the 2015 telecasts, and public service announcements advocating for the people affected by autism will be featured on the telecasts. Additionally, Autism Speaks and America's Best Racing will cross-promote their respective missions across social and digital media platforms and will explore future campaigns, events and co-sponsorship opportunities. In 2008, Autism Speaks was selected by FOX Sports to be one of four charities featured in its new FOX Sports Supports on-air charitable initiative.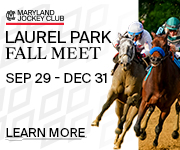 "We are very pleased to partner with Autism Speaks and to raise awareness and funding for autism research and family services," said Jason Wilson, president of TJC Media Ventures, a subsidiary of The Jockey Club. "Therapeutic riding is a proven and well-regarded treatment for children with autism, and many retired Thoroughbreds find new homes on farms, ranches and foundations that provide equine therapy to autistic children. By combining forces with the world's leading autism organization and highlighting synergistic efforts using the combined resources of our marketing, digital and social outreach, awareness for both Autism Speaks and America's Best Racing stand to benefit."
"We are thrilled to partner with The Jockey Club and for its commitment to the one in 68 people living with autism," said Alec Elbert, chief strategy and development officer at Autism Speaks. "The awareness and funds that will be raised via America's Best Racing are vital to our mission of providing a better future for those who are affected by the disorder."