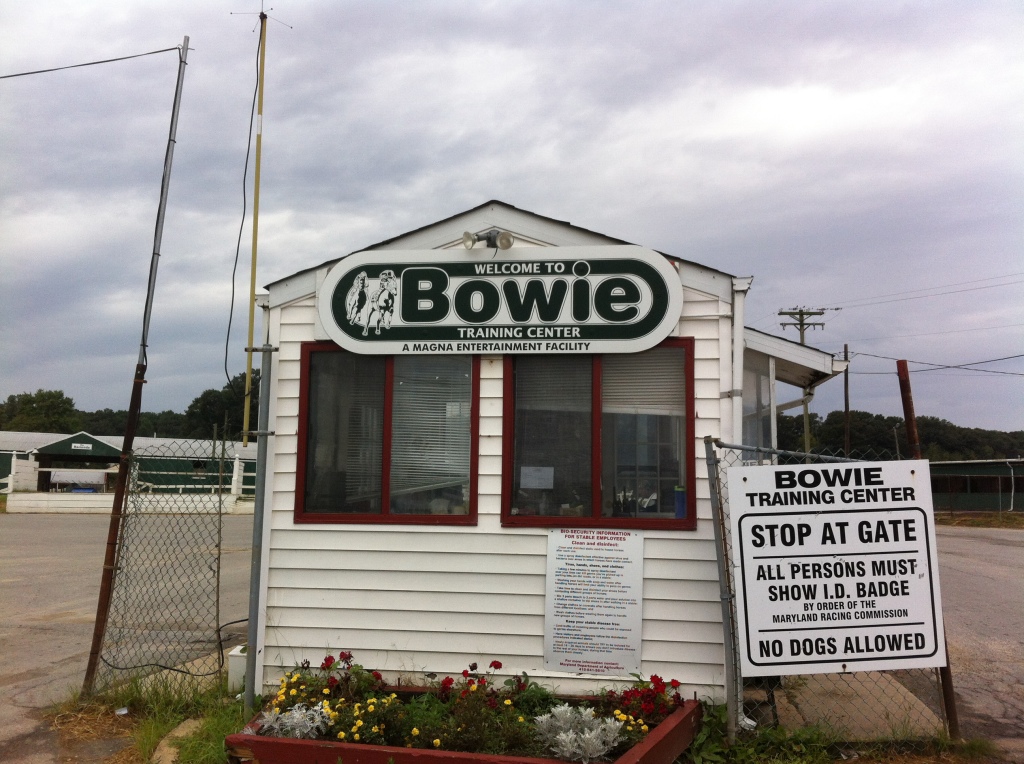 Just prior to Christmas, we interviewed new Maryland Jockey Club Vice President and general manager Sal Sinatra in his office at Laurel Park.  Today, in the second of two parts — part 1 is here — we discuss the importance of big events and, surprisingly, the Bowie Training Center, in Maryland racing's future.  Part 2 of two.
by Frank Vespe
Sal Sinatra's a racing guy.
Sinatra, the new Vice President and General Manager of the Maryland Jockey Club (MJC), has deep roots in racing and what he calls "out-tentacle type connections" in the industry nationally.  As a youngster, he worked on a New Jersey breeding farm.  Later, he worked at the Daily Racing Form, then Monmouth Park, a computer company, and finally, as racing secretary, at Philadelphia Park and then Parx Racing.
All of which is why he's in Maryland now, and he knows that all of the changes the Stronach Group, the MJC's owner, wants to make hinge on his ability to put together a top-quality racing program.
One of the keys to constructing that program — more and bigger big events — will surprise no one.
The other — the Bowie Training Center — may mean continued life for a facility that's been on the chopping block for years.
There's no question the local racing product has improved significantly in recent years, following the addition of slots money to enhance purses.  Indeed, Sinatra suggested, during a pre-Christmas interview, that it's "better than NYRA in wintertime."
Yet, he allowed, "There's absolutely room for improvement."
He added, "These people do a great job on Preakness. There's no reason why the rest of the year we can't do other things and do a good job of it."
That points to one of the strategies Sinatra and the Stronach Group intend to pursue: increasing the emphasis on big-event days.
"We've got to sit down, we've got to look at these things — and focus," said Sinatra.
One thing that focus likely means: further consolidating the number of days on which stakes are run, a process begun under former MJC President Tom Chuckas.
"The days of running a stake every weekend doesn't work," Sinatra observed.
He pointed to next month's Presidents Weekend cards, featuring the Grade 2 Barbara Fritchie (and two other stakes) on Saturday and the Grade 3 General George and one other stake on the holiday Monday, as a missed opportunity.
"I would have the Fritchie and General George on the holiday Monday," he said.  "You're not competing aginst New York.  Gulfstream might have a stake. But if you have six solid ones, you could do an all stakes Pick 5, guarantee a pool – something that TVG and HRTV will want to push."
Something else the racing channels like to push: Grade 1 races, of which Maryland has only one currently, the Preakness.
"There's some races on our calender that can move up," Sinatra said.
He points to the De Francis Dash, formerly a Grade 1, and Laurel's two graded mid-winter sprints, the Fritchie and the General George, as races with the potential to move the meter.  But there's one race he thinks has the greatest potential of all.
"The Pimlico Special needs to move up and it should move up," Sinatra said.  "It used to be a very formidable race on the racing calendar; used to be a Grade 1 and it should be.  And there's no reason that it can't get back to that."
The Special, a race whose spotty history almost perfectly tells the story of Maryland racing, with its glorious highs (including the most famous match race ever run, between Seabiscuit and War Admiral) and troubling lows (years in mothballs), disappeared following its 2008 running, as a Grade 1, before reappearing in 2012, as a Grade 3.  Sinatra envisions a grander future for the race.
"You got the Donn [Handicap, a Grade 1 at Gulfstream], you got the Big 'Cap [Grade 1 Santa Anita Handicap], and if we can do something with the Pimlico Special, then you could have the Magna Crown," he said.  "You've got three races, every other month. If there's money out there for the older horses that's another reason to keep them running."
Beyond the big event days, Sinatra's aware that long-term success requires ensuring a high-quality day-to-day racing product that's attractive to bettors.  And for that, Sinatra points to an unexpected target: the Bowie Training Center.
Bowie, a former racetrack that since the mid-1980s has served as a training center, has long been seen by the Maryland Jockey Club as a drag on its finances, its fate apparently sealed when the 10-year agreement between horsemen and the tracks allowed for its shuttering once sufficient stall space had been built at Laurel.
But Sinatra now sees a different future for the old track.
Sinatra says that the MJC intends to build 800 new stalls at Bowie, most likely in the track infield.  That will enable the company to avoid the difficulty of renovating the barn area and to resolve numerous environmental issues.
It will also allow it to renovate Pimlico more readily.
"What happens there is, the horses need a place to go," Sinatra explained.  "So to renovate Pimlico, you've got to have barns here and a decent facility over at Bowie so you can attack Pimlico and make it the jewel it's supposed to be. Once I can empty Bowie and get that project going, then we can go on to Pimlico."
The first new Laurel barn, with 150 stalls, is slated for completion by the beginning of April.
But Sinatra says that renovating Bowie is important not just in the near-term but also in the longer term because it can be a magnet to attract horses to the MJC tracks.
"I want to have a couple thousand horses for [racing secretary] Georganne [Hale] to get field size up," Sinatra said.  "You look in Florida, he's got 4,500, 5,000 horses down there."
Current estimates are that there are fewer than 1,600 horses stabled at Laurel, Pimlico, and Bowie.
Bowie, with its dilapidated barns and crumbling infrastructure, needs considerable work to be that magnet; but Sinatra isn't worried.
"Ultimately we want it to be our Palm Meadows, basically," he said, referencing the training center the Stronach Group owns near Gulfstream Park.  "They're going to put some assets into it and make it nice."
Bowie's had at least nine lives in its 100-year existence.  Now, perhaps, it'll find one more, as a key component in Maryland racing's future.