by Frank Vespe
"It feels strange," Marty Feldman said.
And so it was: a retirement ceremony for a horse, with the show stolen by a goat.
A day which entailed no risk — no race to run, no horses to beat — in which superstitions kept coming up.

Maybe it's just par for the course.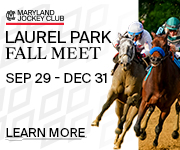 They came to Laurel Park Saturday to praise Eighttofasttocatch, the chestnut Maryland-bred owned by the late Arnold Heft and his wife Sylvia, who was retired after winning his fourth consecutive Jennings Handicap last Saturday.
But they ended up praising 'Catcher's best friend, the short, fat goat Gigi.
"It's not just a gimmick," trainer Tim Keefe insisted when asked about Gigi after the ceremony.  "She really does settle him."
Perhaps so.
But it lent the event a levity that, upon further review, struck just the right note.
There was Keefe, showing off the shirt-and-tie combo — make that the shirt-and-flamingo-decorated-tie combo — he wore every time 'Catcher ran.
"This is a Sylvia Heft, Eighttofasttocatch tie and shirt," Keefe explained patiently.  "This is flamingos, it's purple and pink and white.  This was my getup.  I changed the jacket once in a while, but otherwise this was it."
"So you're not superstitions at all," a reporter suggested.
"Oh no, not at all," Keefe responded with a laugh.
There was Gigi, striking a pose.
Where there'd been tears after 'Catcher's Maryland Million Classic win in October, today there was laughter.
It's better that way; horse racing is, in the end, about the good times.
And Eighttofasttocatch — who won 17 times in his career and earned more than $1 million — delivered plenty of those.
Yet Keefe reached back, back past the three Classics, the four Jennings Handicaps, all the stakes, all the wins, for his fondest memory.
"In hindsight now, I vividly remember buying him," Keefe said.  "I've never said that, but I vividly remember buying him.
"I remember watching him.  I remember at Timonium.  I remember David Hayden having him, he was in the infield, I remember watching him do everything," the trainer continued.  "I remember Arnie was on the phone with me and — he didn't like me to bid two and three thousand.  We were at $43,000 – then the bid was 45, somebody else, and Arnie was on the phone: 'Bid 50, bid 50.'  And I just raised my hand and got 47 and got him.  To the day Arnie died, I joked to him that I saved him $3,000."
Feldman — Heft's son-in-law — and his wife Harriet (Heft's daughter) reached back even farther.
"We both go back to when my father started as partners with Hal Clagett," Harriet Feldman said, recalling horses like Pulverizing and Little Bold John.  "It's hard for us to conceive that they're actually comparing this horse to Little Bold John."
But they are comparing the two, and with reason.  Decades apart, both horses developed strong fan followings on the strength of multiple seasons at or near the top of the local horse population.
'Catcher's retirement means the conclusion of the 26-year run of Heft Stables.  "The end of an era," Marty Feldman called it.
Soon enough, Eighttofasttocatch — and of course, Gigi — started up the stretch, towards home, and retirement, and a new career as an event horse.  Arnie Heft had dreamed of having a champion, and Eighttofasttocatch had fulfilled that dream.  He'd dreamed of owning a millionaire, and Eighttofasttocatch had fulfilled that dream, too.  He'd dreamed of owning a horse good enough, and popular enough, to warrant a retirement ceremony in the winner's circle.
He hadn't lived to see all those dreams fulfilled.  But those closest to him suspected that, in a sense, he had seen them all the same.
"It's just a shame it was nine months too late for my father to see it happen," Harriet Feldman said.  "But I'm convinced he's here."
[su_video url="https://www.theracingbiz.com/wp-content/uploads/2014/12/IMG_3159_x264.mp4″ poster="https://www.theracingbiz.com/wp-content/uploads/2014/12/eight-8342.jpg" title="Eighttofasttocatch heads home." width="420″]