by Frank Vespe
D. Wayne Lukas didn't make it out to Laurel Park on Saturday, which unexpectedly turned out to be too bad.
Lukas, the nearly-80-year-old trainer whose career has extended now 15 years beyond his induction into racing's Hall of Fame, sent out Zee Bros to post a 29-1 upset of Laurel's $350,000 Frank J. De Francis Memorial Dash, the richest race run at the central Maryland track.
Meanwhile, back at command central in Kentucky, his two runners in Saturday's graded events at Churchill Downs ran 11th and 14th.  Still, the De Francis shocker brought to mind another recent Lukas special: the win, two weeks ago, by Take Charge Brandi in the Breeders' Cup Juvenile Fillies at 60-1 odds.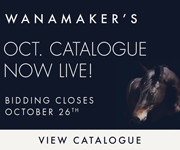 "Nobody does it better than Wayne when it comes to running in the big races," said Lukas' assistant trainer, Tim Austin. "We got this horse right after the Saratoga meet. It took a few weeks to figure him out but in his last four workouts, I know they saw a big improvement in him. This horse is really doing well right now and we are glad to win this race for [owner] Mr. Zayat."
Wags in the winner's circle suggested a new wagering strategy: just put a couple bucks on Lukas longshots in big races.  They may not win often, but at odds like 30-1 and 60-1, they don't have to.
Joe De Francis, the son of Frank J. and the man who, during his own tenure as head of the Maryland Jockey Club, helped to create the De Francis Dash, didn't disagree.  "You should never let D. Wayne Lukas go off at 25-1," he said.
"I'm thrilled that the race has become such an important part of the national racing calendar," De Francis added.  "When we created it — now, 25 years ago, to honor [Frank's] memory — that was what we were hoping."
The elder De Francis passed away in 1989.  The race named in his honor, first run in 1990 with the same $350,000 pot run for on Saturday, made an immediate splash.  Maryland-bred Northern Wolf won the inaugural De Francis, setting a new Pimlico record when he motored six furlongs in 1:09.
The next year, with the race moved to Laurel, Housebuster posted an impressive victory en route to earning the Eclipse Award as champion sprinter — the first of four runners to use the race as a springboard to an Eclipse.
The race has fallen on harder times of late.  It was not run in 2008 or 2010 and it lost its grade after those years.  The erstwhile Grade 1 event has soldiered on these last three years with a big purse but no grade.  Following a race which included six graded winners, including Grade 1 hero Dads Caps, that should change.
A year ago, De Francis, his sister Karin, and other members of their family huddled with the winning connections in the paddock after Immortal Eyes splashed home in the rain.  Saturday afternoon, though it was sunny all day, a rainbow poked its head out during the De Francis post parade.
Symbolism?
"It really does [feel like old times]," De Francis said.  "The money that's gone into purses from casino gaming has been a real godsend, and so, that's really helped to revitalize the racing, and hopefully that can continue."
De Francis smiled when asked if his father would have enjoyed the day.
"He would have loved it, especially with a horse paying $60," he said with a laugh.  "He would have enjoyed that a lot."