In the fourth of his weekly series, Handicapping Zen, handicapper and author Bobby Zen examines the art and science of handicapping horses.
by Bobby Zen
Though we call it horse racing, there are a lot of folks involved with the horses.  And those people can have a huge impact on the outcome of a race. Two of the most important are the trainers and jockeys.
When I think about the trainer, I want to know what he is trying to accomplish with the horse in today's race. Your first thought is "WIN," right? Well, yeah, theoretically. Realistically, if the horse is in sharp racing form (currently winning and/or contending), then the trainer will try to maintain that winning edge. But most horses have a form cycle, in which their performance is either improving or declining.
[boxify cols_use ="3″ cols ="6″ position ="right" box_spacing ="5″ padding ="3″ background_color ="gray" background_opacity ="10″ border_width ="1″ border_color ="blue" border_style ="solid" height ="220″ ]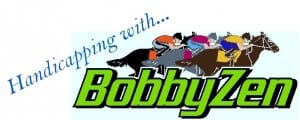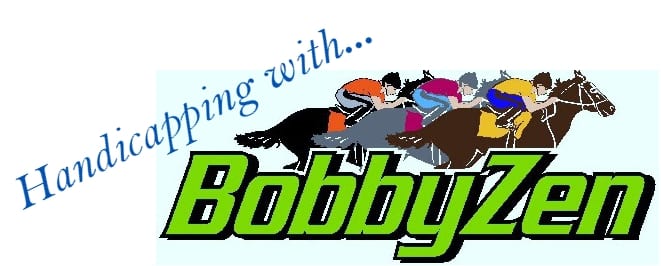 SERIES SIGNPOST
LAST WEEK: Race conditions and class
TODAY: Trainers and jockeys
NEXT WEEK: Breeding and trips[/boxify]
So, if the horse is on that down cycle, the trainer may not drive him as hard as possible right now. If he's on the up cycle, the push probably becomes more aggressive. This is commonly known as "racing him into shape."
So what is a trainer's intention in a race?
The tools that we use to answer trainer that question are statistics, past performance and working knowledge. The stats on trainers that sharpies used to keep in a "secret notebook" are now readily available in the past performances, and can even be overwhelming in quantity. We might see percentages on second off layoff, sprints, turf to dirt, claiming, shipper and so on.
Some of these stats will be more relevant — and more revealing — than others.  I look for the one(s) I think best apply to this particular racing situation (that's why we call it handicapping).  I mentioned writing a positive comment or stat in black pen on my checklist; conversely I mark down a negative stat in red. It just helps me at a glance when identifying contenders. Remember the stats rule "average" is 12%, making 13% or more a good number, and less than 12% a bad number.
The past performance of the trainer may or may not match exactly with that of the horse. Why? Because he may have recently been claimed, or changed hands for some other reason. This will also be noted in the past performances. Look for positive and negative changes in performance after this date (and upgrade or downgrade accordingly). Again, stats may point that out, such as, first after a claim, second start for trainer, etc.
The working knowledge a handicapper employs might involve knowing a trainer's routines; some do very well at one meet and poorly at another. Some may start a meet strong with many contenders, only to tail off through the meet. Others may start slow and finish like gangbusters. Some trainers are better at one thing — two-year-olds, for example, or turf sprinters — than most but not as good at some other things.
Finally, it's important to keep in mind that the horses are living creatures and not machines.  They have their own likes and dislikes, and when a horse changes hands, that could put him in a spot where he is more or less likely to reach his potential.  A horse may even go to what on paper is a better barn and do worse; the astute handicapper will keep in mind that how a trainer does in general can be trumped by how he's doing with this specific horse.
The statistics on jockeys are not quite as numerous, but are just as important to me. I particularly focus on winning percentage at the meet, which, aside from needing to be above 12%, is compared to winning percentage for the year. This tells me if the jock is having a good meet or not. Some other relevant percentages indicate whether he or she can ride a speed horse or a closer better. Also, whether they are better at sprints than routes, or dirt versus turf, and so on.
Most riders will inherently be better at one or more of these angles, but aren't typically great at all aspects. We also need to consider rider switches from a low percent jock to a higher one, or one that specializes as previously noted. There are changes back to rider that has previously won on a horse, or changes away from this rider. We find trainer/jockey combinations that win a high percentage of races together.
So, there are a lot of ways the trainer and jockey can affect the outcome of the race. I know 'cappers that do not even consider these pieces of the puzzle, but they are a solid factor for me.
Finally, a word on weight.  I discount the weight a horse is carrying (yes, I said it). My logic is that a 1000 pound animal will not speed up or slow down from a couple of pounds. A three-pound swing represents .3% of the total weight load for a horse. To me, there are too many other factors that have a much greater impact to worry about weight.
Bobby Zen holds an MBA and is a professional handicapper and author.  His win percentage has exceeded 40 percent in each of the last five years.  Learn more at www.bobbyzen.com.
(Featured photo by Laurie Asseo.)