by Doug McCoy
Fray Martinez and Victor Carrasco, like kids the world over, had their heroes and dreams as youngsters. Growing up in San Juan, Puerto Rico, the pair with a race track background fantasized of being Johnny V. or Joel Rosario, driving toward the finish aboard the leader in the Kentucky Derby or Breeders' Cup Classic. The pair both grew up in racing and both attended and graduated from Escuela Vocacional Hipica, a highly regarded race track riding academy whose graduates include the Hall of Fame member and two time Eclipse Award winning jockey Velasquez
Carrasco, 22 and two years older than Martinez, journeyed from Puerto Rico to the U.S. and made the first step toward realizing that dream when he took the racing world by storm, winning 215 races in 2013 and earning the Eclipse Award as the country's top apprentice jockey.
Back in Puerto Rico, Martinez followed Carrasco, who he says is "like my older brother," every step of the way.
"I'd watch him (Victor) on the computer all the time," the young rider said, "If he was riding anyplace where they streamed the video, we were watching. Then Victor and I would talk almost every night. When they announced he had won the Eclipse Award, everybody in the neighborhood was so proud. We used to talk all the time about someday going to America and riding in this country.  But for one of us to win the Eclipse Award, that was beyond even our dreams. I couldn't wait to follow Victor, to come to the U.S."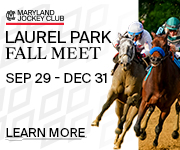 And Martinez was able to make that happen. Carrasco spoke with agent Tom Stift, who has handled the older rider's career since he came to this country and arranged for Stift to handle Martinez' engagements when he travelled to this country. Martinez rode his first race in the U.S. in April, and by his own admission, it took a while for him to adjust to what it takes to put horses in position to win in this country.
"We were taught not to rush horses early, to rate them early in races, but in this country and especially at Delaware Park, you have to be on or near the lead most of the time to have any chance to win," the young rider admitted.  "Once I learned that, things have gone much better."
"We had a little talk a while back," Stift revealed.  "Fray thought he was doing the right thing by taking horses back off the lead most of the time but that just doesn't work in this country, especially at Delaware. The track is very speed favoring.  The trainers know this and train their horses accordingly. We (he and Martinez) were in danger of losing stables if he didn't change his approach. Once he understood the changes that had to be made, we started to win."
The strategy change apparently worked, as Martinez has picked up steam in the last two months, winning on 17 or his last 100 mounts. He currently is the top apprentice in the standings at Delaware Park with 31 wins and has won 75 races in 2014, a solid first season. And he has his apprentice allowance until February of 2015.
So Martinez and Carrasco continue to follow their dream. They live together here, and every night they talk about the day, their mounts, and what they can do to improve themselves as riders.
"We've both been lucky so far but we're young and we have goals we both would like to attain," said Martinez.  "It's great to be able to live together and ride together.  It's what we dreamed of doing and now it's coming true."