With a substantially reduced presence from horses bred out of the region, yesterday's Fasig-Tipton Eastern Fall Yearlings sale experienced across-the-board declines.
Overall, 275 horses sold for a grand total of $6,023,900 and an average of $21,905.  That was about five percent fewer horses than sold a year ago, with the gross value declining by nearly 20 percent from more than $7.4 million in sales in 2013.  The median fell from $17,000 to $10,000.
The lone major metric to rise was the number of horses that did not sell.  That number more than doubled, from 46 in 2013 to 105 yesterday.  Thus, although there were 13 percent more horses on offer yesterday — 380 versus 335 in 2013 — the number actually sold dipped from 289 to 275.
For the second straight year, all of the horses on offer were bred in one of eight states: Maryland, Pennsylvania, New York, Kentucky, West Virginia, Virginia, Florida, and New Jersey.  But the composition of the group changed substantially; whereas a year ago, one-third of the horses sold were bred in Kentucky, New York, and Florida, this year that number fell to about 29 percent.
What's more, the gross value of the out-of-region horses dropped by about $1.5 million.  In 2013, those horses accounted for fully 42 percent of the event's total sales; yesterday, they accounted for just 27 percent.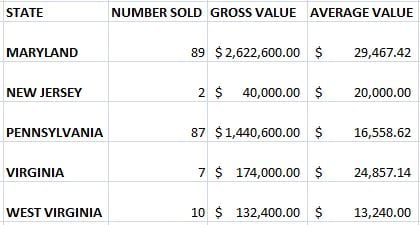 Horses bred in Maryland proved to be the sale's brightest spot.  More Maryland-breds sold — 89, versus 71  year ago — and they sold for more money.  Maryland-breds averaged $29,467 yesterday, a solid increase from the $23,546 they logged a year ago.
Moreover, the day's top three sellers — Hip 29, a Flatter colt that fetched $260,000; Hip 180, a Pure Prize filly who sold for $200,000; and Hip 35, a Trappe Shot filly who brought $195,000 — all were bred in Maryland.  The sale's fourth-highest price, Hip 273, a Friesan Fire colt who brought $130,000, was bred in Pennsylvania and is Maryland Million-eligible.
Ellen Charles's Hillwood Stable LLC bought the sale's two richest horses and led all buyers with $513,000 in total purchases.  All In Sales bought eight horses — more than any other purchaser — with a combined value of $177,000.
On the sell side, Bill Reightler sold 37 horses, the most of any consignor.