byDoug McCoy
It was 1976 at Thistledown Race Track. Late one fall morning a stout young man opened the door to the Daily Racing Form office high atop the grandstand. "Hi, they told me to report here," the visibly nervous visitor said.  "They only gave me two days of training, please be patient and don't fire me the first day!"
That stout young fellow was Tom Durkin. Fortunately for racing and the world at large, the rookie call-taker did not spend much time with the DRF, choosing instead to follow his first love, calling horse races. And now, some 38 years later, one of my dearest friends and the man many consider the greatest track announcer this sport has ever known will call his final race on August 31.

There have been a number of articles recently about Tom Durkin the announcer, and his huge body of work that includes 22 years calling the Breeders' Cup, 10 years calling the Triple Crown, and 24 years as the voice of the New York Racing Association.  But Tom is, of course, more than an announcer.  He is a friend, a man, and a consummate professional. It is that professionalism, that training and preparation, that helped him bring us those heart -stopping descriptions of some of racing's greatest moments over the past 30 years.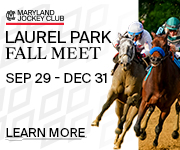 When Durkin took on his role as the voice of the Breeders' Cup in 1984 (a position he held until 2005) he organized a program devised to make him as familiar as possible with the horses he would be calling.  For four to six weeks prior to each Breeders' Cup, Durkin would put this regimen in motion and, in essence, go into training.
For hours each night Durkin would watch video tapes of races involving potential B.C. starters, watching the same race over and over again in an attempt to get a feel for each horse's running style and individual personality. He started a "B.C. book," a notebook that grew thicker and thicker as the big day drew closer. Every B.C. hopeful was included, and in that book the announcer would jot down terms and phrases that fit a particular horse, descriptions that would give the public a feel of each horse's individuality. In essence he would build a visual and mental profile for each horse in his mind.
Then, on B.C. day, as the races unfolded, Durkin would not only give fans and the viewing public the horses' running positions, he would reveal the different styles and individual traits of the runners in the field as the race unfolded.
Durkin has continued his meticulous preparations for other big races down through the years. Many of those phrases — think, 'the unconquerable, invincible, unbeatable Cigar!" — did not just pop up from thin air. Those memorable descriptions during the heat of battle were the product of many hours of preparation.
A fun-loving extrovert who enjoys nothing more than fine food and drink, Durkin abstains from liquor during that pre racing training. He works out regularly, and does everything he can both physically and mentally to be ready for his role in racing's biggest days of the year. But as his confidantes know well, once the final race of the Breeders' Cup (or Kentucky Derby in later years) are official all bets are off!
Durkin's post Breeders' Cup parties were legendary affairs. One year he attempted (unsuccessfully) to book "Outlaw" Jerry Jeff Walker to play at one of his soirees.  At another Durkin post-B.C. bash, his mother wound up (fully clothed) in the pool at the Fontainbleau Hotel in Miami.
Many were puzzled when Durkin retired from doing the Triple Crown races in 2011, a position he had held since 2001. But those who know him understood the decision; for they knew how much of himself the man put into his quest for perfection on these days. As glamorous as being the race caller for this trio of races is, it is also unbelievably stressful. There is zero margin for error, and no one job in racing invites criticism more than that of the track announcer of major races.
Durkin, honest to a fault, readily admitted the stress of the position had become too much to handle. The Derby takes two minutes to run; for someone like Tom Durkin preparing for those two minutes took months.
Durkin's preparation makes him a font of information, which he readily shares.  Down through the years this writer has, on more than one occasion, called upon Tom for advice, for assistance, for support. No matter what the situation , he has always been there. A man should consider himself blessed if he has just one friend like Tom Durkin in his lifetime.
Several years ago I arranged for some of my friends who were going to Saratoga to meet Tom and watch him call a race. When they came back they couldn't wait to tell me about their encounter with the great race caller. And they didn't want to talk about how cool it was to watch him call a race. They wanted to talk about what a great guy he was. "He was so nice," they exclaimed.  "He treated us like royalty. He had someone come to the booth and take our camera so we could have a picture with him.  And," they added, "He's so genuine, he's just such a down to earth guy."
In a profession where there is no shortage of mega-sized egos, Tom Durkin has never let his immeasurable success go to his head. He's just as at home in Islamorada in the Florida Keys watching the sun go down at the Lorelei Resort as he is hobnobbing with the rich and famous at The Tavern on the Green in Central Park. That's why we feel quite confident he's just as prepared to enjoy his golden years as he was to bring racing's best into our living rooms and our hearts.
Tom Durkin never did it for the money, and he never did it for the fame,.  He did it for the love of the game.
(Featured photo by NYRA/Adam Coglianese.)