Today in Racing History is an occasional feature focusing on some of racing history's interesting, important, or unusual events.
June 24, 1991
by Richard Hackerman
Long before Rosie Napravnik, Julie Krone and Chantal Sutherland, there was Mary Bacon, the first well-known female jockey in America.

Her trademark was her model's face with long blond hair, her cowboy hat and painted fingernails.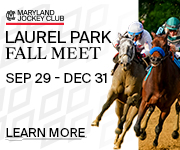 Mary Bacon was seen on the covers of magazines, in divorce court, nude in the pages of men's magazines and riding horses on four continents.
Bacon's life story was a forest of crisscrossed trails and tales that were difficult to verify.
"Mary Bacon is 20, 21, 22, 23, 24, 25, 26. She's from Illinois, Oklahoma, Ohio, Minnesota, Michigan, New Mexico. By the time she was 16 she had ridden thoroughbreds, quarter horses, trotters, show horses and bulls in rodeos and race tracks all over the country; she was an exercise girl, a stable hand, a riding pro, a parade marshal and a horse master; she had slugged cops, stolen chickens, was in a foster home, three reform schools, was a sixth grade dropout, a high school graduate, a lifeguard, a dancer, a topless go-go girl, a wife, a mother and a professional jockey," commented writer Charlotte White in 1991 in an article about Mary Bacon's mysterious and imaginative past in the magazine Womensports.
Bacon, born Mary Steedman, saved her money growing up and attended a prestigious riding school in England, earning an instructor's degree.  However, the lure of the racetrack was too much.  She made her parimutuel debut in 1969, winning her first race at Finger Lakes, and winning 55 of 396 races and earning $91,643 in purses.  She was the first female to make the list of leading apprentices.
She was kidnapped in 1969 by a track employee in Wilkes-Barre, Pa., and held in a nearby woods at knifepoint.  It seemed like a publicity stunt. But two years later, Bacon found a man hiding in her bathroom in a motel in Louisville — and said he was the same one who'd tried to kidnap her. She saw a light under the bathroom door, kicked open the door and attacked the man, Paul Corley Turner, with a pair of scissors. He fired some shots and got away. He was later captured by the FBI in a nationwide manhunt and sentenced to 12 years in a penitentiary.
Mary Bacon had a wholesome look — an ironic contrast to her personality. She got offers to endorse products, including a stint as the original "Charlie Girl" for Revlon, and she appeared in a Playboy spread on working women in 1973.  Mary appeared in Vogue.   She claimed  to have appeared in other adult magazines, as well as many of the other big fashion magazines.
She reportedly made more money modeling than riding.  She loved the attention, and the attention loved her back; she was a natural.
On posing for Playboy Mary said, "I thought they'd just want pictures of me with mud splattered on my face after a race. When they wanted the nude I thought it was funny. The only thing that sticks off me is my bumpy collar bones."
On husband Johnny Bacon crashing into her during a race and receiving a five-day suspension: "That's nothing. I gave him five nights."
On race riding Mary commented, "You have to be a lady when you're off a horse and a man when you're on one. I'm a man from the time the starting gate opens until that horse crosses the finish line, and I've gotten everything out of him that he wants to give.  But when you`re a bleached blonde who wears makeup when she works horses in the morning and has been in Playboy, you find that it's very hard to be attractive. It's the casting-couch syndrome.  Believe me, the closest way to a trainer's heart is not through his stomach."
She added, "I'm not controversial. I'm just not a liar and a phony."
Bacon often wore flowered underwear, which showed through her white jockey pants.  Men on the gate crew would ask, "Is it roses or daisies today?"
Bacon retorted, "When I'm in the lead, it gives the boys back there something to look at."
When Hazel Park officials raised objections against  her riding against first husband Johnny "Pug" Bacon, Mary solved that by divorcing him.  After the divorce Mary commented:  "If they ever legalize marriage between horses and human beings then I'll get married again."
She once asked a New York State Racing and Wagering Board lawyer if he'd "like a punch in the mouth."
In 1970 Mary she rode in 697 races for purses of $107,343.00  She showed up in New York in the fall of 1972, in the big time to ride horses for future Hall of Fame trainer Jack Van Berg. Bacon loved the spotlight and the publicity, and she always gave them something to talk and write about.  In the spring of 1974 she was the top female rider in the country, and for a time ranked among the top 10 riders at Aqueduct.
Mary Bacon graced the cover of Newsweek's 1974 "Women in Sports" issue.  The article stated, "In her career as a jockey, Mary Bacon has been kidnapped, knifed and shot at, and in racing accidents has suffered a broken back twice, broken hands and feet, a crushed pelvis and a punctured lung.  Through it all, the 5'4″ Mary has triumphed like some kind of charmed soap opera heroine."
For all her successes, turmoil and tragedy stalked Mary Bacon. In 1977, Johnny Bacon was killed in an automobile accident.  Mary suffered 51 broken bones in racing accidents. Her pelvis was crushed. Her spleen was ruptured.  At times she could not walk without a limp.
Some of her problems were self-inflicted.  In April 1975, while riding at the Fairgrounds in New Orleans, she attended a Ku Klux Klan rally down the road in Walker, La.  A prominent personality, she was asked to speak. She was introduced to a crowd of 2,700 by the national director of the Knights of the Ku Klux Klan, David Duke.
"We are good, white, Christian people working for a white America," she told the rally, going on to suggest that others would "get smart and join the Klan" when their wives or sisters were raped by African-American men.
This time, a camera would be her undoing. A local television station filmed the speech. Bacon was back in the headlines. In an editorial, The Wall Street Journal referred to her as "The Klansman's Jane Fonda."
Almost immediately, her endorsement contracts were canceled. She lost a profitable TV commercial for Dutch Masters cigars. Trainers looked for riders carrying less baggage. She had 323 mounts in 1974; the next year, she would get only 143; by 1976, her total fell to 38.  Bacon, who later said she never had been a member of the Klan, never apologized.
In May 1979, she was seriously hurt in a starting-gate accident at a small track in East St. Louis, Ill. Her mount flipped. The horse landed on her.  She sued for negligence, claiming that the gate had been unsafe. She won and was awarded a $3 million settlement. She never collected. The track declared bankruptcy and went out of business.
Three years later came what in essence was her career-ending injury. In June 1982, Bacon went down in a spill at Golden Gate Fields in Northern California. She was comatose for eleven days.
Bacon developed trouble with her balance. Her memory was cloudy.
"Doctors said my license shouldn't be renewed because I was permanently brain-damaged," she told the Chicago Tribune in a 1987 interview. "I wasn't brain-damaged. It's just my personality."
Eventually Mary and second husband Jeff Anderson retired to a new life in South Florida.
"We lived there for a while and then moved to San Francisco," Anderson said. "For five years, she was a housewife doing things like shopping and hitting flea markets. I thought things were fine.  And then Mary woke up one morning and wanted to be a jockey again."
So they went from track to track. Having no success at the major tracks they ended up at smaller venues in Texas.
Jeff and Mary lived in Austin for two years. She loved Texas. She loved wearing boots and jeans and cowboy hats. Perhaps more importantly, she always managed to find some work in the state. Texas, just discovering parimutuel horse racing, was littered with small tracks searching for people with experience.
Though Mary broke her right arm in three places in a training accident in August 1990, she  returned to the races at Bandera Park in September 1990.   She rode in half a dozen races. On September 8, 1990 she rode her final winner.  In her career, she won 286 times from 3,526 races.
By June 1991 the word was out that Mary Bacon could no longer cut it.  Mary and Jeff drifted to Woodlands Race Track in Kansas City.  "By then, all the trainers had to see was Mary on a horse once, and she was finished," Anderson said.
Mary Bacon planned one last ride.  She told her husband that she was leaving the Woodlands, where he had found work as a jockey agent and she had been sentenced to watch others work with horses.
She would head south, she told him, back to Texas to try to find work on her own.
Mary Bacon left Kansas in her blue, two-door, 1985 Oldsmobile Toronado.
On June 7, 1991 Mary Bacon, suffering the lingering and painful effects of multiple riding accidents and terminal cervical cancer, left her motel room, walked to her car, took a gun out of the car and returned to her room, a witness told Fort Worth police.  About 25 minutes later, a maid opened the door to 133 to clean the room. Bacon was lying on the floor, a pool of blood around her head.  Mary Bacon died at 1:45 a.m. June 8.
In 1970, during her first year of riding, a Winnipeg reporter asked her how long she thought she would ride and she replied, "Until the day I die."
Sixteen days after her death, Mary Bacon returned to  Belmont Park, where she had enjoyed much of her early success.  Her cremated ashes were spread over the grave of Ruffian, perhaps the greatest female thoroughbred in history.
SOURCES