by Jim Hague
The veterinarian gave trainer Eddie Plesa bad news about his star horse, Itsmyluckyday, last June, after jockey Mike Smith eased the 2013 Preakness runner-up during the Pegasus Stakes at Monmouth Park.
"I knew something was wrong when Mike Smith pulled him up," said veteran trainer Plesa. "A ton of other jockeys might have pushed him, but Mike knew to pull him up. It could have been catastrophic."
Itsmyluckyday didn't finish the Pegasus that day because he'd suffered a fractured pelvis. As bad as the diagnosis might sound, Plesa wasn't overly concerned.

"I was almost relieved when I learned it was a crack in his pelvis," Plesa said. "I've experienced cracks in the pelvis in my horses before. I knew it was going to be time-consuming, but I knew that he could come back 100 percent."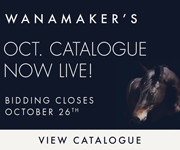 The 4-year-old colt, a son of Lawyer Ron out of the stakes-placed Doneraile Court mare Viva La Slew, just needed rest after his bad step in the Pegasus.
"We had to rest him and keep him quiet," said Plesa, who has his stable of horses housed at Monmouth Park. "We had to keep him as immobile as possible, but that's tough with horses. They're not mentally built that way. But Itsmyluckyday was an outstanding patient. He stayed with me at Monmouth Park for most of the time. Personally, I think it was better for him than if we transferred him to a farm."
Plesa believed that Itsmyluckyday, who won three times as a 2-year-old in 2012, including two stakes races at Calder, and won twice in 2013, including taking the Grade 3 Holy Bull Stakes at Gulfstream, had a better chance to recover at Monmouth with all the activity taking place there.
"If he was isolated at a farm, it wouldn't have been the same," said Plesa, whose horses have won more than 2,100 races and earned nearly $50 million in his career. "He's been the star of our barn since Day One. He gets extra attention being the star and from a mental standpoint, that helps. Depression does set in with injuries, even with horses. We took away any sense of depression by giving him attention daily, by constantly being attended to."
Plesa, whose wife, Laurie, is a co-owner of Itsmyluckyday, along with the Trilogy Stable, slowly nursed the star of his barn back to health.
"He just stood in the stall the entire time," Plesa said.
In October, after the Monmouth Park meet ended, Plesa shipped Itsmyluckyday to Gulfstream to prep him for a return to racing.
"Like an athlete who hasn't done anything for five months, he lost all of his muscle," Plesa said. "We had to literally start from scratch and build him back up. So we started off by walking him, then we progressed by putting the saddle on him with the walker. Then we did very light exercise and progressed after that with workouts."
Plesa entered Itsmyluckyday in the Grade 2, $250,000 Gulfstream Park Handicap March 8.
"He was running against one of the best older horses around in Palace Malice and finished fourth by seven lengths," Plesa said. "I was satisfied that he made the lead in that race, but he got tired. It was clear that he wasn't a fit horse. It's hard to find a race for him.  With Paco Lopez aboard, Itsmyluckyday went out April 26 in Gulfstream's $75,000 Best of the Rest Stakes, going 1 1/16 miles against three year-olds and up.  Carrying the top weight of the field at 123 pounds, Itsmyluckyday proved much the best, cruising to a three-length win under a hand ride in 1:42.38.
Soon after, Itsmyluckyday returned to his familiar Monmouth Park surroundings and on May 24, he registered his seventh career victory, taking the $75,000 Majestic Light Stakes at odds of 3-10.  The $45,000 first place take pushed Itsmyluckyday's career earnings to $932,600.
With two victories under his belt for 2014, Itsmyluckyday seems to have  put the fractured pelvis far in the rear view mirror.
"He's doing good right now," said Plesa, who is pointing Itsmyluckyday toward the 67th running of the $150,000 Grade 3 Salvator Mile, one of Monmouth Park's eldest stakes races, on July 6.
"That's the plan for now, but you can never take anything for granted," Plesa said. "At least we'll have home court advantage. I'm anxious to race him. If he wins, then he'll go over $1 million in earnings. We'll then try to find him a Grade 1 race."
Plesa said that his wife and Trilogy Stable co-own five horses currently and they go to the annual horse sale looking for other possible bargains. They bought Itsmyluckyday at a sale in 2010 for $110,000.
"I think there's the added bonus that it's the people I've trained for for more than 20 years," Plesa said. "He's a special horse, but not because Laurie owns a part of him. It's because of his personality. He has an extra special personality that a lot of horses don't have. He's a neat horse to be around."
How special?
"He's a kind horse," Plesa explained.  "Recently, I was walking by and he thought I had a carrot in my hand. I always give him carrots. So he grabbed my finger and put it in his mouth. But he knew right away it wasn't a carrot and didn't bite down. If he did, it would have taken my finger right off. That's just him. He was aware. Any other horse and my finger would have been gone. He knows he's something special."
Plesa's always known that.  Now, after recovering from a brutal injury a year ago, Itsmyluckyday is proving that he's something special to racing fans, as well.