From a Maryland Jockey Club release
The list of prospects for the 139th Preakness Stakes (G1) at Pimlico Race Course on May 17 grew to 10 Friday when Jack Wolf of Starlight Racing confirmed that General a Rod would compete in the Middle Jewel of the Triple Crown.
[boxify cols_use ="3″ cols ="6″ position ="right" box_spacing ="5″ padding ="3″ background_color ="gray" background_opacity ="10″ border_width ="1″ border_color ="blue" border_style ="solid" height ="575″ ]
PREAKNESS POSSIBLES at a GLANCE
California Chrome — Derby winner doing "super," will fly Monday or Wednesday
Ride on Curlin — Connections of 7th place Derby finisher hoping for Monday plane
Pablo Del Monte — Jeffrey Sanchez will have the mount on the Bluegrass show horse who drew in from the AE but did not run in the Derby
Dynamic Impact — Nose winner of G3 Illinois Derby considered probable
Bayern — Baffert trainee ran third in the G1 Arkansas Derby, second in Derby Trial
Social Inclusion — G1 Wood show horse now in the Pimlico Preakness barn
Kid Cruz — Tesio winner will work this weekend at Belmont, ship to Pimlico on Monday
Ring Weekend — Motion trainee, G2 Tampa Bay Derby winner, "50-50" to come
Ria Antonia — Connections will decide Tuesday on status of longshot winner of Breeders' Cup Juvenile Fillies, most recently 6th in the G1 Kentucky Oaks
General a Rod — New to the roster runner won the Gulfstream Park Derby and placed in the G2 Fountain of Youth and G1 Florida Derby, ran 11th in Louisville[/boxify]
General a Rod, trained by Mike Maker, finished 11th in the Kentucky Derby last Saturday but showed so much energy this week that Maker recommended that he go on to the Preakness.
"The bottom line is that Mike thinks the horse is in good order after the Derby and he thinks the race will suit him," Wolf said.

"He was full of himself, carrying good flesh and he didn't get a chance to show his true colors in the Derby," Maker said, "so it's the Preakness and we figured we'd give it a shot."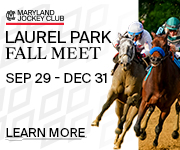 Javier Castellano, the leading jockey in America, has the mount in the Preakness. Castellano, who rode Bernardini to victory in 2006, will be making his third appearance in Maryland's historic race.
General a Rod is scheduled to be flown from Kentucky to Baltimore on Monday with two other horses that ran in the Derby, the winner, California Chrome, and Ride On Curlin, who finished seventh in the 19-horse field. The Tex Sutton charter flight is due to arrive at Baltimore-Washington International Airport at 1:45 p.m.
Starlight and Skychai Racing partnered to purchase the Roman Ruler colt from his original owner, J. Armando Rodriguez, on April 28. General a Rod had a strong campaign in Florida during the winter, winning the Gulfstream Park Derby on Jan. 1, finishing second by a head in the Fountain of Youth (G2) and third by 1 1/2 lengths in the Florida Derby (G1).
In the Kentucky Derby, he had a troubled trip and had to be steadied twice by jockey Joel Rosario. It was the first time in his six career starts that he did not finish in the top three. General a Rod, who had been effective running near the pace prior to the Derby, never was able to get into a contending position at Churchill Downs. He finished three-quarters of a length in front of his Starlight Racing stablemate Intense Holiday, who was forwardly placed before fading in the stretch.
Wolf said that he had expected a more competitive performance from General a Rod in the Derby.
"He came running at the end a little bit. I like seeing that," he said. "In hindsight, if we had known that the pace would have been like it was, it would have been better if General a Rod had been where Intense Holiday was. If they had switched places we may hit the board with both of them. I thought he would have done better. We'll tee it up again and see what happens."
Maker, who is making his Preakness debut, said the colt would gallop up to the race.
Until his rivals start arriving on Monday, Social Inclusion will remain the lone Preakness candidate on the grounds.
Rontos Racing Stable Corp.'s 3-year-old colt, who arrived at Pimlico Thursday morning following a nearly 19-hour van ride from Gulfstream Park, got acquainted with the racing surface Friday morning. The son of Pioneerof the Nile jogged the length of the front stretch to the seven-eighths pole before galloping a mile under exercise rider Domingo Navarro.
"He looked like he loved the track," trainer Manny Azpurua said. "The
way he handled the track was nice."
Social Inclusion is scheduled to gallop 1 ½ miles on Saturday.
"We're not sure whether he'll work on Monday, but what I have in mind is a half-mile," Azpurua said. "He'll gallop tomorrow and Sunday and then we'll decide."
The Preakness will mark Social Inclusion's fourth lifetime start and first since finishing third in the Wood Memorial (G1) at Aqueduct on April 5.
"He's a strong colt, but he's a May foal. I expect a lot of good things from him," his 85-year-old trainer said. "I believe he hasn't shown us all of his potential. Maybe I'm wrong, but something tells me he's a special horse."
Social Inclusion looked like a horse with star potential when he launched his career at Gulfstream in the winter, breaking his maiden by 7 ½ lengths in his six-furlong debut before breaking the track record for 1 1/16 miles with a 10-length victory over Honor Code in an open allowance.
In other Preakness news:
Kentucky Derby (G1) winner California Chrome galloped 1 ½ miles over a fast track at Churchill Downs on a warm Friday morning with exercise rider Willie Delgado aboard.
"He was strong this morning," said Alan Sherman, assistant to his father, trainer Art Sherman. "The track was a little cuppy this morning."
Rain began falling after training hours Friday and sporadic showers were expected to continue through the day and night and into training hours Saturday. Prior to the Derby, California Chrome trained on a sealed track the first two days after his arrival.
"We'll play it by ear tomorrow," Alan Sherman said. "If the track is in good shape, I don't mind training on it."
California Chrome stood quietly for seven minutes at the five-furlong gap before his morning activity and calmly walked back to the barn with Delgado all smiles.
"He is much stronger now than he was after the Santa Anita Derby (G1)," Delgado said. "I used to give Alan a thumbs-up when I came off the track, but now I just smile. He can tell how he (California Chrome) is doing by how much I sweat."
Upon his arrival at Pimlico California Chrome will be bedded down in Stall 40 in the Preakness Stakes Barn, which is traditionally reserved for the Kentucky Derby winner.
Kaleem Shah's Bayern visited the starting gate and then galloped 1 ½ miles under exercise rider Jorge Alvarez on Friday morning at Churchill Downs.
Never off the board in four starts for trainer Bob Baffert, Bayern is scheduled to work Monday and ship to Baltimore on Wednesday.
John Oxley's Illinois Derby (G3) winner Dynamic Impact galloped 1 ½ miles before the morning renovation break at Churchill Downs with exercise rider Marco Cano aboard.
Now riding a two-race win streak, Dynamic Impact is scheduled to work Saturday morning with jockey Miguel Mena up.
"He will be in the 6 o'clock set," said Norman Casse, assistant to father, trainer Mark Casse. "I don't like to work on a wet track, so we will see how it is. We may wait (until Sunday to work)."
Christopher Dunn and Loooch Racing Stable's Ria Antonia, sixth in the Kentucky Oaks (G1) in her most recent start, galloped 1 ½ miles at Churchill Downs with Maurice Sanchez aboard for trainer Tom Amoss.
Ria Antonia arrived in the Amoss barn on Monday and Friday marked the fourth time Sanchez had been aboard.
"She has a beautiful way of going," said Sanchez, who was the exercise rider for Mylute, the third-place finisher in last year's Preakness. "All I have to do is keep her safe."
Daniel Dougherty's Ride On Curlin galloped 1 1/8 miles under exercise rider Bryan Beccia for trainer Billy Gowan after the morning renovation break at Churchill Downs.
Ride On Curlin, seventh in the Kentucky Derby last Saturday, returned to the track Wednesday and has followed a similar exercise for three consecutive mornings.
"He just ran a mile and a quarter and he is coming back in two weeks," Gowan said. "He doesn't need to do much."
Gowan has Ride On Curlin scheduled for a two-mile exercise Saturday and the prospect of an "off" track is not a deterrent.
"He is going to go slow anyhow, so the track doesn't matter," Gowan said.
A son of 2007 Preakness winner Curlin, Ride On Curlin was purchased for $25,000 at the 2012 Keeneland September sale. His dam, Magical Ride, is a daughter of Storm Cat who was graded-stakes placed and her dam is Victory Ride, a Grade 1 winner.
"I liked his looks and that pedigree … when I saw that, I had to go in," Gowan said. "How did I get him for $25,000? I don't know. Ask the other buyers."
New shooters Pablo Del Monte and Kid Cruz galloped on their home tracks Friday morning as they moved toward the final works for the Preakness.
Pablo Del Monte trained at Keeneland for trainer and co-owner Wesley Ward. The Giant's Causeway colt was third in the Blue Grass Stakes in his last race. Ward decided to scratch and wait for the Preakness rather than start Pablo Del Monte from post 20 in the Derby. Jockey Jeffery Sanchez will ride the colt in the Preakness.
Kid Cruz is scheduled to be shipped from New York to Baltimore Monday. The son of Lemon Drop Kid galloped over the muddy training track at Belmont Park on Friday morning. Julian Pimentel, who has ridden Kid Cruz to a pair of stakes wins in Maryland, will be back aboard in the Preakness.
St. Elias Stable and West Point Thoroughbreds' Ring Weekend is scheduled to breeze at Fair Hill Training Center in Elkton Maryland Saturday morning.