by George Rowand
There are many people who got involved in the horse business because they saw a Thoroughbred one day and something clicked.
It was that way with Kerry Thomas.
"When Barbaro was at the New Bolton Center, I had an opportunity to go there with a kids group, and when I saw him, I walked out of there, and my life was changed," Thomas related. "I wanted nothing more than to be involved with racehorses. I didn't know how. I didn't know what I was going to do exactly. I just knew that that was where I needed to go."

Thomas now is the founder of Thomas Herding Technique, located in Cochranville, Pennsylvania. He said that he is applying observations he has learned about the herd dynamics of wild horses to racehorses.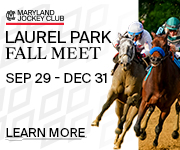 "My work studying horses in the wild transcended into patterns of motion and communication," he explained. "For me, it wasn't the physicality of these horses that managed their social structure, for want of a better term, it was their emotional conformation. It wasn't what they were, it was who they were that distributed through the hierarchy."
Who's the boss?
What Thomas discovered after "spending thousands and thousands of hours and looking at thousands and thousands of horses," was that there were herd dynamics going on, but what he initially thought was happening turned out to be almost the exact opposite of what really was happening.
"My first 'Ah ha' moment came when I suddenly realized that when I was watching horses, I was watching the tail of the beast and not the head of the beast," he said.
"I was watching the horses that did the most movement because I thought that was the most interesting.  And then I came across a dead horse in the wild that had been attacked — and this was a horse I had been looking at — and it struck me that when I was looking at that horse, so was a predator, and that was my moment where I said, 'Wait a minute. What I'm seeing is right in front of me, but I'm not interpreting this properly.' I went back and started to reassess what I was looking at, and it changed everything.
[pullquote]I want to peer into the window of the invisible and see if I decipher what's there." —
Kerry Thomas
[/pullquote]
"I began to realize that this whole system of survival is based on communication," he continued. "It's based not on body language, but the lack of movement. What I realized is that top-level horses have charisma, but these are controlled movements. They do something because they want to. They're not reacting to a stimulus with a knee-jerk reaction in their body. Zenyatta pawed the ground because she wanted to. It wasn't because she was scared. She made a decision. And these horses, they decide when they're going to be known and when they're not going to be known. That's one of the things that really stood out, and as I studied more, I began to realize that these patterns of behavior directly translate into the patterns of motion. And that's when I knew, 'Whoa, this translates directly into the sport of racing.'"
Before going into the racing industry, however, Thomas took his new-found knowledge to a different place. He was working with kids at a therapeutic riding center, and he was trying to use the knowledge he had earned when he was picking horses for kids to ride.
"People who bring their kids to these programs often are horse people themselves," he stated, "and they started to ask, 'Why did you pick this horse for my child?' And I would explain, and after awhile, they started to say, 'Will you come to my place and look at my horse?' At that point, I really didn't know what I was looking at. I just knew that there was something there. And I was trying to learn how to decipher it and how to interpret it. I did many, many years and many, many profiles that were pro bono because it was a learning experience for me."
Dynamic handicapping
His research showed that horses communicate their abilities and anxieties quite clearly, if one knows what one is looking for. Now Thomas' company offers a wide range of services to thoroughbred owners and trainers, from pre-purchase consultation to training the horse so it can best display its athletic ability to breeding suggestions. And he has branched out into a form of handicapping that has proven useful.
"Herd dynamics helped me pick Animal Kingdom and I'll Have Another to win the Kentucky Derby," Thomas said. "Through Brisnet, we offer a report on what we see in some 2-year-old races at Saratoga and Del Mar with an eye down the road for races later that year."
He also does a report on the Kentucky Derby.
"With this Derby report, we are reaching what I call the fringe fan base," he said. "There are a great many people who like horses. They may not like horse racing, but they like horses. They look at a Form, and they can't make head nor tail of all this information and these numbers, and what we offer in our work – the emotional conformation profiles – is the artistry of the horse. We're offering an emotional connection.  We find that every year, we reach more and more people who say to me, 'I've never looked at horses like that before, but you know what, I like them even more now.'"
It was a chance encounter with a special horse that introduced Kerry Thomas to the thoroughbred industry.  He may not have been born into racing, but he's very enthusiastic about what he continues to discover.
"I'm a student, and I have this drive to continue to learn," he said. "I want to peer into the window of the invisible and see if I decipher what's there."
(Featured image courtesy of Thomas Herding Technique.)