From a Maryland Jockey Club release
Hickory Ridge Farm LLC's Aunt Ellen entered the $75,000 Twixt Stakes without a victory in ten starts but closed from dead last in a field of five fillies to post the upset.
Horacio Karamanos rode the daughter of Pure Prize for trainer Ferris Allen. The filly was far back throughout but came with a rush at the end of the 1-1/16th test for Maryland-bred fillies to win by a head in 1:49.39.  Her late surge moved her past odds on favorite Steady N Love in the shadow of the finish line.
"I rode her a couple of times before and she was still a maiden and a little green, needed a couple of races to be in good shape," Karamanos said. "Coming around the second turn she gave me a good kick. The favorite was looking around a little bit and moving. My filly was coming on strong. I just got there and passed her."
Aunt Ellen paid $39.

"The horse was training well," Allen said. "Unfortunately she was training better than racing. She would either move too early or make some other kind of mistake in previous races. I thought sure Gary's horse (Steady N Love trained by Gary Capuano) would be tough in here. Horacio studies harder than almost anyone in the jocks room. He watches all the replays and reviews the races in the Form, as does Sheldon (Russell) who rode my other horse (fourth place finisher Charlie Renee). I'll probably take her back to her conditions because she is Maryland-bred and there is a lot of money to be made there."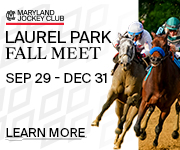 (Featured image by Jim McCue, Maryland Jockey Club.)