by Ted Black
Perhaps it's fitting that Immortal Eyes will make his 2014 debut at Charles Town on Thursday evening in the second running of the 4 1/2 furlong Ides of March Handicap.  After all, the nine-year-old Greatness gelding has thrived in the one-turn sprints at the West Virginia oval in recent years, winning 10 of 12 times there.
Immortal Eyes, who has won 18 of 48 career starts and earned over $1.1 million, discovered the fountain of youth last year, posting the best season of his career as an eight year-old with six wins and earnings north of $400,000.  Highlighting that campaign was an eight-length victory in the $350,000 Frank DeFrancis Memorial Dash last September at Laurel Park.
None of that, however, seems to calm trainer Damon Dilodovico, who admitted that he has already gotten a case of opening race jitters.

"I'm just a little nervous," Dilodovico said in a phone interview on Tuesday. "He's not as keyed up as he usually is. He's not an angry horse right now. Usually he's a lot more aggressive around the barns. But right now he's really calm. Maybe that's what has me a little nervous. He spent the winter down in Florida and he looks good. He's had a couple of good workouts [at the Bowie Training Center] and he looks ready."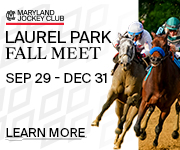 Immortal Eyes, who captured five stakes and six of 10 starts overall last year, is listed as the even-money favorite for the Ides of March.  But he is hardly a cinch. Fearsome, a speedy sort trained by Hugh McMahon, is also set to make his seasonal debut in the race and is 7-5 on the line. Fearsome, who won six of 10 starts and over $140,000 last year, is five-for-six on the CT strip.  He beat Immortal Eyes in the Webb Snyder last April on the Charles Town Classic undercard, but suffered his lone setback at the track when second to Immortal Eyes last fall in the Jefferson County Handicap.
"Fearsome is a tough horse," Dilodovico said. "We raced him twice up there last year and he beat us off a little layoff and then we beat him in the fall. There's only five of us in the race, but it didn't come up soft. Fearsome is fast and he likes that track as much as my horse does. We're both going in off a little break, so we'll see who comes out running."
[pullquote]He spent the winter down in Florida and he looks good. He's had a couple of good workouts [at the Bowie Training Center] and he looks ready." —
Damon Dilodovico
[/pullquote]
Last year Immortal Eyes kicked off his eight-year-old campaign by winning the Valentine's Day Handicap at Charles Town, then bypassed the Ides of March and finished second to Fearsome in the $75,000 Webb Snyder Charles Town Dash. But on that night, Immortal Eyes broke a step slow, trailed the field briefly, and then raced widest of all through the far turn before closing willingly to get second. Two years earlier he won the Webb Snyder in 50.09 seconds, the current track record for the 4 1/2-furlong distance at Charles Town.
It might not have seemed likely after last year's Webb Snyder, but Immortal Eyes was just getting rolling.  He later won an allowance race and then two $100,000 stakes at at Monmouth Park, the Mr Prospector and the Teddy Drone, before running second to the red-hot Ribo Bobo (12 wins from his last 13 starts) in the Icecapade on Labor Day weekend.
But Immortal Eyes rebounded from that setback to deliver the best effort of his career when he splashed to a nearly seven-length score in the $350,000 DeFrancis Dash, a race that once carried Grade I status and has propelled four previous winners to Eclipse Award recognition as champion sprinter.  Immortal Eyes concluded his campaign with a victory over Fearsome in the Jefferson County Handicap.
"For him to win those stakes at Monmouth and then win the DeFrancis the way he did at his age was something special," Dilodovico said. "He just seemed to keep getting better with each start, other than that one race at Monmouth. Nothing's etched in stone at this point, but the early goal for him is the Maryland Sprint on Preakness Day. He's never won a graded and I think it's still a Grade 3 this year. But with him, you just have to take it one race at a time."
A win would give Immortal Eyes 11 wins at the track.  That, coupled with his track record clocking, could — some would say should — prompt Charles Town to name a stakes race for Immortal Eyes.
"I know [owner] Mr. [Robert] Abbo loves this horse and he would love to see them name a race for him up there," Dilodovico said. "He's always done well at Charles Town. We'll see how he comes out of the race. We might bring him back for the Webb Snyder [on April 19, night of the Grade II, $1.5 million Charles Town Classic] or we might just skip that race and bring him up to the Maryland Sprint. I really want to win that race – it's a graded and it's on Preakness Day."
Not so long ago, conversations about naming races for him or winning graded stakes with him would have seemed implausible.  Though he debuted at two, he didn't post his first victory until he was four.  And even early last year — after a productive career that seemed to be winding down — he was nearly sold.
Now?  Now, almost anything seems possible for the seemingly ageless gelding.