Today in Racing History is an occasional feature focusing on some of racing history's interesting, important, or unusual events.
by Richard Hackerman
On February 15, 1995 hapless gelding Zippy Chippy ran 12th and last in a Maiden Special Weight race at Suffolk Downs on a fast track under jockey Jorge Vargas.  It was the fourteenth start of his career, but he was just getting warmed up.
The New York-bred gelding went on to lose 100 career races without a win, finishing second on eight occasions and running third in 12 races.   Zippy Chippy's final connections, owner/trainer Felix Monserrate, reportedly acquired him in exchange for a used Ford Pickup Truck.  Though based mostly in New York during his career, Zippy Chippy did make three starts in the mid-Atlantic, at Penn National.
Zippy Chippy did win two exhibition match races, defeating 10-year-old Standardbred Paddy's Laddy and Rochester Red Wings outfielder Darnell McDonald in a 50-yard race on the Red Wings' outfield. That win avenged his defeat against Red Wing outfielder Jose Herrera in a 40-yard race on Aug. 18, 2000.
In 2000, People magazine included Zippy Chippy on its list of that year's most interesting personalities. An English ad campaign used his name and image to convince kids to stay in school.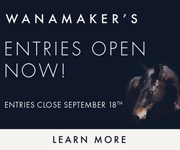 Zippy Chippy now resides at Old Friends Thoroughbred Retirement Home in New York living out his years with some of racing's greatest stars.
Sources
1. "Zippy Chippy, 0-91, entered Thursday at Penn National," The Blood-Horse, January 30, 2002.
2. "Zippy Chippy," Wikipedia.