by Frank Vespe
If you can meet with triumph and disaster
And treat those two imposters just the same…
                — Rudyard Kipling
If success has many fathers, there are few better places than the racetrack to learn that.
On Saturday at Laurel Park, a day with four stakes on the card, you could look in almost any winner's circle and find owners and family and friends, trainers and grooms, riders and valets, and other assorted folk who may — or may not — have had a close connection to the winning horse.  Fathers galore.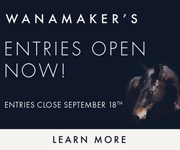 And then there was Victor Carrasco, who seemed to want to share his Native Dancer win with, well, just about everyone.  Literally.
After piloting Bold Curlin to victory  in the $100,000 event, the young jock, who posted his first stake win as a journeyman rider, couldn't find enough people to hug.  Even interviewers got the treatment.
"I just sat in behind, waiting, waiting, waiting to find a good spot for when I start riding the horse," he explained.  "Inside, outside, in the middle, he don't care.  He's a good horse."
And then he hugged some more.
The old saw suggesting joint parental rights over success also tells us that failure is an orphan.  On a cold day, with the weather testing enough that even win photos ended up in the paddock, you could see that, too.
Trainers of horses that didn't win were in short supply post-race, allowing grooms to unsaddle.  Sad-faced riders  hustled off towards the comfort and anonymity of the jocks' room.  One stakes jock waved an interviewer off.  "Sorry, no English," he said.
But a disappointed-looking — and -sounding — Wesley Ho stayed behind a moment after he rode favored Joint Custody to a second-place finish, behind the improving Extrasexyhippzster, in the Miracle Wood for three year-olds.
Everything about him — voice, facial expression, body language — spoke of dejection.  But he put on a brave face nonetheless.
Joint Custody took the lead soon after the start and held it for more than three-quarters of a mile before Extrasexyhippzster rolled by on the outside.
Asked if he thought he was going to win, Ho nodded sadly.  "I'm hitting him, and he felt like he's drawing away," Ho said.  "I don't know how far back third was."
The problem, he said, was that his horse never even realized that his rival was making a move.  "The two horse (Extrasexyhippzster), when he come by me, he come off wide," said Ho.  "If he'd have come up beside me, I think we would have run with him."
By the time his horse saw Extrasexyhippzster, it was too late.  "I'm still happy with him," said Ho.  "He ran really good."
But the lines between success and failure aren't always as clear as those between first and second.  Expectations matter.  Sometimes, as Kipling suggested, triumph  and disaster may be imposters.
In Saturday's stakes, only one favorite, Taris, won; the others all finished second.  For them, perhaps, second may well have felt like failure.
Not so for Gary Capuano.
He was all smiles after Steady N Love, a three year-old filly he trains, had rallied from the back of the pack to be a clear second in the Wide Country.  Bettors had sent her off at 22-1.
"I was tickled to death," the veteran conditioner said.  "She ran a great race."
His filly, who has one win from eight career starts (and was disqualified from another would-be victory after an erratic stretch run), had never posted a Beyer above 59.  She was never remotely a threat to win the race.
It was more than good enough.
"We were basically running for second money," Capuano explained.  Winner Taris, 1-5 when the gates opened, had broken her maiden at first asking at Aqueduct with an 88 Beyer.  No other horse in the race had posted a figure above 73.
"It was last minute to even run," he continued.  "I didn't make up my mind until 11 o'clock this morning."
But, with the allowance race he preferred not scheduled until mid-February, and his horse ready to go, Capuano decided to take a shot.
There was no win photo for Steady N Love, no hugging, no one trying to get close to her as Capuano unsaddled her.  From a distance, it could have looked like failure.
It wasn't.
"My filly gives it her all every time," Capuano said, smiling.  "She just tries; she's gutsy."
(Featured image, of Steady N Love, by Laurie Asseo.)