From a Penn National release
Donald D. Smith, longtime jockey at Penn National Race Course and winner of more than 1,500 races, passed away on Thursday, October 17, 2013, at the age of 69.
Known as D.D. to friends and family, Smith began his riding career in the early 1960's and retired in 1989, riding 15,612 horses and finishing with 1,505 victories and more than $4 million in total purses earned by his mounts. He rode predominantly at Penn National, Charles Town, Laurel Park, and Pimlico Race Course.
"D.D. was a close friend of mine and a great person to be around," said Arnie Iliescu, Penn National's all-time leading jockey. "I have the fondest memories of our time together at Penn National, and he will be sorely missed."
At the conclusion of his riding career, Smith worked as a goldsmith for more than 20 years, including a position as the lead goldsmith at Colonial Jewelers in Frederick, MD for eight years.
Smith was the son of the late Donald "pop" Smith and Lucille Smith of Middletown, MD. He is survived by his daughter Dawn Downing, son-in-law Jeff Downing, and his great granddaughter Megan Nicole Downing.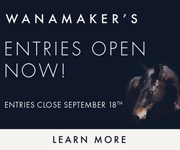 A celebration of Smith's life will be held on Sunday, November 3, 2013, from 2 – 4 p.m. on the second floor at Brewer's Alley in Frederick, MD.
In lieu of flowers, donations can be sent in Smith's name to the Hurwitz Breast Cancer Foundation at Frederick Memorial Hospital, 1 South Market Street, Frederick, MD 21701.
(Featured image of Donald D. Smith courtesy of Hollywood Casino at Penn National Race Course.)