With major weekend racing taking place at three of the mid-Atlantic's racetracks, handle in the region jumped by more than 40 percent this past weekend over the prior weekend.
The eight cards run at Charles Town, Delaware, Laurel — for which it was the first weekend of racing since March — Monmouth, Parx Racing, and Penn National generated nearly $18 million in wagering.  That was the highest wagering since Haskell weekend in late July and the fourth highest since the Preakness.
For the first time since the Preakness, a regional track other than Monmouth generated the highest weekend handle.  That honor went to Parx Racing, which saw bettors pour more than $6.3 million into the pools this weekend — $5.5 million on Saturday alone.  That handle — by far the track's highest since The Racing Biz began tracking the data in early June — was spurred by the track's biggest day of racing.  With the Grade 1 Cotillion, Grade 2 Pennsylvania Derby, and Grade 3 Gallant Bob all on the agenda, the track drew significant national attention.
Yet Parx was not alone in hosting a significant card.  Laurel Park hosted seven stakes, topped by the $350,000 De Francis Dash; and Charles Town's evening card included a pair of $400,000 events, the Charles Town Oaks and Researcher Stakes, as well as nine other added-money events.  Charles Town attracted more than $2.2 million in wagering, while Laurel's handle exceeded $2.5 million.
In terms of year-over-year numbers, both Parx and Charles Town enjoyed solid growth.  Charles Town boosted its Oaks card this year, adding the Researcher — previously known as the Red Legend and run in the summer — to create a more significant day of racing.  The track's Oaks day handle grew by more than 16 percent this year.  Parx ran essentially the same card this year as last and at the same time of year; handle on the card grew a bit more than 12 percent from last year.
At Laurel, the comparison is a bit more challenging.  Although the De Francis card was essentially similar to last year's, it was moved from October to opening weekend, which itself was moved back a couple of weeks.  Overall, handle on this year's De Francis declined a bit from last year, from around $2.7 million to about $2.5 million (the official charts are incomplete, so the 2013 numbers are close but not precise).  On the other hand, handle on the track's opening Saturday more than doubled from less than $1.2 million last year.  Opening Saturday last year featured the $100,000 Japan Racing Association Stakes.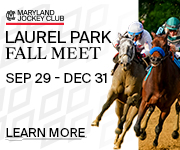 REGIONAL HANDLE BY WEEKEND