A cat wanders the cracked asphalt.  A bird calls in the distance.
A car rolls up a ramp next to a couple of decaying outbuildings.  A couple of horses, a couple of voices, a laugh.
The Bowie Training Center isn't a  place for people anymore, not really.  The buildings decay, and the parking lot's more pockmark than flat surface.
But for horses, well, for horses, it's a different matter.  While some trainers have left Bowie and were glad to do so, many of those who remain behind swear by a racing strip they say is terrific and an experience — for horses — that's about as close to farm life as you can find at a racetrack: quiet, unhurried.  And, some say, a camaraderie you don't find at racetracks.
But if all goes according to plan, Bowie won't be, well, Bowie much longer.  The training center that was a racetrack will likely find a new life — as something else altogether — once sufficient barns at Laurel and Pimlico exist to house Bowie's equine residents.

Still, mornings at Bowie occur just as they always have.  Sets of horses come out, gallop, jog, breeze; the tractors harrow the track, and more horses come out.  At the Hacienda, horses make endless indoor loops.  A friendly security guard checks the scene, smiles his way onto the next stop.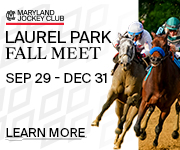 You can sense the end of Bowie, though, from the apron one still morning, and at the same time, its ghosts.
Jeff Krulik senses it here, in our Midweek Movie.