Delaware: Popular stakes wins for Copper Tax, Ringy Dingy
The Biz

October 15, 2023
The final two stakes on the Delaware Park 2023 racing calendar yielded a pair of popular victories. The twin, one-mile stakes for two-year-olds – the White Clay Creek for fillies and the open Rocky Run – went to 3-10 Ringy Dingy and 2-5 Copper Tax, respectively.
It was the second straight victory for Ringy Dingy, a daughter of Dialed In who graduated last out at Aqueduct, and the fourth straight for Copper Tax, who won the Delaware certified First State Dash in his last.
Peter Callahan and James Reilly McDonald's Ringy Dingy cruised home 6 ⅓ lengths clear in the $100,000 White Clay Creek Stakes at Delaware Park Friday.
With Katie Davis aboard, the 2-year-old daughter of Dialed In returned $2.60 as the favorite in the field of six. Miss Ellary, with Mychel Sanchez, finished second. It was a length farther back to Top Blue, with Kevin Gomez, in third. Still Game, with John Hiraldo, cut early fractions of :48.56 for the half mile and 1:14.27 for the three-quarter mile before fading into fifth. The final time for the one mile was 1:40.36 over a fast main track.

Ringy Dingy, a Kentucky-bred trained by Danny Gargan, raised her career mark to two wins from three starts with earnings of $113,700.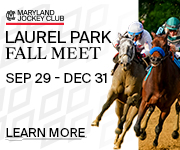 Ringy Dingy got the squeeze leaving the gate and dropped far off the early pace. But jockey Katie Davis allowed her mount to settle, moved her into closer contention on the turn, and then slipped through inside in upper stretch. Ringy Dingy did the rest from there.
"It was not our game plan," said winning rider Katie Davis. "It kind of fell out of the clouds because of the break when she got squeezed out of there. But we did not panic. I just let her get under feet. When we hit the backside, they drew away from us a little bit. I gathered her, dropped my hands at the half-mile pole, and got my position. The rail opening made it a perfect trip and from there, we were home."
The following day, the top spot went to Copper Tax, whose trainer, Gary Capuano, sent out two stakes winners in short order, with Maryland Million Distaff winner Intrepid Daydream and Copper Tax winning within 40 minutes of each other.
Rose Petal Stables' Copper Tax notched his fourth consecutive victory in the $110,750 Rocky Run Stakes.
With Mychel Sanchez aboard, the 2-year-old son of Copper Tax won by 6 ¾-lengths and returned $2.80 as the favorite in the field of ten. Thedingoateyobaby, with Jairo Rendon, finished second. It was another 1 1/2 -lengths back to Crazy Mason, with Samuel Marin, in third.
Copper Tax led throughout and cut fractions of 47.81 for the half mile and 1:13.11 for the three-quarter miles before completing the one mile in 1:38.35 over a muddy sealed track.
In his career debut, Copper Tax finished second beaten a neck on June 10 at Delaware Park. Since then, the Kentucky-bred trained by Gary Capuano has reeled off four straight victories by a combined margin of 23 lengths at Delaware Park. With the Rocky Run win, he raised his career earnings to $190,000.
Securing his first victory around two turns was an important stepping stone.
"He passed the test with flying colors and he finished pretty nice and quick," said Capuano. "He is a pretty special horse. We are going to give him a little bit of a breather for now, but we will see how he comes out of this race and what comes up. But we are going to just enjoy this one for a little bit. He will run on anything and anytime we ask. He came into this race really good. We gave him a couple of nice, long, steady workouts around two turns, and it did not seem to bother him. He is a pretty cool horse."
The winning Rocky Run purse was boosted by $10,000 to $70,000 since he was Delaware Certified. Copper Tax was certified at Marlyn Meadow in Middletown, Delaware.
CHECK OUT THE LATEST OFF TO THE RACES RADIO!
LATEST NEWS