Catching up with… Jessica Paquette
The Biz

September 23, 2023
Jessica Paquette is the only full-time female race caller in the United States, and September 23 she will become the first woman to call a US Grade 1 race when she calls first the Cotillion and then the Pennsylvania Derby.
We catch up with her to ask what she's looking forward to on the day, where she thinks there might be wagering value, how she goes about preparing for the big day — and to discuss what her journey has been like this year in the spotlight. The transcript below has been edited for brevity and clarity; the full audio interview is above.
Frank Vespe: What are you looking forward to on Saturday's big Pennsylvania Derby card?
Jessica Paquette: I'm looking forward to a little bit of everything. The racing office did a fantastic job making a card that is start-to-finish extremely competitive, big fields, interesting races. And of course, [while] we have some of the best horses in the country coming in for the stakes races, we also have some really interesting local horses. So I think it's a great balance of highlighting the local product and also celebrating some of the best horses in the country,

Frank Vespe: Speaking of the local product, you have several two-year-old races, including those PA-bred and PA-sired two-year-old stakes. Perhaps a star is going to be born somewhere in the early portion of the card.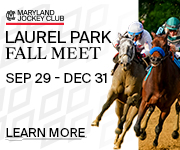 Jessica Paquette: Well, I'm a big believer in the importance of a state-bred breeding program. And I think the Pennsylvania breeding program is one that continues to grow. Great horses can come from anywhere and hope springs eternal. For the first-time starter or young horse, you never know where the next great one's gonna come from.
Frank Vespe: Now one of the things I think is an interesting angle, in particular if we're able to stay on the turf, is that fillies are going to be the story here. I think the Cotillion is a super-compelling race, I think more compelling than the Derby. And then fillies are going to be the favorites if we're on the turf in the Turf Monster. So is that one of the things you're kind of interested to see?
Jessica Paquette: Well, the Cotillion is just a star-studded race in so many ways. I'm so excited that that is going to be the race that is my first Grade One. I'll remember that winner forever. The Turf Monster to me just came up wildly competitive. I mean, of course, I'm hoping we'll stay on turf and I'm an optimist or an idiot, you know, depending on the day, so I'm kind of still focusing on these races like you know, it's gonna be sunny and 75. The horse that I have to imagine you're kind of excited about too, with our Mid-Atlantic – where our hearts are is Determined Kingdom for Phil Schoenthal. Ror me to get to call a horse that I got to talk about at Colonial for the past couple of years, and I got to see develop from such a nice youngster into a really good older horse, that's one that just kind of tugs at my heart a little bit.
Frank Vespe: So, you know, just between you and me who's going to win the Derby?
Jessica Paquette: That's a great question, isn't it? So yeah, just between you and I, not anyone else listening. So tune out at this moment. I'm trying to be a little bit clever with Magic Tap, who I think may get a little overlooked. To me, this one's like that quintessential second half of the year-Steve Asmussen horse, that he's let develop at his own pace. And I think this one might wind up being a little bit more rateable than some of the speed balls in this race. So he can maybe take just off of what could be a really hot pace, he could be in a good position. Also have to think though he's never really tried a true sloppy track, Tapit out of a Ghostzapper mare, you just have to think this one's gonna love a wet track.
Frank Vespe: This feels like a race you a good race to take a stand against the favorite here, Reincarnate the morning line favorite although Saudi Crown probably actually ends up the favorite here. But Saudi Crown's lost his last couple, maybe finds ways to get beat?
Jessica Paquette: I'm not necessarily willing to write him off as the kind of horse that finds a way to lose just yet. I mean those were two very narrow defeats where he didn't really do anything wrong, and I don't think he's one that hangs or anything. I think he's just kind of still figuring it all out. Reincarnate, I'm kind of leaving off my tickets entirely to be honest.
Frank Vespe: Talking about the Cotillion, what an interesting race. You've got Pretty Mischievous, who never loses. You've got Defining Purpose, who won the Ashland. You've got a couple of horses kind of moving in the right direction like Occult. Which way are you going in the Cotillion?
Jessica Paquette: So I think Pretty Mischievous is very formidable here. One interesting thing about her that I've noticed is, the second half of the year, sometimes with fillies that have had a pretty full, hard campaign — and to be fair, she's danced every dance that they've asked of her — sometimes by this time of the year the fillies especially kind of start to wilt a little bit and drop conditioning. When she came off the van yesterday. I think it's the best she's looked at all year. She looks so full like she's had any really grown into herself. To me she I think she might just be a cut above. However, you know, if the morning line is anything close to what we get, 12-1 on Foggy Night is an absolute gift. This filly has shown she can run with the big girls, and she has home track advantage, and she's one little racehorse who shows up every time.
Frank Vespe: How do you prepare for a day like this? Is this just any other day in track announcer world, or do you need to do different things?
Jessica Paquette: So for me, and again, this is kind of all new, these are uncharted wild waters for me. But I did get a little bit of batting practice with Smarty Jones day, it was my first graded stakes race. And I don't mean to sound dismissive if I say that it's just another day, but my preparations are kind of the same. I think if you start doing things differently, or doing things weird, it is still a race. I mean, the horses do not know it's a Grade 1. The race call, I will try to rise to the occasion. But I also want to rise to the occasion of, like, a bottom non-winners of two lifetime as well. So you kind of prepare the same and try to tell the story.
Frank Vespe: How do you handle you know, memorizing all the horses, knowing the silks, what kinds of things do you do to to make sure all of that is in your head?
Jessica Paquette: When I first started, there was a lot of trial-and-error for me, kind of finding the way of memorization and the way of preparing that actually worked for my brain. You can get so much advice from people who have done before, but you still have to find the method that works for you. And two years ago, kind of almost almost to the day, I had a really serious riding accident, and along with breaking my back, I had a bit of a brain injury, as well. So I've had to learn kind of ways to make my brain function in the way that it needs to do to do this job. And like any muscle the more you use it, the better it gets. But for me, I have found that a couple of days before, I print out my program the way I like it, I color the silks. And then as the horses during the post parade I add in if they're wearing blinkers like with the corresponding color if they have a bright bridle, which is funny because in my previous incarnation as the paddock host, I would think like a neon bridle was the tackiest thing in the world. Now if I see you in a neon green bridle, I love it, love to see it, because it makes them easier to pick out if they are kind of in a herd of horses. Then I'll color those little visual cues like a shadow roll, as well, on my program as they're warming up. Or if they come out in house silks, which I hate, I'll kind of change my colors and recolor my notes, which drives me insane. So those are the kinds of preparations that it was all visual for me. And then it kind of sticks in my brain from there.
Frank Vespe: So the message being owners make sure your silks get to the track with no house silks.
Jessica Paquette: Or I'll shame at the starting gate. I will say, if anyone's in house silks, that gets mentioned as they go in the gate.
Frank Vespe: What do you do with horses where the name is you don't know how to pronounce it?
Jessica Paquette: I hope that they've run before and I go listen to what other announcers have done. Like, I mean that horse Blome, thank goodness that Dave Rodman called her first because I would definitely have called her something else.
Frank Vespe: Well, you would have gone viral for that one.
Jessica Paquette: I'm not gonna lie. It's tempting every single time. There's a little voice inside me that is tempted by that every single time. But you do: for the horses with kind of a trickier name, the Google. If it's you know, if it's a language I don't know. I'll Google the pronunciation. If the horse has run I'll try to watch a replay. And if not, and I know the owners or the trainer, I'll text them to say how do you want me to say this.
Frank Vespe: We have a handful of horses running in Maryland now named bucking great and bucking Locky, and you just know that the owners are hoping to trip [track announcer] Dave Rodman up.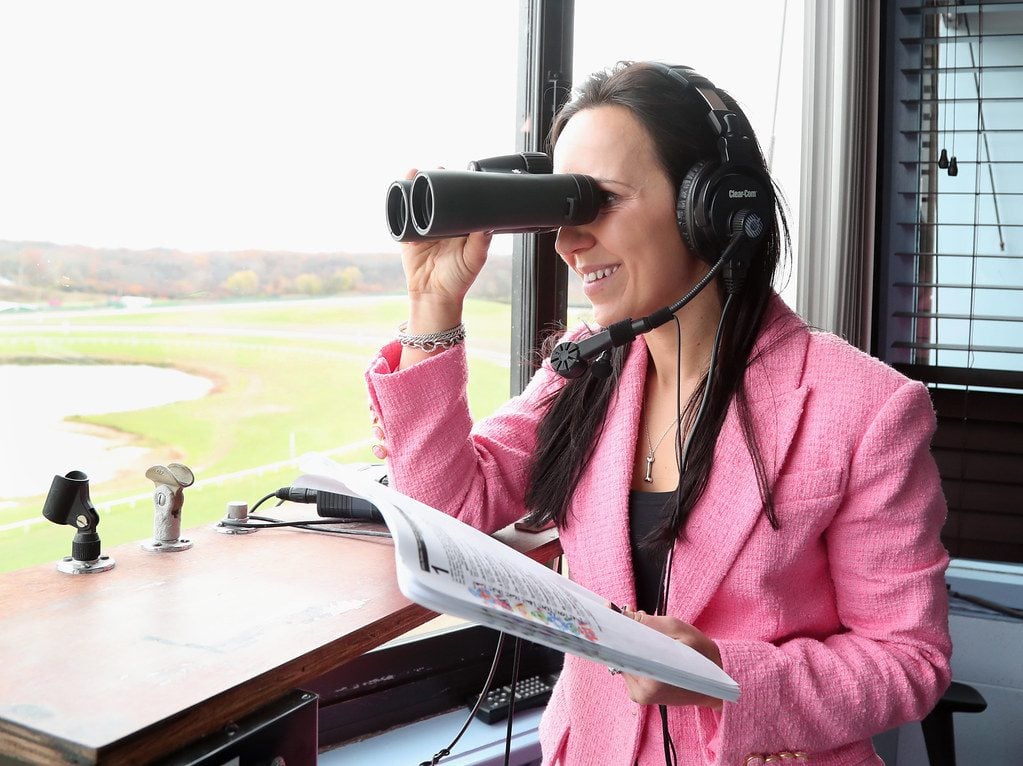 Jessica Paquette: The funniest one here at Parx is a horse named Bucks Some. And if you say it fast… I, of course, can't resist making jokes about buxom flattening out in the stretch; like, I can't resist because of who I am as a person, sometimes the low hanging fruit is really just too tempting. She's running in the nightcap Saturday.
Frank Vespe: Well, look forward to that. Make sure to watch the nightcap Saturday. But before I let you go, I did want to ask you this. You started announcing at Parx this year, and at first, you came in for a lot of criticism, some of which I think you would say was fair, and some of which was really kind of nasty and personal. Now you've been at it for most of a year. Talk about your journey as the track announcer at Parx and as you know, really sort of a very visible woman in racing.
Jessica Paquete: I fully understand that, you know, I came out of the gate a little bit slow. I called about 50 Quarter Horse races prior to doing this. So I understand it was, you know, ambitious, swinging for the fences. But the folks at Parx have been very supportive, and I think they knew that they were hiring someone who was going to work, who was going to be single-focus, dedicated to getting better, and I hope people see that I've, you know, put in the work. I've taken the valid criticism from the places that it was coming from, you know, when people were offering legitimate criticism that you know, wasn't personal nasty, insulting, vulgar, violent on occasion. My DMs are a really colorful place
Frank Vespe: Wow. Okay, violence is, I mean, a lot of stuff one would see online was was out of line, but violence…
Jessica Paquette: It was 1000 times worse, some of the things that no one saw. And that is that is the nature of being a public-facing woman in the sport I think you know, and the better I do get, I still want to continue to improve, I hope a year from now I hate the calls I'm making now that I love. You just want to get better with each race and do justice to the position, but there are some people that just don't like the sound of a woman's voice doing this and that's also okay. But I just don't understand kind of what is so broken and a person that that they feel the need to just be hateful for the sake of being hateful
Frank Vespe: Are you comfortable with the progress you've made to date?
Jessica Paquette: I'm very proud of the way I have kind of learned to block out the noise when you do the job. And there are, you know, when you call a race, and it goes really well it feels entirely different. And you know, the more of those you get, the better you feel. I'm really happy with the progress I've made, and it's a step along the journey and I want to continue to get better. You know, I don't want to be a novelty. I don't want to be a joke. I want to be one of the best at some point. And many of my peers have been doing this for 10, 20 years. So I have some catching up to do but onward we go.
Frank Vespe: Left at the gate a little bit and then you've got to run on afterwards, right.
Jessica Paquette: You know, I run marathons, I run marathons. Stamina is what I have going for me.
CHECK OUT THE LATEST OFF TO THE RACES RADIO!
LATEST NEWS