Dataman saves the day in Bald Eagle
Frank Vespe

August 13, 2023
Nagirroc was a tough-luck second in Saturday's Grade 2 Secretariat Stakes. One race later, Romagna Mia finished third in the Grade 1 Beverly D. Then Sunday Speirling Beag was a troubled second in a three-horse thriller in Laurel Park's Searching Stakes.
It had been that sort of weekend for the trainer of all three runners, Graham Motion. Until Dataman rallied to pull off a good-looking, 12-1 upset in the $100,000 Bald Eagle Derby.
"It was very nice," Motion said. "Saved our weekend."
Under Jorge Ruiz, Dataman was never far back while tracking the pace inside. In the lane he tipped out for clear running room and wore down racelong leader Ari Gold to win by three parts of a length. He paid $26.80 to win and topped an exacta worth $55.80 for a buck.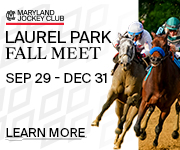 The triumph marked the second straight for Dataman, a three-year-old Tapit gelding owned and bred by Wertheimer & Frere. After a modest start to his career – Dataman had a win and second in his first five outings – Motion gave him some time away. It seems to have done him some good: in his return to action, he won an off-the-turf allowance at Delaware Park by 11 lengths, setting him up nicely for the Bald Eagle.
"I think it really was more about giving him a little break that he had, you know," Motion explained. "He just, mentally, he's always been a difficult horse. He's a Tapit, and he's very wound up in the morning. But I think we kind of got his number, and I think giving him a little break really, really helped him, and he's a little bit older now."
Dataman now owns three wins, two on the turf and one on the main track. The winner's share pushed him to over $135,000 in earnings.
Motion said that following the impressive dirt win, he had been open-minded about whether the horse would be on dirt or turf next time out. Today's solid score moved him back into the turf camp. Kentucky Downs could be an option.
"I'm always a little more partial to grass anyway," he said. "I think it makes sense off this win to keep with the grass."
CHECK OUT THE LATEST OFF TO THE RACES RADIO!
Two races earlier, in the Searching Stakes, Motion's Speirling Beag finished second by a nose after a game but troubled effort. The top three finishers – winner Bolivie, Speirling Beag, and show horse Cecile – were separated by a head.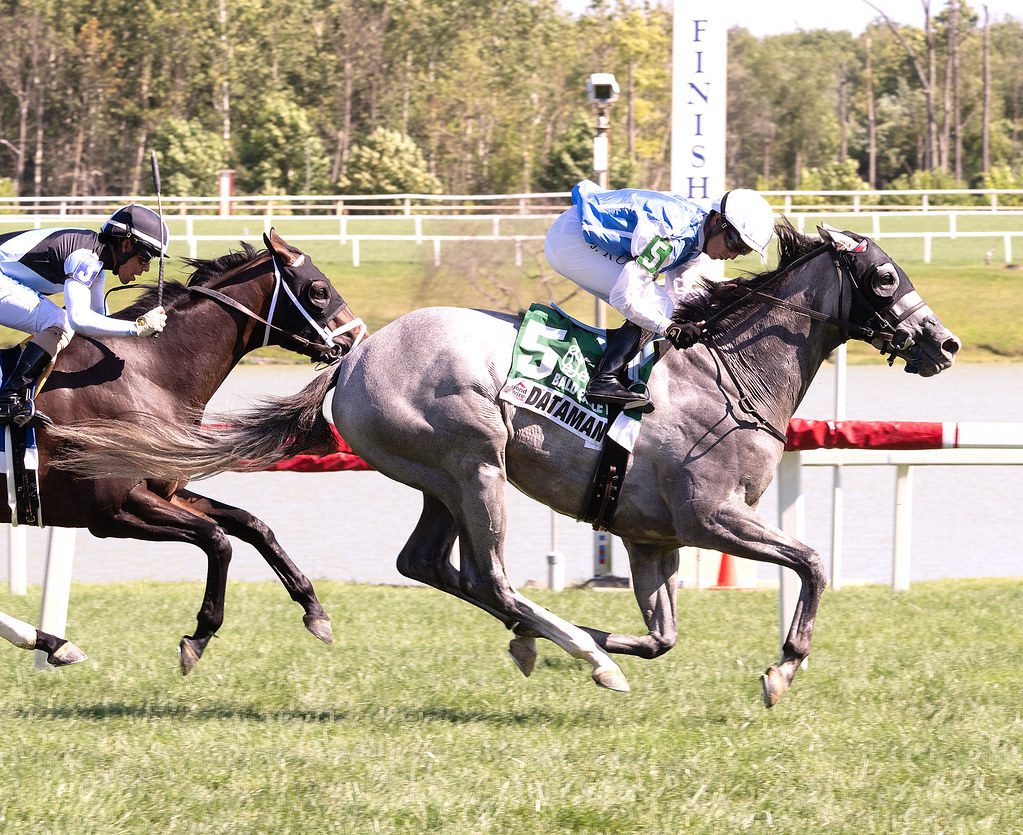 "That was a tough trip," Motion said. "I think she's going to be nice. That was a big effort shortening up from a mile and a quarter. She's going to be a cool filly; she was very brave today."
Owned by Walmac Farm and others, Speirling Beag made just her second start in North America after previously having run in Ireland and France. Her Stateside debut saw her finish a credible sixth in the Grade 1 Belmont Oaks.
Like Speirling Beag, the winner, Bolivie, was bred in Ireland and had raced abroad – in France – until recently. Her win in the Searching was her third North American start and first win. She's trained by Brendan Walsh for a partnership including As One Racing LLC.
"She deserved to take her chance here today," said winning rider Feargal Lynch, aboard for the first time. "Hopefully, that'll progress into something nice, maybe Kentucky Downs."
Will Lynch follow her there?
"If I'm invited, I'll go anywhere," he said with a laugh.
NOTES Bolivie paid $10.80 to win. The pick three, with Bolivie, seventh race winner Double Crown ($8.40), and Dataman ($26.80) filling out the win spots, returned $384.45 for a 50-cent wager… The Bald Eagle Derby was run at 1 3/16 miles on the turf with the rail set at 52 feet. That appears to be the first time Laurel had ever run that distance at that course configuration, and it necessitated a second-wire finish. Additionally, no time was shown on the screen during the running of the race, and the chart includes a final time of 1:54.72 but no internal fractions… Jockey Jorge Ruiz won two races Sunday, both on the turf and both for Motion, also winning an allowance aboard Eidikos…Rider Jeiron Barbosa also won two on the day, as did trainer Kieron Magee… 
LATEST NEWS