Arcangelo scores in Belmont
Press Release

June 11, 2023
Trainer Jena Antonucci attained racing immortality when Blue Rose Farm's Arcangelo stormed up the rail to claim a 1 1/2-length victory in Saturday's 155th Grade 1, $1.5 million Belmont Stakes presented by NYRA Bets, a 1 1/2-mile marathon test for sophomores, at Belmont Park, marking the first time in history that a female trainer earned the blanket of white carnations.
In addition, Antonucci also earned the distinction of becoming the first female trainer to win any of the Triple Crown races.
"It's the horse and I am so grateful," said Antonucci. "I will forever be indebted to his honesty to us, his heart, and he is why you get up seven days a week. I didn't get a lot of sleep the last few nights, I'm not going to lie. I'm so grateful."

Antonucci, 47, was well rewarded for her patience with the late-blooming son of Arrogate, who did not make his first start until December of his 2-year-old season and did not find the winner's circle until a third-out maiden coup in March at his home base of Gulfstream Park.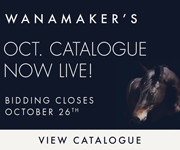 Arcangelo proved more than worth the wait, notching his second graded score after claiming the local Grade 3 Peter Pan on May 13. That marked just the second career graded triumph for Antonucci, who began training in 2010. Her third came one month later in the Belmont.
"When we were walking out, I said there is not a table made for you. You make the table," Antonucci said of what her accomplishment means to all women in the sport. "You put great people around you, you work hard. Work your tail off. It will come if you do it the right way. Do it the right way."
This year's Belmont also provided a historic first for Hall of Fame jockey Javier Castellano, who has now won all three legs of the Triple Crown after guiding Mage to win his first Grade 1 Kentucky Derby in May and Bernardini and Cloud Computing to Grade 1 Preakness scores in 2006 and 2017, respectively.
CHECK OUT THE LATEST OFF TO THE RACES RADIO!
The win was redemptive for the 45-year-old Venezuelan native, who finished second in the Belmont Stakes on three occasions – all by narrow margins, including a three-quarter length loss aboard Stay Thirsty to Ruler On Ice in 2011; a head defeat to Tonalist in 2014 when piloting 28-1 shot Commissioner; and a nose defeat to Creator in 2016 aboard Destin.
"This is a dream come true. To win two Triple Crown races in the same year, it's amazing," Castellano said. "Everything worked out good. There's always something to shoot for, but I'm just going to keep working hard. But this is so special. He was so impressive. He was always there for me."
Castellano reached the winner's circle with a smart ride aboard the lightly-raced Arcangelo, who made up for his lack of experience with his pure talent in his first foray around two turns. Away cleanly from post 3, Arcangelo was held in a mid-pack stalking position while finding a comfortable rhythm past the stands for the first time as Grade 1 Preakness winner National Treasure broke sharpest of all and briefly dueled with maiden-winner Tapit Shoes to his inside. The two led the field of nine through an opening quarter-mile in 23.63 seconds over the fast main track, with the field spread out across six paths.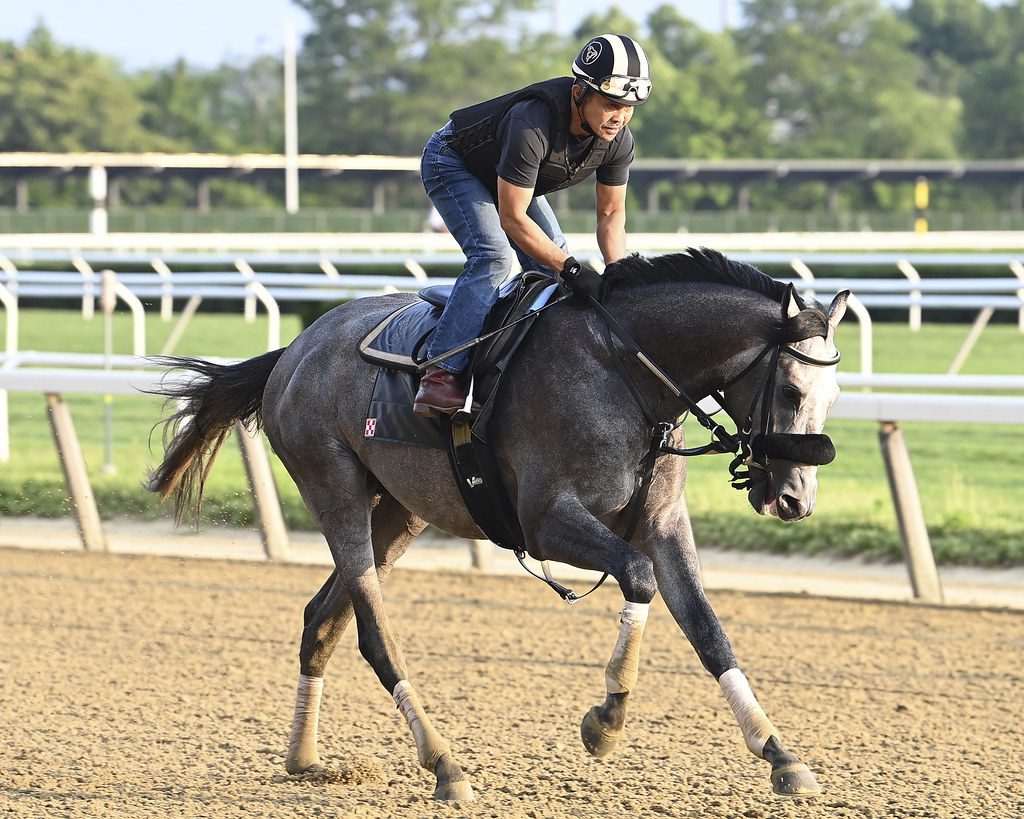 National Treasure, guided by Hall of Famer John Velazquez, floated wide as he strode away to a standalone one-length advantage entering the backstretch with Tapit Shoes pestering to his inside and Arcangelo keeping along in third just behind him. Hit Show, piloted by Manny Franco, advanced along the outside to establish position while post-time favorite Forte, who was a bit fractious in the gate, ranged up between Arcangelo and Angel of Empire through a half-mile in 47.69.
Positions remained similar down the backstretch before Castellano made a decisive move approaching the turn to rush up between Tapit Shoes and Hit Show to forge a clear path towards National Treasure, who clocked three-quarters in 1:12.56. Meanwhile, the slow-starting Tapit Trice kicked into gear on the far outside from the rear of the field and ranged up under Luis Saez to take dead aim at the leaders in tandem with Angel of Empire.
A retreating Tapit Shoes left clear running room for Arcangelo to sneak up along the inside of National Treasure in mid-turn as Angel of Empire and a stubborn Hit Show appeared ready for the challenge after a mile in 1:37.41. Velazquez strongly urged National Treasure as Arcangelo poked his head in front under a confident Castellano in the latter stages of the turn, but National Treasure toiled when asked for more by Velazquez.
National Treasure dropped out of contention at the quarter pole with Arcangelo drawing away gamely under right-handed encouragement while maintaining his inside position. Forte went widest of all and gained ground with every stride under Irad Ortiz, Jr. down the center of the course to join the triad of Tapit Trice, Hit Show and Angel of Empire at the sixteenth marker, but ran out of time to catch the runaway Arcangelo, who stopped the clock on 2:29.23 under a celebrating Castellano.
The hard-trying Forte got his nose down to secure place honors over stablemate Tapit Trice, while the Brad Cox-trained duo of Hit Show and Angel of Empire dead-heated for fourth another three-quarters of a length back. National Treasure, Il Miracolo, Red Route One and Tapit Shoes completed the order of finish.
Jon Ebbert, owner of Blue Rose Farm, was left in awe as he earned his first Grade 1 win of his career and said he always had faith in the grey ridgling.
"It's amazing. What an amazing ride," said Ebbert. "I'm so proud of the horse. He's an amazing horse. He's all heart. We knew he had it in him. Javier rode him perfectly and Jena is an amazing trainer. I'm so lucky to find her. The rest is history."
Antonucci noted that Arcangelo posted his mature victory while still in the midst of the learning process.
"He's just figuring it all out. He's just a big kid," Antonucci said. "Javier did such a great job. There were a lot of horses taking up in the first turn and he sorted that out and got it together and on the backside made his way up the rail. We knew we wanted to get a little jump on them. We weren't even worried about the distance. His cruising speed is just stupid, stupid fast."
The royally-bred Arcangelo is the latest Belmont Stakes winner in a family laden with stamina and proficiency in this event. His third dam, Better Than Honour, produced two Belmont Stakes winners in Jazil [2006] and Rags to Riches [2007]. In addition, his dam, the unraced Tapit mare Modeling, boasts a sire who has produced four Belmont Stakes winners, as well as this year's third-place finisher Tapit Trice. He has now earned more than 30 times his purchase price of $35,000, banking $900,000 for his Belmont Stakes triumph to become racing's newest millionaire with $1,067,400 in total purse earnings.
Arcangelo, who was sent to post as the 7-1 fifth choice, returned $17.80 for a $2 win ticket. He was bred in Kentucky by Don Alberto Corporation.
LATEST NEWS