Angel of Empire aims to be first PA-bred Belmont winner since…
The last Pennsylvania-bred horse to capture the Belmont Stakes was C.E. Rand's Foxford, who captured the 1891 renewal with a winning ride by future Hall of Famer Edward "Snapper" Garrison. The Belmont Stakes was run at 1 1/4 miles that year at the defunct Morris Park in the Bronx. The other Pennsylvania-breds to win the Belmont are Saunterer [1881] and Panique [1884].
Black, a native of Copenhagen, Denmark, spent time mucking stalls at a standardbred track while at school. He emigrated to the United States in 2006.
"I started studying thoroughbred pedigrees," Black said. "If I wanted to try myself out in the industry, I wanted to go to a market that I thought was the most commercial and challenging and that would be the U.S. market. That's how I ended up over here."
CHECK OUT THE LATEST OFF TO THE RACES RADIO!
Angel of Empire's dam Armony's Angel, by To Honor and Serve, never found the winner's circle in eight lifetime starts. Black acquired the chestnut mare for $67,000 at the 2019 Keeneland November Breeding Stock Sale while she was in foal with Angel of Empire.
Armony's Angel, out of the Carson City mare Seeinisbelieven, is a half-sister to graded stakes winner Conquest Big E. Her third dam, Coragil, produced graded stakes winners Softly and Coragil Cat as well as stakes-placed Spring Eclipse. She is also a direct descendant of prolific broodmare Sister Satan – an ancestress of dual Breeders' Cup Classic winner Tiznow.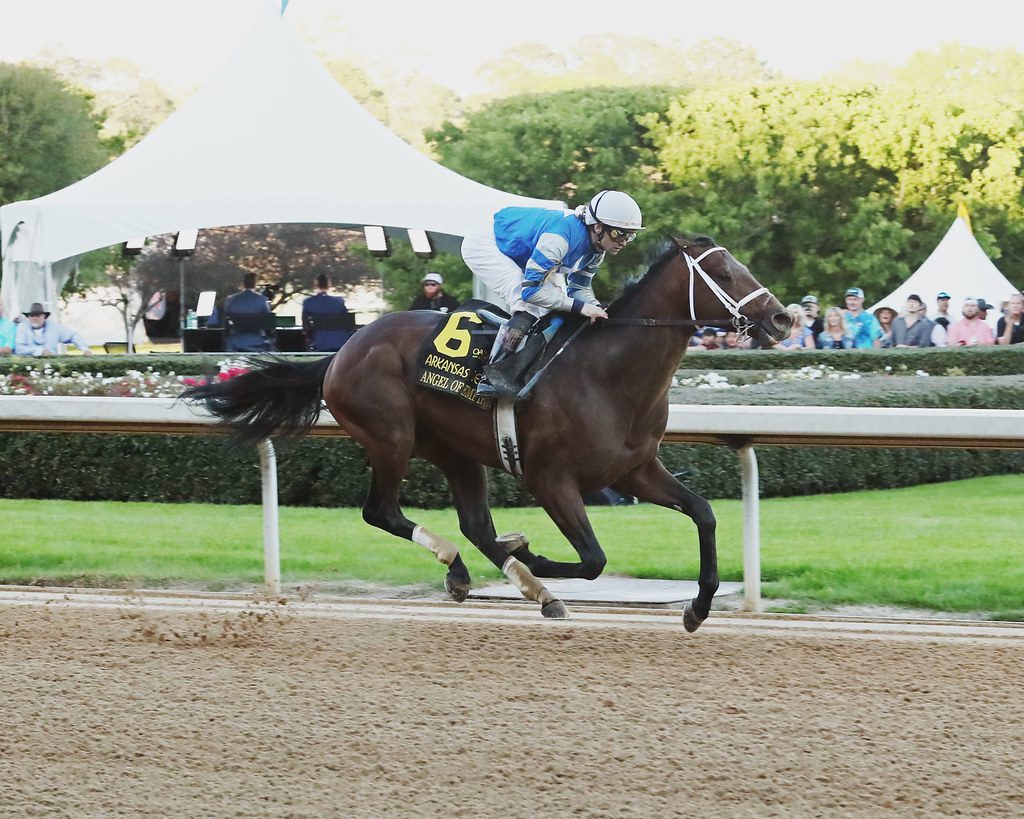 To Honor And Serve – who won the nine-furlong Grade 1 Woodward at Saratoga in 2012 – boasts a strong pedigree, being a full brother to graded stakes winner Angela Renee and a half-brother to Grade 1-placed Elnaawi. His fifth dam, Golden Trail, was a foundation mare for prominent commercial breeding operation Darby Dan Farm.
"[To Honor and Serve] himself was not that successful as a stallion, but looking at his female family it's one of the better female families in the American stud book," Black said. "The mare was a half to a graded stakes winner and if you go further down it gets a little bit deeper. There's a lot of speed in that family, but at the same time To Honor and Serve won going a mile and an eighth. She's a beautiful and straightforward mare."
Black described a young Angel of Empire as immature physically, but a horse that was willing to do what was asked of him.
"He was always mature mentally, it was all about the body. He's a big, leggy horse, not a small horse by any means," Black said. "He's not a 'let's go from 0-to-60' type. He can do that, he just needs a little more ground to do that than some of the others that might be more handy. When he gets there, he just keeps going and that's one thing that's required to be able to go the mile and a half. Not coming from way off-the-pace, you just have to be able to sustain. Some horses, you can get them to show some speed but they can't sustain it. With him, when he gets up there, he'll keep sustaining.
"He didn't take much time as a foal. He was an easy foal to be around," Black continued. "His weaning process was a little hard on him. He was always an immature horse in that he still has a lot of frame and body to grow into. He's always been like that and Brad had kind of alluded to that saying that he's a horse that just keeps maturing better and filling out."
Angel of Empire was sold in Book 4 at the 2021 Keeneland September Yearling Sale, which generally does not offer as commercially-friendly yearlings as the first few catalogs.
Black expressed a sense of pride in having a prominent owner like Dennis Albaugh and his racing manager Jason Loutsch take an interest in his horse. Angel of Empire was bought by Albaugh for $70,000.
"They usually buy in the early books at the Keeneland sale. They were a little short on numbers and Jason was going through the catalog looking for pedigrees and physicals and horses that might take them to where Angel of Empire ended up going," Black recalled. "His pedigree was probably better than a lot of Book 4 or 5, but he was there because he was an immature yearling. I think they were looking for something that would at least be a two-turn horse. When we buy or breed horses, we're all thinking and dreaming that they could be the next superstar. Obviously, it doesn't always work that way, but at least we have the dream until we're proven wrong.
"We're very grateful that they purchased the horse and that he ended up in Brad Cox's hands," added Black. "When you get those kind of connections, there's a chance it all comes together. The horse has to be talented to do it and he's shown that he's at the top end of the 3-year-old crop this year."
LATEST NEWS