Keri Brion looking to make a splash at Delaware Park
Meteoric rise for a 32-year-old trainer? Maybe, but she's been at this a while, and has yet higher long-term aspirations.
Brion's love and interest in horses led her to start working for Ronnie and Betsy Houghton at Sylmar Farm as a ten-year old. Ronnie Houghton passed away in 2018, but the farm remains active with Betsy and the couple's children managing affairs.
"First I was a rider, and then I was a stall assistant and then basically became an assistant to everything that took place on the farm," Brion said of Sheppard's Ashwell operation. "I continued to get more and more responsibility until we got to the stage after eleven years that I felt I was ready to go out on my own."
CHECK OUT THE LATEST OFF TO THE RACES RADIO!
When Sheppard retired in 2021 "things were not just handed to me. Four of his major owners decided to come with me because they had become very comfortable with working with me and they remained loyal, which was great."
She added, "In terms of timing it was fortunate I got to work with Jonathan towards the end of his career because he was willing to delegate more as he slowed down. That experience of learning from him has stood me well in my career."
In the spring of 2021, she became the first American trainer to win both a jumper and flat race in Ireland. Despite having a small stable, her momentum built when she returned to America.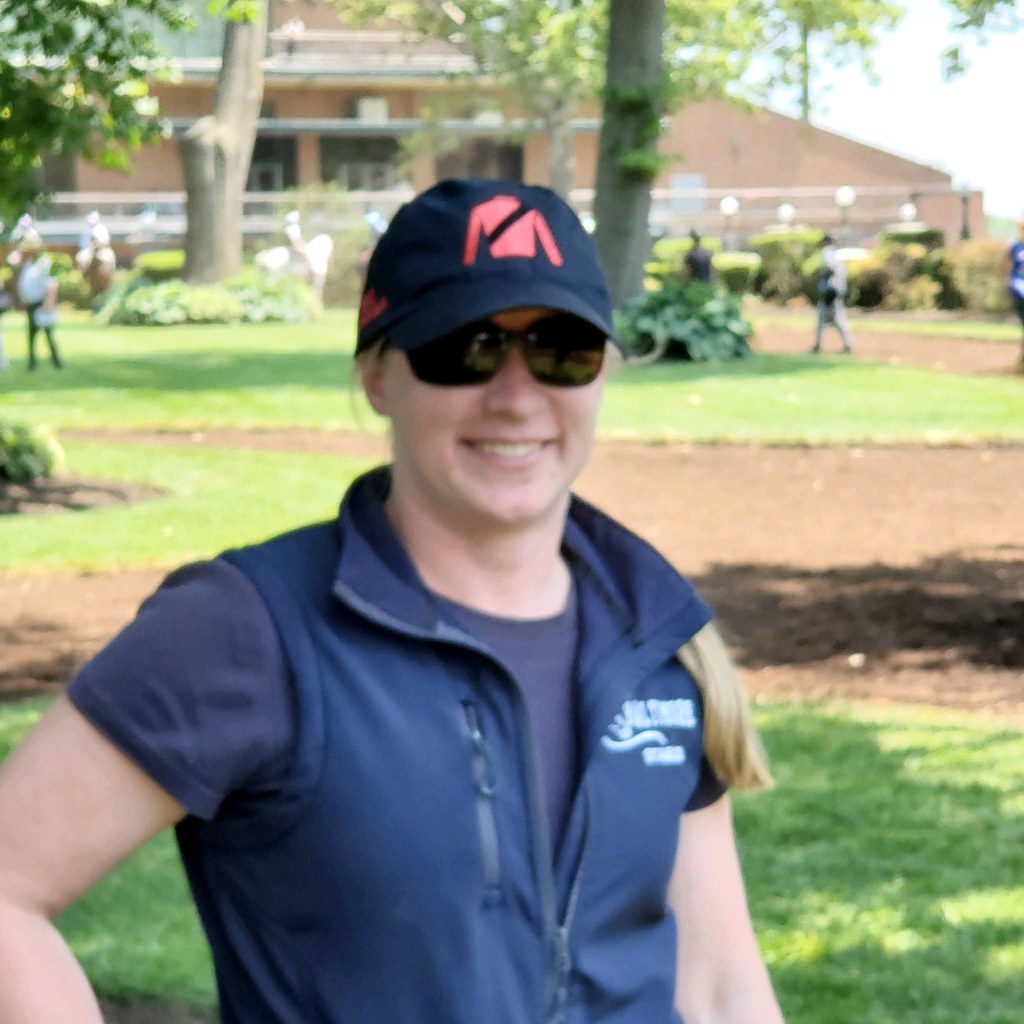 "I only had 14 horses at that time, but one of them was The Mean Queen and another was Baltimore Bucko," she recalled. "We went to Saratoga, guns blazing, and had a breakout Saratoga meet. We won every Grade 1 jump race."
And not just won them. Her runners took the top three top positions in the Grade 1 Jonathan Sheppard Stakes, which had previously been called the New York Turf Writers Cup. The race was renamed after the retirement of her mentor. The million-dollar purse total in the following season was comprised of 33 wins from 144 steeplechase starts, according to National Steeplechase Association statistics.
These wins helped get her name out there, and she used post race media attention to let people know that she "wanted to become known as both a jumps and flats trainer."
"Last year I got some opportunities with a couple nice flat horses, and people started to think I was not just a jumps trainer," she said. "I had an open house at Fair Hill in February and I was able to get a few additional flat owners."
Brion said she has no intention of moving away from training jumpers. About two-thirds of her starters this year have been over the jumps.
But she believes that sustaining her business will require her to build the flat side of her stock. To that end she is keeping a string of 15 horses at Delaware Park this year, a track that does not card jump races. She's made a half-dozen starts in the meet's early days, and on May 27 she scored a victory in an allowance race, with Bali Kuta, whom she had claimed for 16K at Tampa.
Besides The Mean Queen, Brion also trains Winston C, who was the champion 'chaser in 2019 for Sheppard and is working towards a return to racing, Brion said. On the flat side, she sent out Caroline Krystyna, a three-year-old filly, to a maiden-breaking, first-out score on Black Eyed Susan day.
"She could be anything so that is really exciting," Brion said of the latter.
In all she has just under 100 horses in various locations with approximately 60 at Fair Hill.
"That is about the maximum number I want, and I could not do it without great help from my team," she said. "The days are long but I love it and I always said this is what I wanted to do."
The next steps "are to maintain the jumper side of my barn while building the flat side," she said, with an ambitous long-term goal: "to be in the racing hall of fame for both, just like Jonathan."
That would be quite a journey from doing menial tasks in a barn as a child, but like her jumpers Brion seems poised to travel a long road with many jumps.
DELAWARE PARK NEW 'N' NOTES
Over the first five days of the meet the biggest story has been the new track surface. All paths seem fair and riders have told me the surface is deep, loose and safe. The deepness of the track seems to be confirmed by some extremely slow times. For example on May 25 there was a 5 ½-furlong race that went in 1:11.94 with a 2nd quarter split in an Arabian-like 26.70. On May 31st there was a 6-furlong race that went in just over 1:17…
The Obeah Stakes, which is the prep for the Delaware Handicap, had five starters after scratches and the longest shot on the board, Award Wanted at 18-1, nosed out the heavily favored Morning Matcha under a heads-up ride by jockey Angel Cruz…
With the lack of rain in the area the very firm turf course has shown a strong bias to early speed…
The following prediction may age like sour milk, but don't be surprised if Brittany Russell challenges perennial champion Jamie Ness for the training title this year. She had five wins in the first five days with her local string managed by Emma Wolfe…
Trainer Diane Morici had a very impressive winner in the featured dirt allowance on June 1. Ms. Bucchero, a 3-year-old filly by Bucchero, won her third race in four starts and looked impressive doing it. Should be competitive in stakes down the road…
The new track analyst Stan Salter is receiving good reviews among most bettors with whom I have spoken…
LATEST NEWS