Nick's Turf 10: Busy weekend
Nick Hahn

June 5, 2023
Four significant turf races uncovered a few surprises but largely told us what we already knew about top three-year-old turf horses this past weekend. Webslinger defends his top ranking with a win in the Audubon Stakes. Major Dude overcame Behind Enemy Lines to win the Grade 2 Penn Mile, picking up two spots in the process. Kalik proved best in the Grade 2 Pennine Ridge, while Boppy O won the Jersey Derby, both entering the Turf Ten as a result.
The stakes schedule for three-year old turf routers is largely subdued from now until early July where the Belmont Derby looms in July 8, so significant allowance race performances may be eye-catching until then.
How does this impact the Nick's Turf 10 list of the top turf three-year-olds going two turns? Read on to find out.
Here is the newest edition of the Turf 10 with the trainer, jockey of last start, and owner listed with the previous edition's ranking next to the horse (NR=Not Ranked).
1. WEBSLINGER (1)
M. Casse, J. Castellano; D.J.Stable LLC.
Another win to go with his American Turf conquest in a sleepy start of the $225,000 Audubon on June 3 ensures his preference for Churchill Downs, but this Constitution gelding also has wins in New Jersey and Florida.  He won the 1 1/8-mile Audubon going four-wide and coming from fourth before clearing and angling toward the rail in the stretch, with the next three slots all occupied by horses he bested in the American Turf. Right now, simply the best of the three-year old turf division.
2.      NAGIRROC (3)
G. Motion; F. Prat; Madaket Stables LLC et. al.
Nagirroc's slip to #5 in the previous edition Turf Ten, largely impacted by not running in the American Turf on Kentucky Derby day, figured to be redeemed with a solid effort in the James Murphy. Consider that mission accomplished: Not only did he beat the field in the May 20 Murphy at PImlico Race Course, but he also reset the course record, getting the mile in 1:33.11. Motion got feedback from Prat and Nagirroc's exercise rider independently that blinkers might be a plus, which proved correct. The Manila (G3) on July 7 at Belmont Park may be his next target.
3.      MAJOR DUDE (5)
T. Pletcher; I. Ortiz, Jr.; Spendthrift Farm, LLC et. al
The Grade 3 winner (Kitten's Joy at Gulfstream) just won a Grade 2 in the Penn Mile convincingly on June 2, overtaking #7 Behind Enemy Lines in the last furlong, overcoming some trip trouble in the process. The Dude did it with a Major statement for the big Bolt d'Oro colt.  
CHECK OUT THE LATEST OFF TO THE RACES RADIO!
4. MO STASH (3)
V. Oliver; L. Saez; BBN Racing, LLC
Mo Stash keeps working at Keeneland while others found starts this past weekend.  He was the first to fold from the four-way American Turf stretch duel maybe because he didn't get the slow middle fractions like in his Transylvania win. It was still a very brave effort and look forward to see if, similar to Webslinger, he keeps maturing.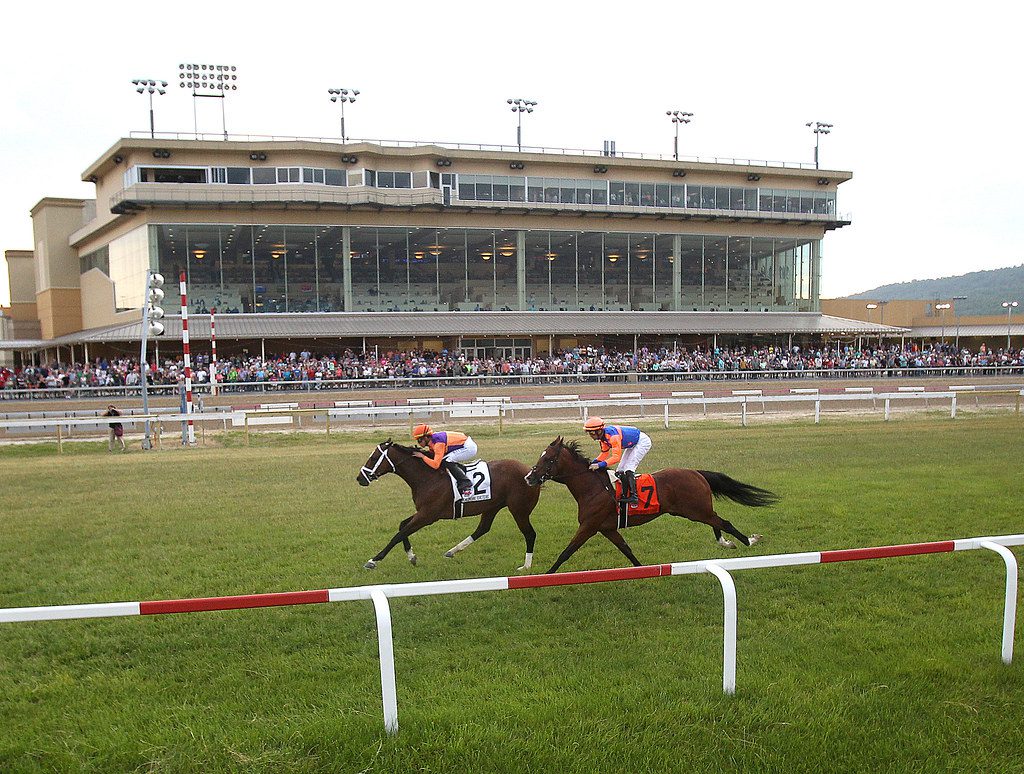 5.      KALIK (NR)
C. Brown; I. Ortiz; Robert LaPenta, et. al.
It's three-for-three in '23, each win coming a sixteenth further than the one before for Chad Brown's Collected colt.  The latest win comes in stakes company for the first time at 1 1/8 miles in Belmont's Pennine Ridge(G2) with Irad Ortiz delivering all three wins.  There's no secret about his preferred running style.  Kalik channeled his inner-Secretariat by running each frontrunning quarter faster than the previous in the Pennine Ridge as he defeated former #2 Far Bridge.
6.      FAR BRIDGE (2)
T. Pletcher, J. Rosario, Lawrence Sarf
Far Bridge finally found a shorter field in the Pennine Ridge and after going mid-pack for much of the race, covered by a somewhat rank Congruent, found himself last at the top of the stretch.  With another solid stretch run Far Bridge rallied through rail traffic to get second, closing on Kalik for a second straight good-but-not-quite-good enough outing.  It doesn't get more Colonial than an English Channel colt out of a Kitten's Joy mare.
7. BEHIND ENEMY LINES (7)
J. Sisterson; F. Prat; Rockingham Ranch et. al.
Possibly Prat made his move too early in the Penn Mile, but it likely wouldn't have made a difference with Major Dude's performance in the Penn Mile.  On the Turf Ten list, it may be better to leave him in a spot he's familiar with…looming.  The mornings have been interesting for this English-bred, who hasn't seen the same surface twice recently but remains sharp.
8. MI HERMANO RAMON (8)
M. Glatt; U. Rispoli; Red Baron's Barn, LLC et. al.
Another California hopeful who bounced back after finishing fourth the Transylvania with a West Coast win in the Singletary on May 7. Despite having a troubled trip in the Baffle Stakes where he finished off the board, he still has three wins in five starts.
9. MENDELSSOHN'S MARCH (NR)
K. McPeek; B. Hernandez; Harold Larmer etal
Willing effort in Churchill's Audubon on June 3. Hernandez had to take the opening on the rail in the turn and reached the lead. Instead of giving way when when Webslinger took over in the stretch, Mendelssohn's March came back at him, closing the margin and getting second. An April foal, this McPeek trainee may be maturing.
10.  BOPPY O (NR)
M. Casse; I. Castillo; John Oxley etal.
We end the Turf Ten list as we began it, with a Mark Casse horse in Boppy O with his rallying triumph over 3-10 favorite and former Turf 10 #9 Talk of the Nation in the Jersey Derby on June 3. The Jersey Derby was the first win in 2023 for Boppy O, who was aided by fast early splits and who may be rounding into the summer form notched him a win in the Grade 3 With Anticipation at Saratoga. 
LATEST NEWS