Preakness winner Johnny V featured on Off to the Races Radio
Nick Hahn will host the Virginia program, while Frank Vespe hosts in Maryland. The shows will share some content and personnel, but each will have its own distinctive flavor.
Listen to Off to the Races-Virginia live here!
Saturday's show airs from 10 a.m. to 11:00 a.m. on ESPN Richmond, 106.1 FM.
Listen to Off to the Races-Maryland live here!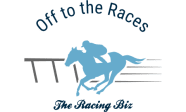 OFF TO THE RACES-MARYLAND SATURDAY GUESTS
Chris Sobocinski, Delaware Park
Jack Gilden, author of "The Fast Ride: Spectacular Bid and the Undoing of a Sure Thing"
Liza Hendriks, CEO of Wanamaker's
and much more!
Off to the Races-Maryland airs from 10:00 a.m. to 11:00 a.m. on Baltimore Positive, 1570 AM-Towson.
Sponsors of Off to the Races include the Virginia Equine Alliance, Virginia Harness Horse Association, Maryland Horse Breeders Association, Richard Hackerman-Attorney at Law, True Valour, Wanamaker's, and more.
Each week's show will be archived on TheRacingBiz.com.
LATEST NEWS