Nick's Turf 10: Nagirroc strikes
The next stop for the division is also in the Mid-Atlantic, as the $400,000, Grade 2 Penn Mile is set for June 2. Down the road apiece, of course, Colonial Downs hosts a pair of $500,000 races for sophomores: the one-mile, Grade 2 Secretariat Stakes on August 12 and the Grade 3 Virginia Derby on September 9 at a mile-and-an-eighth.
Here is the newest edition of the Turf 10 with the trainer, jockey of last start, and owner listed with the previous edition's ranking next to the horse (NR=Not Ranked).
2.      FAR BRIDGE (2)
T. Pletcher, J. Rosario, Lawrence Sarf
It was another great performance in a big field in the American Turf for Far Bridge, who slipped through on the rail to head Webslinger inside the sixteenth pole. The Calumet Farm-bred may have been head-to-head with Webslinger but not side by side, racing multiple paths apart. It doesn't get more Colonial Downs than an English Channel colt out of a Kitten's Joy mare. The closing kick is working well in routes.
CHECK OUT THE LATEST OFF TO THE RACES RADIO!
3.      NAGIRROC (5)
G. Motion; F. Prat; Madaket Stables LLC et. al.
Nagirroc's slip to #5 in the previous edition Turf Ten, largely impacted by not running in the American Turf on Kentucky Derby day, figured to be redeemed with a solid effort in the James Murphy. Consider that mission accomplished: Not only did he beat the field in the May 20 Murphy at PImlico Race Course, but he also reset the course record, getting the mile in 1:33.11. Motion got feedback from Prat and Nagirroc's exercise rider independently that blinkers might be a plus, which proved correct. The Manila (G3) on July 7 at Belmont Park may be his next target.
4.      MO STASH (3)
V. Oliver; L. Saez; BBN Racing, LLC
Mo Stash came close to figuring out either the "just a little quicker pace thing" or the "just a little more distance thing" in the American Turf. He may not need both but he's going to need to figure out one to keep moving forward, as he was the first to fold from the four-way American Turf stretch duel. He didn't get the slow middle fractions like in his Transylvania win but still a very brave effort here when beaten 1 ½ lengths for all of it.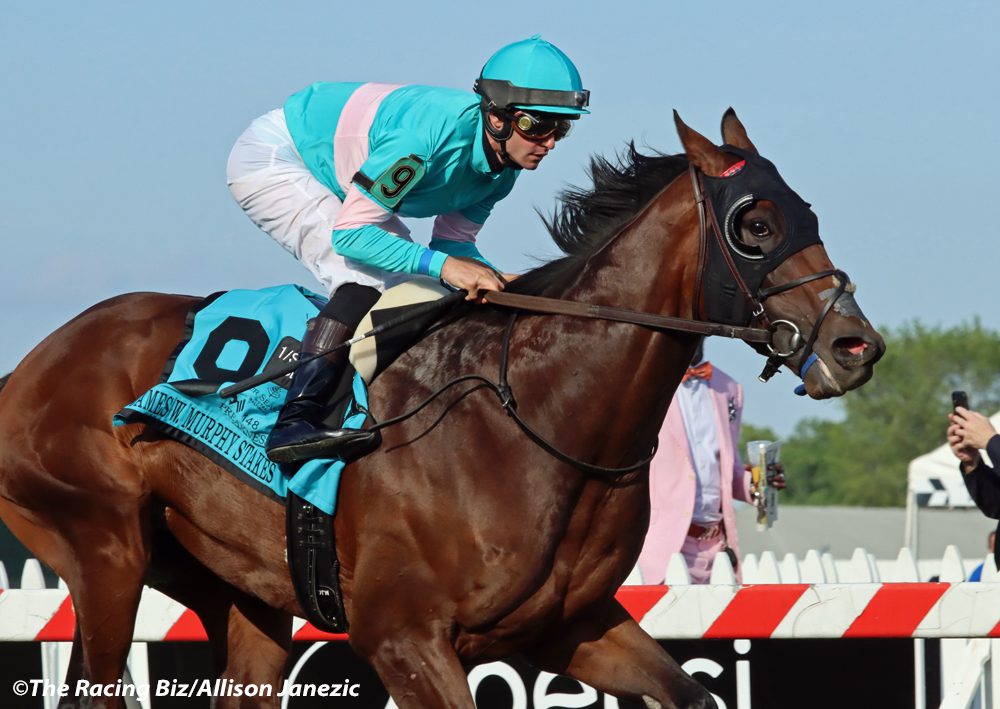 5.      MAJOR DUDE (4)
T. Pletcher; I. Ortiz, Jr.; Spendthrift Farm, LLC et. al
The Kitten's Joy winner at Gulfstream would have made the Kentucky Derby field as an also-eligible but was a welcome contender to the American Turf. Like others above him on the Turf 10, he lined up at the eighth pole for a four-way stretch duel, getting third while improving his figures on turf once again.
6. JOHANNES (5)
T. Yakteen; U. Rispoli; Cuyathy, LLC.
In his first start in a double-digit field, Johannes must have considered it strange to behind twelve others and last after three-quarters of a mile in the American Turf. He got familiar quickly enough rallying to get fifth, beaten just two lengths. He's still the best coming out of the west after Yakteen found something on the turf, breaking his maiden by nine lengths in a turf sprint starting a three-race win streak at Santa Anita, including the Pasadena Stakes at a mile.
7. BEHIND ENEMY LINES (7)
J. Sisterson; F. Prat; Rockingham Ranch et. al.
On the Turf 10, this English-bred bettered who he was supposed to in the American Turf but didn't advance ahead of those above him after hopping at the start in a deep field. He's the only colt on the list that has won races on two continents, impressive for only four starts. There's plenty of potential with this English-bred who loves to impress in the mornings.
8.      MI HERMANO RAMON (8)
M. Glatt; U. Rispoli; Red Baron's Barn, LLC et. al.
New to the Turf 10 is another California hopeful who bounced back after finishing fourth the Transylvania with a West Coast win in the Singletary on May 7. Along with the American Turf, this past weekend legitimized the talent level of the top finishers of Transylvania Stakes. Despite having a troubled trip in the Baffle Stakes, where he finished off the board, he still has three wins in five starts.
9.      TALK OF THE NATION (9)
C. McGaughey, III; S. Camacho; Joseph Allen LLC and CHC Inc.
A vet scratch out of the American Turf while walking up to the gate makes many more eager for the next start of this Belmont-based Quality Road colt. Talk of the Nation defeated Mo Stash in the one-mile Columbia Stakes at Tampa Bay Downs, one of his two wins on the turf, so the talent's there.
10.  BELOUNI (10)
C. Brown; J. Ortiz; Michael Dubbs et. al.
In late April, Belouni won the Woodhaven at Aqueduct delivering as a favorite and returning to his winning ways after a disappointing first American start. Winning two races in France as a two-year-old only makes this turf runner more colorful. Could the Pennine Ridge (G2) at Belmont Park on June 3 be next?
LATEST NEWS