National Treasure takes topsy-turvy Preakness
Frank Vespe

May 20, 2023
John Velazquez got his Preakness win, and Bob Baffert returned from Triple Crown exile a winner.
Baffert's National Treasure grabbed the early lead, set dawdling fractions, and had just enough to hold off Blazing Sevens in a stirring length-of-the-stretch battle in Saturday's 148th running of the Grade 1 Preakness Stakes. The top pair were just heads apart at the wire while nearly three lengths clear of Kentucky Derby winner Mage.
Baffert got his record-setting eighth Preakness victory, but all was not well, either in Baffertland or in horse racing. Baffert, the Hall of Fame trainer and two-time Triple Crown winner, sent four horses to Baltimore for this weekend's races. Two of them – National Treasure and Sir Barton Stakes winner Arabian Lion – emerged victorious.
One, Faiza, was a disappointing, indifferent third Friday in the Grade 2 Black-Eyed Susan as the 3-5 post time favorite.
And one, Havanameltdown, suffered a catastrophic injury during the running of the Grade 3 Chick Lang Stakes for three-year-old sprinters. His breakdown sent rider Luis Saez to the hospital, where he was conscious though complaining of leg pain.
Havanameltdown's injury dominated early news reports from Piimlico and spurred a flurry of statements.
"It was a gut punch, you know," Baffert said after the Preakness. "The main concern, the jockey is fine. And so it was one of those things where you're scratching your head, but it's like, at the same time you still, you've got to take care of your other horses and stay focused. As a trainer, that's what we go through."
His official Twitter account added, "We are just devastated. This is a shock to everyone at our barn who love and care for these horses every day."
CHECK OUT THE LATEST OFF TO THE RACES RADIO!
Animal rights activists were not mollified.
"Bob Baffert being allowed to run at Pimlico this year reminds us again of how the long-standing system of promoting track safety for Thoroughbreds and jockeys is broken," Wayne Pacelle of Animal Wellness Action said in a statement. "If Baffert was rightly excluded from a Triple Crown venue in 2022 and 2023, then that prohibition should have applied to other race venues during that same time period and especially the Triple Crown tracks."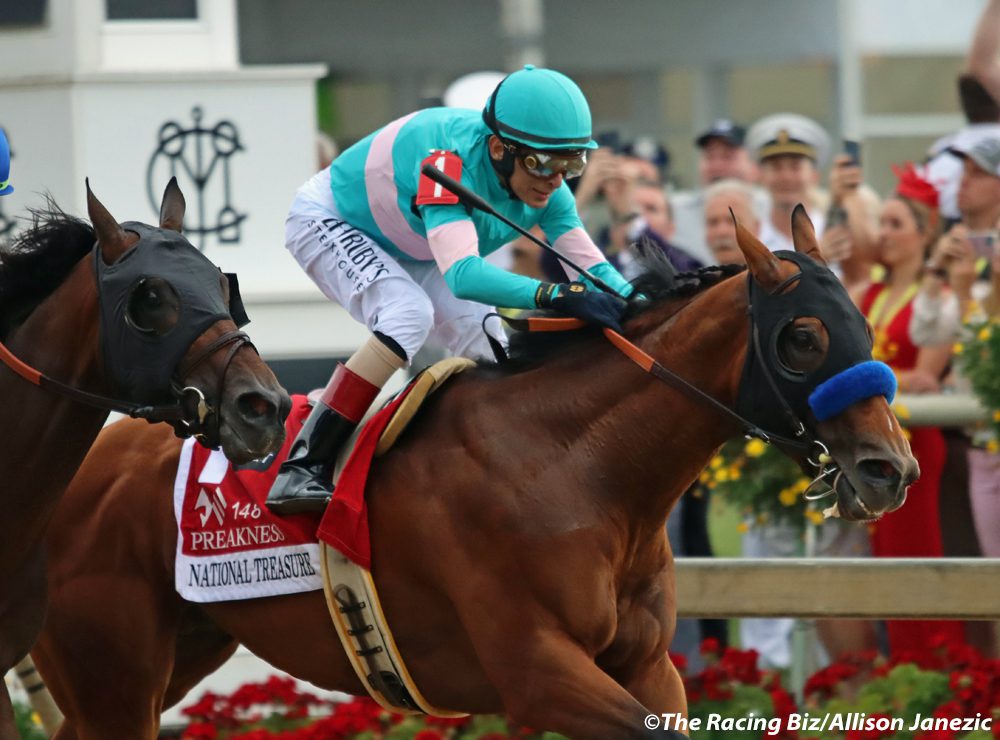 Churchill Downs, Inc. banned Baffert for two years after Medina Spirit came up with a positive test after finishing first in the 2021 Kentucky Derby.
PETA agreed.
"The tragic death of Havnameltdown is the latest in a long line of fatalities," said PETA's Senior Vice President Kathy Guillermo. "The racing industry must kick out the bad guys or it will have blood on its hands as well as blood on its tracks."
1/ST Racing, the parent company of Pimlico's owner the Maryland Jockey Club, issued a statement of its own trumpeting its "numerous industry-leading reforms, including additional medication restrictions and new operational requirements, to enhance the existing health and safety measures with the intent of providing the safest racing environment possible."
"The loss of Havnameltdown will be felt across the entire horse racing community, and everyone at the Maryland Jockey Club and 1/ST Racing extends our heartfelt condolences to Havnameltdown's connections," the statement added.
Havanameltdown's death put a damper on the regular Preakness day festivities, which this year included a stop from the giant Secretariat statue making the rounds in celebration of the 50th anniversary of Big Red's romp through the Triple Crown.
While there have been four Triple Crown winners since Secretariat, there won't be one this year, and that's primarily because the Preakness was the exact opposite of the Kentucky Derby.
In the 18-horse Derby, a bevy of runners set torrid early fractions, creating a scenario in which late runners like Mage could showcase their closing kicks to best effect. In today's Middle Jewel, National Treasure was able to dole out tepid fractions – 48.92 seconds for the half-mile, 1:13.49 for three-quarters – with only token pressure from local longshot hopeful Coffeewithchris. 
Mage, with Javier Castellano in the irons, found himself in behind the top pair early, just a couple of lengths back but hemmed in with Blazing Sevens to his outside. He was never more than three or so lengths off the early pace, a striking contrast to a Derby in which he fell as many as 13 lengths behind.
Blazing Sevens, Irad Ortiz, Jr., in the irons, stalked up close to the early pace before ratcheting up the pressure rounding the turn. He and the leader were on near-even terms straightening for home and engaged in a spirited duel through the lane. But Blazing Sevens never could quite get by.
"He fought the whole way home from the 3/ 16ths pole," Velazquez said. "He put a really good fight, and he did not want to let that horse pass, and that's what champions do."
"He was coming into the race as good as possible, and I am very proud of his effort," trainer Chad Brown said of Blazing Sevens.
"He ran great. He tried so hard. He fought all the way to the wire," added that runner's jockey, Irad Ortiz, Jr.
For the Derby winner, it was a disappointing outcome, but it was not, to most observers, an especially surprising one. On paper, the race seemed to lack speed; on the racetrack it was even more extreme than that.
"The horses in front were going easy," acknowledged Mage's assistant trainer, Gustavo Delgado, Jr. "Those horses, you don't beat them [with that pace]. They always fight. They fight when they go fast; imagine when they go slow."
Amid very strange betting –no horse went off at odds of more than 10.50-1 — National Treasure paid $7.80 to win. The exacta with Blazing Sevens paid $15.90 for a one-dollar wager.
National Treasure, owned by a cast of thousands — namely, SF Racing LLC, Starlight Racing, Madaket Stables LLC, Robert Masterson, Stonestreet Stables LLC, Jay Schoenfarber, Waves Edge Capital LLC and Catherin Donovan — now has two wins from six career starts with earnings of $1,335,000.
As much as the moment was a mixed-bag for the sport, the struggle between the top pair was a stirring one. And no one could begrudge Velazquez, widely considered one of the sport's good guys, his first Preakness triumph. A Hall of Famer since 2012, he owned four Kentucky Derby victories, two Belmont wins, and an armload of Breeders' Cup triumphs. The Preakness was the only consequential hole on his resume, until today.
"What a moment," the rider said. "All I can say, when you ride your best and you try to ride your best and the horse responds to everything you want to do, that's all it takes, the horse giving you everything they can, and that's why you hope for."
LATEST NEWS