Preakness profile: Mage
Joseph Aiello

May 16, 2023
Only one horse enters the Preakness each year with a shot at the Triple Crown. This year that horse is Mage.
Mage pulled a 15-1 upset in the Kentucky Derby, rallying from well off the pace to run down the game Two Phil's while holding off the spirited late charge of Angel of Empire to earn his first stakes win and only his second win overall.
RACING CAREER

As a yearling, this talented horse by Good Magic was sold for the lofty price of $235,000 at the Keeneland September Sale, only to be resold for $290,000 as a two-year-old in training to his eventual owners. His racing prowess became obvious early in his three-year-old season, when he broke his maiden effortlessly at seven furlongs with a forwardly-placed trip over the Gulfstream Park main track in late January.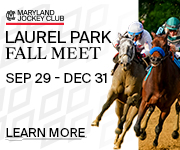 The unheralded trainer, Gustavo Delgado, Sr., decided that a step up into the Grade 2 Fountain of Youth stakes was the next move for his colt, but a stalking trip led to a distant fourth place finish at the longer 1 1/16-mile distance, finishing six lengths behind the winner and favorite Forte.
In the Florida Derby, only his third start, jockey Luis Saez had Mage positioned dead last after a quarter-mile, taking advantage of a quicker pace to make a sweeping move entering the stretch, only to be run down and beaten by Forte once again. There was clear improvement, however, since the likely Derby favorite in Forte had to be pushed to pass Mage in the late stretch in this Gulfstream prep.
When Forte was scratched in Kentucky, it left an inexperienced yet improving Mage as one of the top longshot closers in the field, going off at odds of 15-1. With yet another blistering early pace and perfect set-up for the now-rating Mage, the front-end speed was not able to hold, setting up for an unexpected result. New jockey Javier Castellano and trainer Gustavo Delgado nabbed their first Derby victory as Mage passed Two Phil's in the stretch and held off a late charging Angel of Empire to capture the Run for the Roses. This time around, Mage will be the hunted in a relatively wide-open running of the Preakness, and will need to prove that his Derby victory was not the result of circumstance, and rather good timing by an improving young colt.
CHECK OUT THE LATEST OFF TO THE RACES RADIO!
LAST RACE TRIP NOTES
KENTUCKY DERBY, 1ST — Broke straight but a beat slower than those right around him; angled sharply to rail one-third of the way up front side, was at the rail with three beaten first time under the wire. Rounded the first turn in the two path. Began to move forward in upper backstretch while moving in tandem with Tapit Trice, shook away from that rival but then had to wait briefly nearing the far turn. Resumed progress while slipping between horses entering turn, then tipped to far outside to circle the turn. Was widest of all entering the stretch, made a grinding run down the lane, put a head in front leaving the furlong grounds, and prevailed in a professional effort.
BLOODLINES
With the same sire as likely Preakness competitors Blazing Sevens and Perform, Mage has strong bloodlines which were reflective of his price tag as a youngster.
Sire Good Magic, who stands for $50,000, is gaining steam in the breeding shed, as his oldest runners are just three. Obviously, with the Derby win, Mage now has the highest earnings of Good Magic progeny, but he's certainly not the only talented Good Magic; Blazing Sevens is also a Grade 1 winner, and four other Good Magic offspring are also graded stakes winners.
Unlike his sire who finished second in the first jewel of the Triple Crown, Mage was able to take after his broodmare sire Big Brown, who won in Kentucky with a similar late closing effort. Big Brown had early success as a sire with Dortmund, but now adds a classic winner under his belt as a broodmare sire even as some of his progeny racing success has slowed down. On the bottom, Puca has foaled one other runner, a filly by Gun Runner named Gunning, who has earned over $270,000 in her career while earning two stakes placings.
WHAT THEY'RE SAYING
Co-owner Ramiro Restrepo seems even more bullish on Mage's condition following the Derby than beforehand, with all the signs pointing to him being in top form entering his trip to Baltimore.
"Gustavo [the trainer] is really pleased and over the moon with how he's come back," Restrepo said when the team decided to send Mage to the Preakness. "He's shown all the positive signs, so it's on to Baltimore, and crab cakes here we come."
"That's the best way to describe him: very professional," said assistant trainer Gustavo Delgado, Jr., son of the trainer, on May 16. "I mean, he goes out with a pony, but he really doesn't need it. The track itself being so quiet, only a few horses out at the same time, that helps, too. We feel it's the right spot for him, so that's good."
While the task will only get more difficult now that some new shooters look to play upset, Mage's form should not be a limiting factor in his performance as he looks for his second straight classic victory.
PHOTOS
LATEST NEWS