Anchor & Hope offers exciting stallions at reasonable prices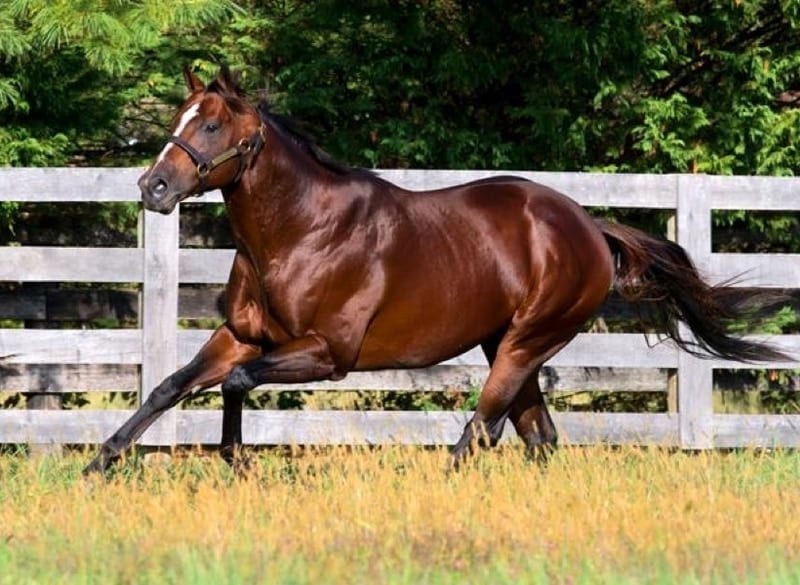 Broubon Courage. Photo courtesy of Anchor and Hope Farm.
Sponsored

April 6, 2023
A sponsored post
Breeders with unlimited money can happily drop $250,000 to breed to Into Mischief to pursue that hoary old chestnut, "Breed the best to the best…" And, well, you know the rest.
The rest of us have to figure out ways to zig when the market zags, to find the bargains hidden among the pages of statistical analysis.

For while Into Mischief's 5.7% rate of black-type winners from runners is enticing, the cost of a season is a wee bit out of a lot of price ranges.
Fortunately, for Marylanders and others in the Mid-Atlantic, there's a bargain sire like Bourbon Courage, standing for just $2,500 at Louis and Grace Merryman's Anchor and Hope Farm in Port Deposit, MD. The son of Lion Heart sired four stakes winners last year from just 66 starters: a 6.1% rate that was among the highest in the region.
Bourbon Courage is one of four stallions standing at Anchor and Hope for the 2023 season.
Among Bourbon Courage's top horses last year were Double Crown, a Grade 2 winner in New York, and Forhtheluvofbourbon, who won four stakes, including the Maryland Million Sprint.
"He's had horses all across the country, from Santa Anita to Saratoga to Gulfstream and everywhere in between," Grace Merryman said. "He's really proven himself and that he can compete on that national level."
He did so as a racehorse, earning $1.1 million and finishing a fast-closing fourth in the Breeders' Cup Sprint. Now he's doing so in the breeding shed.
Joining Bourbon Courage at Anchor and Hope, which boasts one of the region's most intriguing stallion rosters, are Holy Boss, whose oldest are five this year; Long River, now with his second crop racing; and Gun Runner's younger full-brother Fortune Ticket.
Fortune Ticket, like his big brother a son of Candy Ride, entered stud at Anchor and Hope in 2022. On the track, he won twice in seven career outings.
Gun Runner, a champion on the track, is already the sire of Eclipse champion filly Echo Zulu and was the nation's fifth-leading sire in 2022 despite having fewer foals on the ground than any other sire in the top 30 by purse earnings.
Both Fortune Ticket and Gun Runner are out of the grade 2-winning Giant's Causeway mare Quiet Giant. She is a half sister to 2005 Horse of the Year and champion older horse Saint Liam, as well as 2018 Grade 1 United Nations Stakes victor Funtastic.
Fortune Ticket stands for $2,500, and Merryman says that he's proving popular with breeders hoping to catch some of that Gun Runner magic at a much more manageable price.
"He's a really neat horse to be around," Merryman said. "He's an absolute dead ringer for Candy Ride. It's kind of remarkable. So you're getting the Gun Runner pedigree with this clone of Candy Ride."
Holy Boss's eldest are four-year-olds this season, and they are off to a fast start. He ranks 14th nationally among third crop sires despite having fewer foals on the ground than 21 other sires.
"They're big, grand horses that need a little bit of extra time to develop, and there's people that like them and are willing to give them that time," Merryman said of Holy Boss and his offspring. "And now that they've grown into these big, grand frames, they're coming on strong."
One example may be Al Loves Josie, bred by Anchor and Hope itself. Out of the Lemon Drop Kid mare Pick Your Pleasure, Al Loves Josie showed promise as a youngster, winning at second asking as a two-year-old. But it's only recently, late in this three- and now early in his four-year-old season, that he's started to round into form, with three wins and a stakes placing in his last five starts.
Holy Boss is also the sire of Vance Scholars, who won last year's off-the-turf Bald Eagle Derby going 1 3/16 miles, and a pair of horses that have earned graded black type in their native Argentina.
A son of Street Boss, Holy Boss won six races and earned over $770,000 in his career. He earned his top victory in the Grade 2 Amsterdam in 2015.
Finally, the regally bred Long River is earning himself a long look from regional breeders and stands for just $1,500. His eldest are three-year-olds this year, and thus far in 2023, five of them have found the winner's circle – tied for second among second-crop Midlantic stallions.
If ever a horse were bred for success in the breeding shed, Long River is that horse. A son of longtime top stallion A. P. Indy, he is out of the millionaire Breeders' Cup Distaff winner Round Pond, a daughter of another top stallion, Awesome Again.
He won the Group 1 Al Maktoum Challenge Round 3 and placed in the Grade 1 Jockey Club Gold Cup Stakes during his racing career. He racked up five wins and $770,000 in earnings on the track, and because his top win came without Lasix, he's well positioned to thrive in the years to come as Lasix is phased out under the new HISA regime.
"As more of his runners start and win, and as people start to prioritize racing Lasix-free, I think Long River is only going to get more popular," Merryman said. "I think he's going to prove that he's absolutely worth it."
Anchor and hope stallions
Clockwise from upper left: Editorial, Fortune Ticket, Holy Boss, Bourbon Courage.
LATEST NEWS