For Amy Moore, "amazing journey with Forte"
Guest Author

April 5, 2023
by Corrie McCroskey, story courtesy of and originally published in The Blood-Horse
As astounding as the rise of Forte has been for his captivated audience, looking on as the colt won race after race, hundreds of eyes opened wide as he rushed past Mage in the final moments of the April 1 Florida Derby (G1) at Gulfstream Park, none of these emotions compare to those of breeder Amy Moore, who has watched with pride as the first foal she ever bred progressed beyond her wildest dreams.
"It's been an amazing journey with Forte," Moore said. "I've been following him and appreciating his accomplishments and I'm very proud of him. The Florida Derby was a heartstopper.

"I never thought he was going to get up and win it from where he was when he turned on the afterburners. He's got that long, efficient stride, and he just kept coming and got the job done. I don't think you ever expect it (to have a Derby horse), but you hope for it."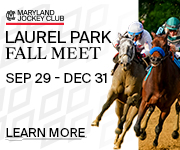 It all began at the 2014 Keeneland September Yearling Sale when a dark bay Blame filly caught Moore's attention. After spending the past 30 years working as an attorney in Washington D.C., Moore was ready to return to her horse roots with ambitions to race and breed. She purchased the Virginia-bred filly for $170,000 from the Morgan's Ford Farm consignment and got to work.
Sent into training with all-around horseman Michael Matz, who Moore became acquainted with during her days on the show jumping circuit, the filly was given the name Queen Caroline in homage to her stakes-winning dam Queens Plaza.
Under Matz's tutelage, the filly was a machine on the turf, winning stakes at Pimlico Race Course, Horseshoe Indianapolis, and Laurel Park, including the Nellie Mae Cox Stakes (2016, 2017), 2016 TaWee Stakes, 2016 Indiana Grand Stakes, and 2017 Brookmeade Stakes.
From 20 starts and four years on the track, Queen Caroline earned $401,608 and finished with a record of 6-4-2. After her retirement in the latter half of 2018, the now 10-year-old mare became Moore's first broodmare. She selected Violence, a grade 1 winner and nearly undefeated son of Medaglia d'Oro, for Queen Caroline's first match.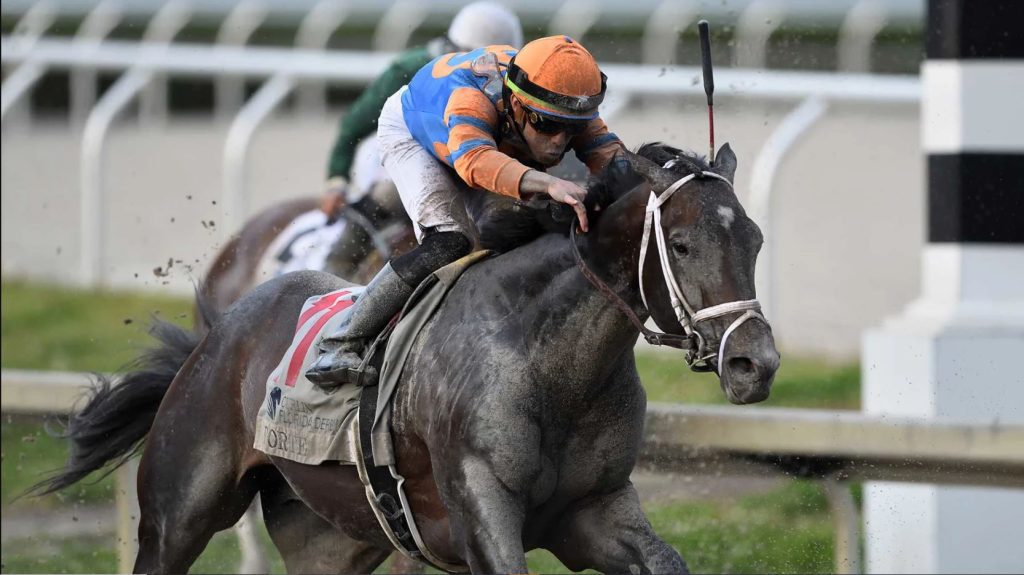 "For her first foal, I wanted a stallion that was young and affordable. Queen Caroline ran on turf and didn't care at all for dirt, so I wanted a stallion that had some turf credentials but also wanted a stallion that had been successful running on dirt and had produced good runners on dirt because that's what the commercial market wants," Moore said. "I was walking the tightrope between turf and dirt.… He and Queen Caroline are also physically a good match together."
Conditioned by Hall of Fame trainer Todd Pletcher for Black Rock Stables, Violence rattled off wins in the Nashua Stakes (G2) and CashCall Futurity (G1) as a juvenile. During his 3-year-old year he was runner-up to eventual 2013 Kentucky Derby (G1) winner Orb in the Fountain of Youth Stakes (G2).
What looked to be an impressive career ahead and may have included a trip to the Derby was unfortunately cut short when he suffered a fracture to his right front medial sesamoid. The injury was discovered after the Fountain of Youth, and he was retired to stud at John Sikura's Hill 'n' Dale Farms where he took his first trips to the breeding shed in 2014.
In the years since, Violence has sired 289 foals from four crops that include six graded stakes winners and 11 stakes winners. Though he stands the 2023 season for a fee of $50,000, in 2019 (when Queen Caroline was bred) he was slightly less at $40,000.
Successfully in foal to Violence, Moore brought Queen Caroline to Gunston Hall Farm in Lexington, where she delivered a bay colt Feb. 3, 2020. With four socks and face markings, the flashy colt was a spitting image of his father.
The mare's only other foal is a 2-year-old Uncle Mo colt who sold for $850,000 to Mayberry Farm at the 2022 Keeneland September Yearling Sale. Her 2022 Authentic foal was born dead, and the mare was not ready to be bred back for 2023 due to complications from the delivery. Moore said she is now fully healthy, happy, and in foal to Flightline on a Feb. 24 cover.
Shortly after his birth, Forte arrived back in the rolling hills of the Shenandoah Valley at Moore's South Gate Farm in Millwood, Va., where he spent the remainder of his weanling year before heading to the sales grounds at the 2020 Keeneland November Breeding Stock Sale. Moore said all of her mares come back home to Virginia after foaling out.
"Everybody keeps calling Forte a Kentucky-bred, but for purposes of breeder's awards, he is not a Kentucky-bred. The mare is not a Kentucky resident, though Forte was foaled in Kentucky, (this) is true," Moore said.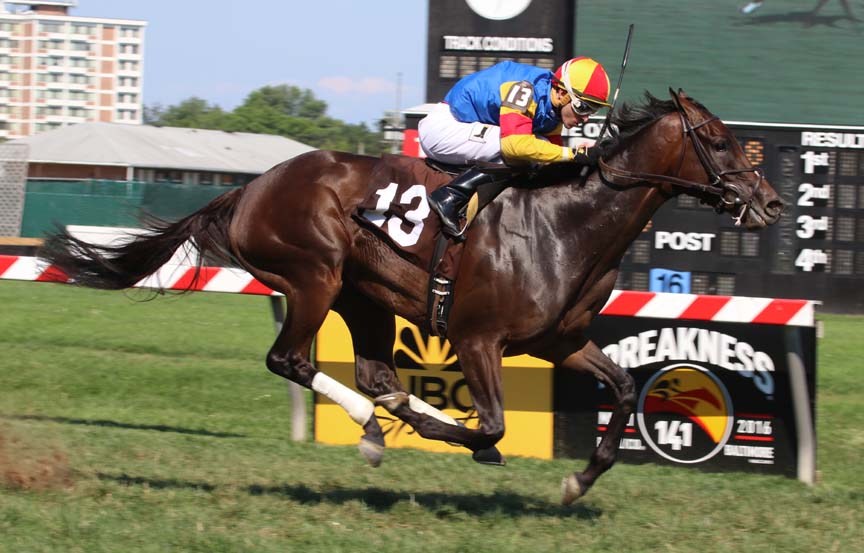 "In order to get breeder's awards in Kentucky, the mare has to reside there for some lengthy period which my mares don't, they come back to Virginia… Since Forte was foaled in Kentucky, he doesn't get breeder's awards in either state."
Snapped up by Silver Hill Farm for $80,000 from the Bluegrass Thoroughbred Services consignment, the colt would arrive back at the Kentucky auction house the following year for the 2021 September Yearling Sale where he was purchased by Mike Repole's Repole Stable and Vinnie Viola's St. Elias for $110,000 from the Eaton Sales consignment.
Following in the hoofprints of his father, the colt began training with Pletcher at Palm Beach Downs after being started at Ocala Stud. He won a five-furlong dirt maiden special weight at Belmont Park his first time out and followed it with his only loss, a fourth in the Sanford Stakes (G3) at Saratoga Race Course.
Since then, he has not approached a challenge without an answer. For the remainder of his juvenile year, the colt won the Hopeful Stakes (G1) at the Spa, Breeders' Futurity (G1) at Keeneland, and the Breeders' Cup Juvenile (G1) back at the Lexington oval to cap his 2022 season with an Eclipse Award as champion 2-year-old colt.
His winning streak has carried into 2023, propelling him to the first Saturday in May through victories in the Fountain of Youth Stakes (G2), and Saturday's Florida Derby. He sits atop the Road to the Kentucky Derby leaderboard with a tremendous 190 points. From a record of six wins from seven starts, the colt has earned over $2.4 million.
Moore says that she is looking forward to her trip to Kentucky in May, which will include stops to see both Queen Caroline and Flightline in Lexington, along with an obvious detour to Louisville May 6 where she will see the colt for the first time since he left her farm two years ago. "I haven't run across him since I sold him," Moore said. "I and some friends and family will be (at the Derby), and rooting hard for Forte."
LATEST NEWS