Arabian Knight favored in Southwest
Baffert, inducted into the National Museum of Racing and Hall of Fame in 2009, has the even-money program favorite in unbeaten Arabian Knight (1 for 1), who will be making his two-turn and 3-year-old debut. Baffert is a four-time Eclipse Award winner (1997, 1998, 1999 and 2015) as the country's outstanding trainer.
"Brad has got a great stable," the Southern California-based Baffert said. "He manages them really well for having a big stable and he works hard at it. He's got great clients and I have great clients. Brad Cox – he'd be in the SEC. That's the way it goes."
The projected Southwest nine-horse field from the rail out: Sun Thunder, David Cabrera to ride, 117 pounds, 10-1 on the morning line; Corona Bolt, Flavien Prat, 117, 6-1; Jace's Road, Joe Talamo, 119, 4-1; Western Ghent, Cristian Torres, 117, 20-1; Frosted Departure, Francisco Arrieta, 117, 15-1; Arabian Knight, John Velazquez, 117, even money; Red Route One, Ricardo Santana Jr, 117, 10-1; Hit Show, Manny Franco, 119, 10-1; and El Tomate, Orlando Mojica, 117, 30-1.
Arabian Knight, in his only start, was a front-running 7 ¼-length winner on the Breeders' Cup undercard Nov. 5 at Keeneland. Racing over a fast main track, Arabian Knight covered 7 furlongs in 1:21.98 to generate a gaudy 97 Beyer Speed Figure.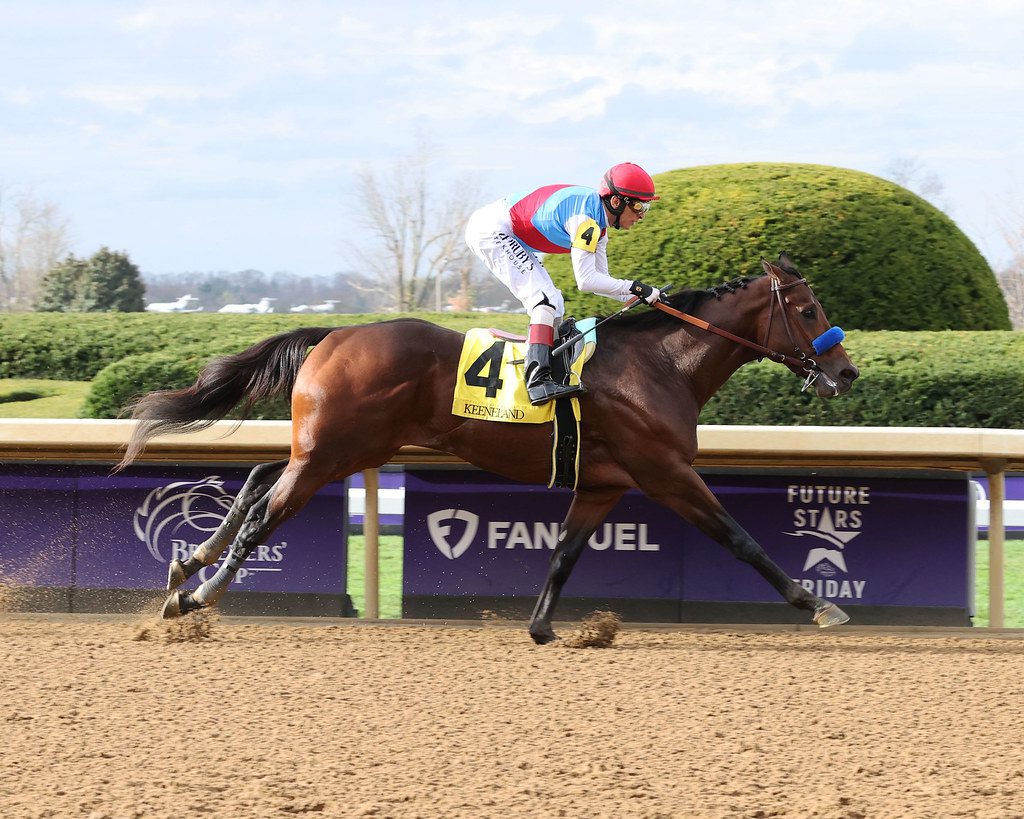 "He ran really well first out at Keeneland," Baffert said. "Shipped him and he handled the shipping. Ran really well. I gave him plenty of time. It was a big effort. There's a race I could have run him in out here going seven-eighths. It would have been a nice prep for him, but I would rather run him long and see how he handles it. I think we're all in the same boat – see where our horses fit right now. Do they want to go long? Do they not want to go long? So, you're looking for answers. That's what the preps are for. You race and find out what your horse is going to like for the future. We thought it was a good spot."
Baffert said he chose the Southwest over the $200,000 San Vicente Stakes (G2) at 7 furlongs Sunday at Santa Anita. The Southwest is Oaklawn's second of four Kentucky Derby points races, a series that continues with the $1 million Rebel Stakes (G2) at 1 1/16 miles Feb. 25 and the $1.25 million Arkansas Derby (G1) at 1 1/8 miles April 1. The Southwest will offer 40 points (20-8-6-4-2, respectively) to the top five finishers toward starting eligibility for the Kentucky Derby.
Arabian Knight is ineligible for Southwest qualifying points because of Baffert's two-year suspension by Churchill Downs, stemming from his Medina Spirit being disqualified from a 2021 Kentucky Derby victory for a medication violation. The case is under appeal.
Zedan Racing Stables, Inc. (Amr F. Zedan) campaigns Arabian Knight after purchasing the son of champion Uncle Mo for a sale-topping $2.3 million at the Ocala Breeders' Sales Spring Sale of 2-year-olds in training. Arabian Knight has eight workouts at Santa Anita since Nov. 28 in advance of his 3-year-old debut.
"He's had enough time," Baffert said. "I would rather run him than train him."
Cox won Oaklawn's first Kentucky Derby points race this year, the $250,000 Southwest Stakes at 1 mile Jan. 1, with unbeaten Victory Formation (3 for 3). Like the speedy Victory Formation, Corona Bolt (2 for 2) will be making his two-turn and 3-year-old debut in a Kentucky Derby points race at Oaklawn.
LATEST NEWS