Laurel: Brittany Russell barn sweeps soph stakes
The Biz

January 21, 2023
by Frank Vespe, quotes from a Maryland Jockey Club release
The best sophomore in trainer Brittany Russell's hard-hitting barn is Post Time, or at least, that's how it appears at the moment.
But there's plenty for her and her team to crow about behind Post Time, too, and Saturday at Laurel, Russell trainees swept both three-year-old stakes, the six-furlong Xtra Heat for fillies with L Street Lady and the seven-furlong Spectacular Bid for the boys with Prince of Jericho.
In the day's final stake, the Spectacular Bid, Prince of Jericho, getting Lasix for the first time, turned the tables on Heft Stakes winner Coffeewithchris to win by four lengths over that rival in 1:25.93 on a fast main track. Coffeewithchris owned a similar margin over B West, who was along for third.
Sheldon Russell, Brittany's husband, had ridden Prince of Jericho in three of his prior four starts, but he is out receiving shoulder therapy. Carol Cedeno was up today.
"Sheldon came back last time and said to me, 'I think I could have won that race. I should have jumped on him a little sooner on the turn,'" Russell said. "[Prince of Jericho] wanted to run around the turn and he said he idled him and messed him up.
"Once he got going again he said he galloped out, his ears were pricked and he had horse. That just made me think about running this horse back in three weeks, and he's trained well," she added. "He has a lot of energy and he ran well today."
Prince of Jericho, a Munnings colt owned by Michael Dubb and Morris Bailey, bided his time a couple of lengths back in the early going while Coffeewithchris slugged it out up front with Tiz No Clown for the lead. When Cedeno gave him his cue rounding the turn, he moved readily into contention and took control entering the lane.
Prince of Jericho has now won three of five starts and paid $5.80 when earning his first career stakes triumph. The next Maryland sophomore stake is the one-mile Miracle Wood Feb. 18, which continues a progression of distance that eventually culminates in the 1 3/16-mile, Grade 1 Preakness.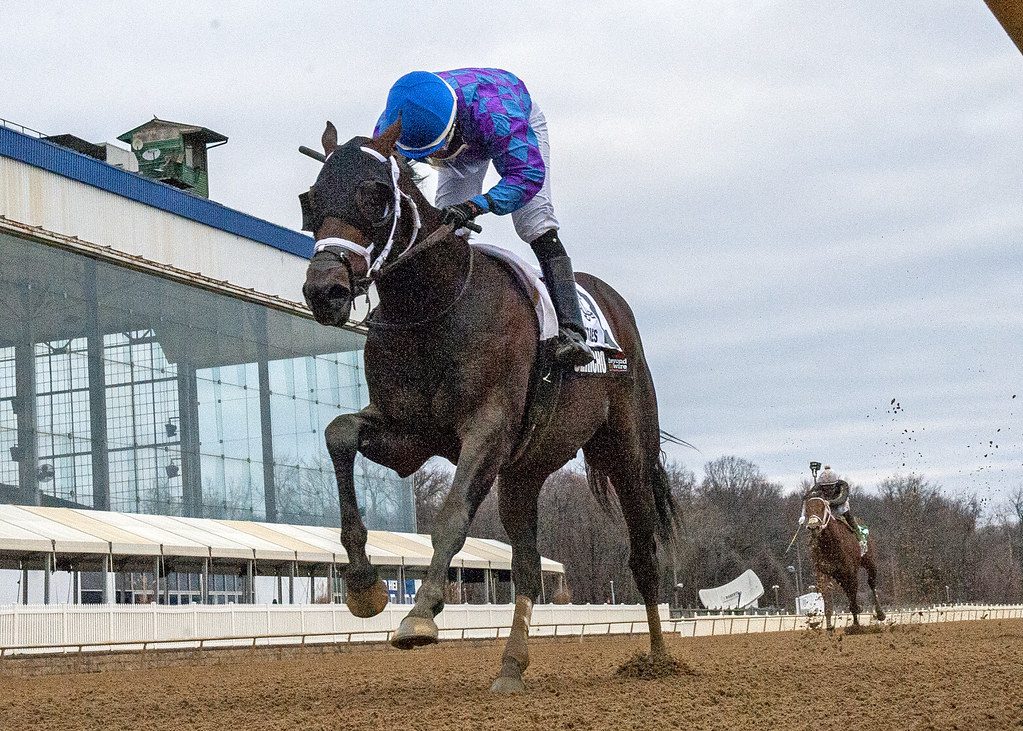 "We might consider going along with the progression of these races," Russell said. "We'll just see how he comes out of it. I don't necessarily want to run him back in three weeks again but more distance might be in his future."
Several races earlier, Jevian Toledo took over the Sheldon Russell aboard L Street Lady, and the sophomore daughter of Munnings overpowered favored Chickieness to win by 2 ¼ lengths. It was nearly nine more back to We'll See in third.
L Street Lady completed the six furlongs in 1:12.81 for her second consecutive win and second in three outings.
""The first time she probably needed that education. She learned a lot," Brittany Russell said. "She broke her maiden the next time very professionally, so I had confidence mentally she could handle it."
L Street Lady pressed Chickieness for the first half-mile, took over in upper stretch, and inched away to the win while stubbornly chased by that rival. Chickieness, winner of last fall's Maryland Million Lassie, went off as the 6-5 favorite, while L Street Lady was second choice.
"I just sort of told Toledo to be smart and stay on her. We knew the filly inside her was going to go so you didn't want to let her get too much of an advantage," Russell said. "He did a great job. It was a great setup and she responded at the end."
L STREET LADY CONNECTIONS
L Street Lady
Trainer Brittany Russell
Jockey Jevian Toledo
Owner Madaket Stables LLC
Breeder T & G Farm of Kentucky, LLC, bred in KY
Paid $4.80 to win
PRINCE OF JERICHO CONNECTIONS
Prince of Jericho
Trainer Brittany Russell
Jockey Carol Cedeno
Owner Michael Dubb & Morris Bailey
Breeder Edward Seltzer, bred in KY
Paid $5.80 to win
LATEST NEWS