Laurel: Karan's Notion takes allowance thriller
Frank Vespe

December 10, 2022
Karan's Notion saved the farm, and he's not done yet.
Karan's Notion, the five-year-old Great Notion gelding whose 2020 season helped save breeder-owner-trainer Nancy Heil's farm, rallied between horses Saturday to win Laurel Park's $62,000 allowance feature in a thriller.
"He tries so hard," Heil said afterwards. "He's as honest as the day is long."
It was Karan's Notion's second win of a busy 14-race campaign. The win pushed his career bankroll to $394,469.
Still, it hasn't been all sunshine and roses for Karan's Notion. He had won just once in 22 2021-22 starts entering today, while adding seven runner-up finishes. He had recorded four straight in-the-money finishes prior to his last start, when he finished fifth after developing the thumps, an irregular spasming of the diaphragm.
"You know, he's been running really well lately," said Heil. "When he doesn't run good, he has a valid excuse."
The thumps. A bad trip here, a cut leg there. Combine all that with the company he's been keeping – upper allowance horses and stakes runners, which greatly reduces the margin for error – and you have the recipe for a lot of races without a win.
Today under jockey Bryson Butterfly, Karan's Notion broke alertly to the lead but was quickly outpaced by Exculpatory. That runner, ridden by Angel Cruz, led by 3 ½ lengths through an opener in 22.29 seconds with a free-running Karan's Notion in second.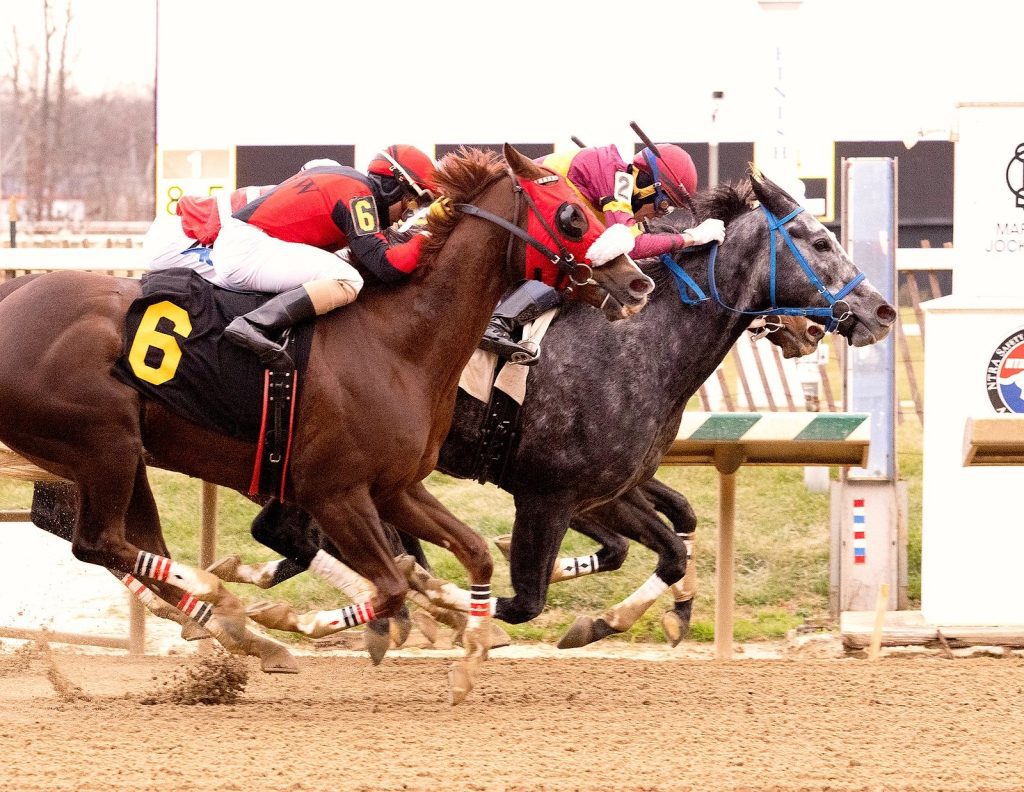 Exculpatory maintained a two-length lead leaving the furlong grounds, but by then, the rest of the field was revving up. Post time favorite Threes Over Deuces angled just to the outside of the leader for running room. Karan's Notion was a path wider as he made his bid. And Going to the Lead was widest of all.
Those three hit the wire together, and the first four were all within a half-length. Karan's Notion's nose was first to hit the wire, with Threes Over Deuces a neck ahead of show horse Going to the Lead, who was a head faster than Exculpatory. Running time on a fast main track was 1:04.09.
Karan's Notion paid $9.00 to win and topped an exacta, with the 8-5 favorite underneath, that returned $11.20 for a one-dollar wager. He survived an objection from Jeiron Barbosa, rider of the runner-up, alleging interference in the early stages of the race. Golden Candy, never much involved, was eased and walked off.
Karan's Notion is just five, but to Heil, he's the latest a long line. She trained a mare named Elegant Edythe for longtime owner Herbert Kushner, who named that runner after his mother. Elegant Edythe, whose career ended in 1991, was the dam of Rhoda Elaine, who later gave birth to Susan Karan, who herself is the dam of Karan's Notion.
Heil says she trains Karan's Notion lightly and gives him what amounts to a week off from training after he races. So his 14-race campaign lies more lightly on him than you might expect.
"He looks good and acts good," she said. "I'm going to keep him going until he tells me he needs the time off."
LATEST NEWS