For Jessica Paquette, "fun… and a huge learning curve"
Jennifer Kelly

December 8, 2022
"It's been a lot of fun and it's been a huge challenge."
Jessica Paquette debuted as the new full-time race caller at Parx Racing in Bensalem, Pennsylvania in mid-November, taking over for Chris Griffin, who's headed to New York. Her status as the country's only woman on the microphone at a major racetrack put a spotlight on this long-time paddock analyst and public relations pro who has made horses and racing her life since her youth.
Three weeks and eight full race cards into her tenure in Bensalem, Paquette, who this week was in Arizona at the Global Symposium on Racing, reflected on her newest challenge with enthusiasm and equanimity.
These early days on the job inspired a plethora of coverage, and while many cheered her on, more than a few were critical
Critiques ranged from those questioning whether women belonged in the announcer's booth at all to specific comments on her cadence and memorization. Though Twitter and Facebook users also have encouraged Paquette in her new role, the criticism can be hard to shut off for anyone..
"I've learned to not read the comment section," she says of the online commentary that has come with her debut. "You know, no one is good at anything right out of the gate. And there's a huge learning curve."
Paquette previously has called occasional Quarter Horse races at Sam Houston and steeplechase races at Colonial Downs, but taking the microphone as the full-time announcer at Parx is a very different challenge. 
"It is different when you're kind of doing these as a one off rather than this is your job now," Paquette says. "This is sink or swim at the deep end of the pool. And it is just trying to absorb so much feedback and so many tips on ways to make it work for me."
Building on her ample experience in front of the camera, this new opportunity requires skills that she works to develop each day. Her earliest experiences came in those shorter races, which means that "getting the pacing of the cadence for those [longer races], especially the distance races, has been an interesting challenge."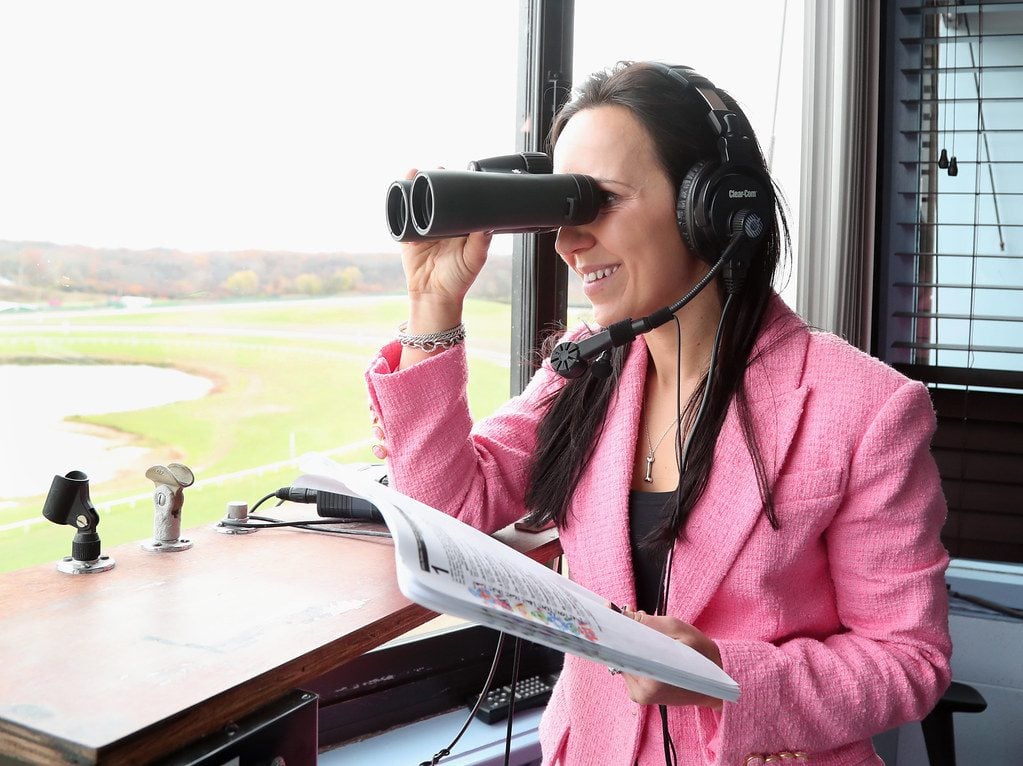 Key to settling into her new job has been the support of other announcers like Griffin; good friend Jason Beem, the announcer at Colonial Downs and at Tampa Bay Downs; Churchill Downs announcer Travis Stone; and others. From them, she has received not only tips for making her time on the microphone easier but also welcome support.
"They understand how hard the job is," Paquette explains. "I feel like most of them are really rooting for me. And they've been quick to offer some helpful feedback, point out the good things, point out the things that I need to work on, but also then tell me how to work on them."
On her days off, as she works out those mental muscles, she continues to practice with calling races off the television at home, preparing for a new week in Bensalem. That helps her improve her memorization and cadence.
That is her theme early on in her tenure at Parx: relish this new opportunity while also continuing to develop her skills in the announcer's booth.
After three weeks on the job, Paquette gives herself a C+/B- grade as she continues settling into the new rhythm of announcing day in and day out. She also understands what she needs to work on and how to approach that. 
"There's a lot of work to be done, I need to get a little bit sharper with my memorization," she said. "And I feel like the more I use that muscle, the better and the stronger it will be."
Paquette has certainly demonstrated persistence in her personal life. That should stand her in good stead professionally.
A little over a year after Paquette broke her back in a riding accident, she is again running the long distances that she did before being thrown from the saddle. When her doctor finally cleared her to return to running, she could barely manage a quarter of a mile. As 2022 ends, Parx's newest race caller now has a marathon under her belt.
"Calling races is hard. I think I'm showing progress with every day and with every race," she shares. "I hope people can hear that, that there is hope, some light at the end of the tunnel. I'm continuing to improve and absorbing the feedback."
Throughout her career in racing, Paquette has been committed to giving the sport her all, her focus on the horses and the people at the heart of each race day. As she looks forward to the new year and more time in the booth, she continues to focus on her goal for each day at Parx.
"I want to leave at the end of the day, knowing that I did the very best I could, that I was accurate, entertaining, and providing the right information that the horseplayers and the horsemen and -women want."
LATEST NEWS